Edmonton High Level Bridge Figures Puzzle Authorities, Passerby
EDMONTON — Some life-sized human figures made out of clear plastic tape and attached to suicide prevention barriers on an Edmonton bridge puzzled pedestrians, as well as authorities, after they mysteriously appeared on Sunday morning.
Was it an art project? Were they meant to draw attention to the number of people who've killed themselves by jumping off the High Level Bridge?
Or was it a protest against the design of the new barriers, which have narrowed the walkways on either side of the bridge and increased the number of bicycle collisions?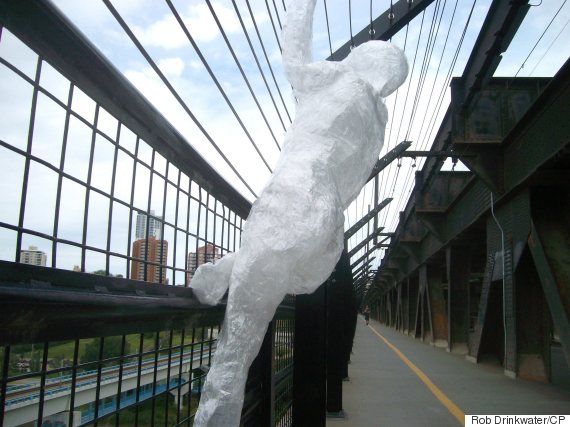 A human-like figure made of tape hangs from a safety fence on High Level Bridge in Edmonton on Sunday. (Photo: Rob Drinkwater/CP)
"I thought it must be a suicide prevention ad or effort,'' said Paul Macdonald, who passed one of the figures while cycling.
"It struck me. Hopefully people will think about it and it will help prevent suicides.''
Joshua Turnbull, meanwhile, speculated the figures might have been meant to point out that it's possible to climb over the barriers.
"To me, it looks like he's trying to climb,'' Turnbull said, standing beside one of the figures.
Reports from earlier Sunday on Twitter said there were several of the figures on the bridge. But early afternoon, there were only two left.
At around 12:30 p.m., a lone municipal worker in an orange vest walked up to the last one, pulled it down and carried the crumpled bundle to a City of Edmonton pickup truck and drove off.
And just like that all five figurines are removed from High Level Bridge. Still not sure who put them up #yeg pic.twitter.com/yI064zpeME

— BreannaKarstensSmith (@BreannaCTV) August 7, 2016
"We considered it vandalism so we went out and cleaned them up,'' explained Janice Schroeder, a city spokeswoman.
Schroeder said she'd heard there were as many as five of the figures, but that the city only found two.
She said they weren't part of the city's public art program, and she had no idea who put them up.
"We consider it the same as anything left on the sidewalk of the bridge,'' she said.
"We clean it up.''
Also on HuffPost:
Edmonton's Indigenous Art Park
The Indigenous Art Park is located in Edmonton's Queen Elizabeth Park on the banks of the North Saskatchewan River. It opens in 2018. "The profound legacy left by our Kôhkominawak (our Grandmothers) and Kimosôminawak (our Grandfathers) is one of the sacred areas used to cross Kisiskâcêwansîpî (Saskatchewan River), where many ceremonies and rituals took place before crossing this majestic sanctuary," said Elder Jerry Saddleback in a release.

Iskotew by Amy Malbeuf

Mikikwan by Duane Linklater

Turtle by Jerry Whitehead

preparing to cross the river by Marianne Nicholson

Reign by MaryAnn Barkhouse

Pehonan by Tiffany Shaw-Collinge

Six artworks symbolizing Edmonton's rich Indigenous history were unveiled on April 12, 2016. The artists created their artwork proposals following an in-depth workshop with Elders, Indigenous knowledge holders, Confederacy of Treaty Six First Nations, the Métis Nation of Alberta and other Indigenous residents in Edmonton in 2015.