Mining Company's Bikini Video Slammed As 'Archaic,' 'Humiliating'
TORONTO — A promotional video from a Toronto-based mining company featuring two bikini-clad women has caused a stir on social media after being criticized as "archaic and humiliating.''
The kerfuffle has prompted one of the women featured in the KWG Resources video, entitled "5 Interesting 'Ring of Fire' Facts,'' to defend it on her Twitter feed.
Theresa Longo says the women are wearing "cottage attire'' and the video was intended to be tongue-in-cheek and lighthearted.
#MiningMinute Episode 25 dispels the myth that we were prompted to make #23. We weren't! +It's cottage attire! lol https://t.co/5M5dB7hC96

— Theresa Longo (@TheresaLongo) August 10, 2016
In the video, Longo stands on a dock and notes that northern Ontario's Ring of Fire project has been compared to Alberta's oil sands.
Her colleague, identified as Ashley, at one point sits on a swing lakeside and says that First Nations are interested in sharing in the region's resources.
The video has been criticized by some editorials in mining and northern Ontario publications as "archaic and humiliating'' and not "socially progressive."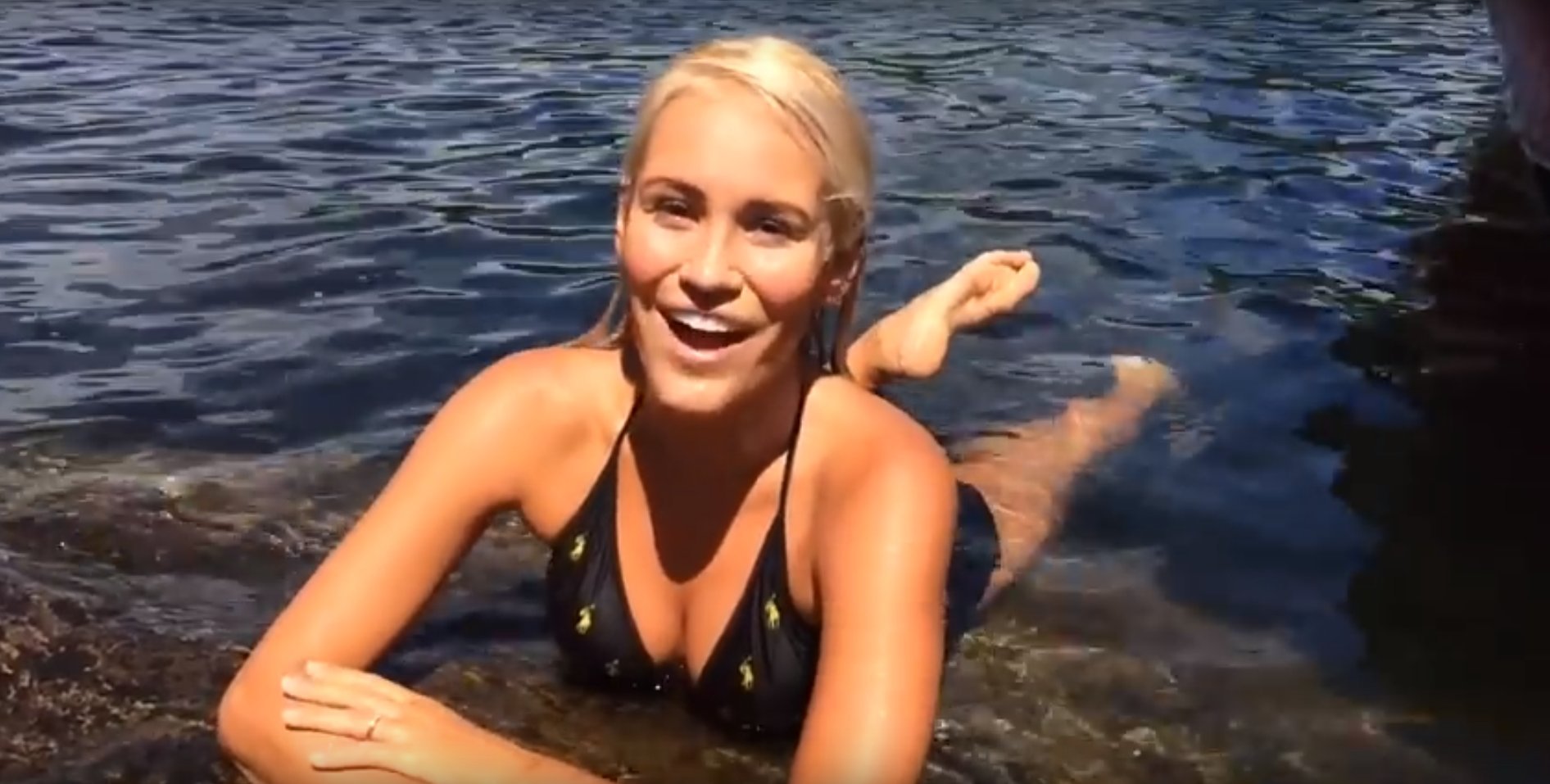 A screencap from KWG Resources' controversial "bikini video," via YouTube.
Longo says on Twitter that criticism of her attire in the video dismisses her work in the mining industry.
In a subsequent video, Longo says she came to the attention of KWG while working at a trade show and is now a shareholder, producing the videos as her "own personal pilot project.''
The video is part of a Mining Minute series on KWG Resources' YouTube channel and is in contrast to the two dozen other videos that mostly feature Longo talking to CEO Frank Smeenk in an office setting.
The Ring of Fire is a mining area about 500 kilometres northeast of Thunder Bay, Ont., that holds one of the world's richest chromite deposits as well as nickel, copper and platinum.
Also on HuffPost:
Canadian Women Who Were 'Firsts'
Adrienne Clarkson The First: Person of colour to be appointed Governor General, according to the Canadian Encyclopedia. Clarkson took office from 1999 to 2005. Notable achievement: In 2007, she became Colonel-in-Chief of the Princess Patricia's Canadian Light Infantry, making her the first Canadian to receive this title. Get to know her more: Today, the 77-year-old works with the Institute For Canadian Citizenship and has written several books including a memoir and a piece about Canadian immigrants.

Lilly Singh a.k.a. SuperWoman The First: Canadian woman and first South Asian Canadian to be named one of Forbes magazine's highest earning YouTubers in 2015. Superwoman earned a total of $2.5 million. Notable achievement: In February, the 27-year-old Scarborough, Ont.-native released her first film "A Trip To Unicorn Island" about her 30-city world tour. Get to know her more: Singh is still making hilarious YouTube comedy videos ranging from growing up with South Asian parents to thoughts you have on Instagram.

Elsie Knott The First: Woman in Canada to serve as chief of a First Nation in 1952, according to the Aboriginal Multi-Media Society (AMMSA). Knott passed away in 1995 at the age of 73. Notable achievement: She started an Ojibway language program at Ontario's Curve Lake First Nation school, which is still taught by her daughter today, AMMSA notes. Get to know her more: You can read more about Knott and other female chiefs in Firekeepers of the Twenty-First Century: First Nations Women Chiefs.

Mary Ann Shadd The First: Black woman in North America to publish a newspaper (The Provincial Freeman) and the first female publisher in Canada, Black History Canada says. Shadd was also the first black woman to get a degree from Howard University and the first black woman to vote in an election. She passed away in 1893, aged 69. Notable achievement: As an educator, abolitionist and one of the first female journalists in the country, she also wrote extensively on black men and women leaving the U.S. to come to Canada through the Underground Railroad, the Canadian Encyclopedia writes. Get to know her more: The Toronto Sun has a great write-up about her other achievements and biography.

Alice Munro The First: Canadian woman to win the Nobel Prize in Literature in 2013. Notable achievement: She has also won a Man Booker International Prize, as well as two Scotiabank Giller Prizes. Get to know her more: With so many other book awards under her belt, check out some of the 84-year-old's popular titles here.

Angela James The First: Openly gay athlete and second black athlete to be inducted into the Hockey Hall of Fame in 2010. Notable achievement: Known as the "Wayne Gretzky of women's hockey," James, 51, joined team Canada at the inaugural Women's Championship and earned a gold medal after making 11 goals in five games, the Hockey Hall of Fame writes. Get to know her more: A hockey arena in Toronto's North York region has been named in her honour.

Rose Fortune The First: She's considered to be the first unofficial female police officer in Canada, the Canadian Encyclopedia writes. According to the Annapolis Heritage Society of Nova Scotia, Fortune's direct descendent, Daurene Lewis, became the mayor of Annapolis Royal, N.S. in 1984, making her the first black Canadian woman to attain that position. Fortune died in 1864, aged 89. Notable achievement: While she was never an official police officer, she was well-known in her community and also set curfews for the town's youth. Get to know her more: A part of the province's history, you can learn more about Fortune at the Fort Anne National Historic Site of Canada in Annapolis Royal, N.S.

Jean Augustine The First: Black woman to be elected to the House of Commons in 1993, Women of Influence notes. Notable achievement: Retiring at 77 (she's now 78) and dedicating a majority of her life to politics, she became Ontario's first Fairness Commissioner in 2007. Get to know her more: You can check out this interview with Augustine and the Canadian Museum of Human Rights here.

Dr. Roberta Bondar The First: Canada's first female astronaut and first neurologist in space. Notable achievement: As a scientist, Bondar worked for NASA leading an international space medicine research team for decades. Get to know her more: As a photography and an author, check out some of the 70-year-old's other work here.

Jennie Trout The First: Canadian woman licensed to practice medicine, according to Historica Canada. She passed away in 1921, aged 80. Notable achievement: Trout, as well as Emily Stowe (the first female doctor to practice in Canada), both broke barriers to allow more women to work in a male-dominated medical world. Get to know her more: You can watch her Heritage Minute here — it's quite powerful.

Anne Cools The First: Black person to be appointed to the Senate of Canada and the first black female senator in North America. Notable achievement: With several achievements and awards in her name, the 72-year-old was also named one of the 100 greatest Canadians of all time by the CBC. Get to know her more: Currently, Cools is an independent senator, but was a candidate for the Liberal party for 20 years. Read more about her work here.