Markerville Gives Visitors A Glimpse Of Iceland In Alberta
MARKERVILLE, Alta. — The Icelandic poet Stephan G. Stephansson may not be a household name in North America, but his legacy lives on in central Alberta.
Stephansson, a poet and farmer, eventually settled along with several other Icelandic immigrants near the tiny hamlet of Markerville in 1889, and locals say his homestead is one of two must-stop spots, along with Gimli, Man., for any Icelander visiting Canada or fans of his work.
"It is the pilgrimage,'' says Brooke Henrikson, manager of the Stephan G. Stephansson Icelandic Society, which owns and operates the museum, church, hall and cemetery in what is referred to as Historic Markerville.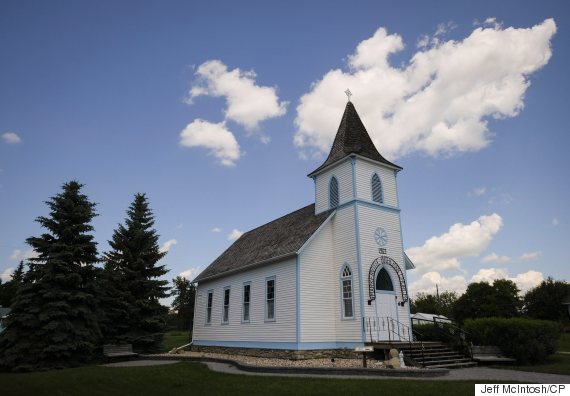 This Lutheran church is over a century old. (Photo: Jeff McIntosh/CP)
Stephansson was self-educated and influenced by the work of American writer Ralph Waldo Emerson and they shared the same beliefs in many matters, including equal rights for men and women.
He wrote only in Icelandic and had great influence in his home country.
His poems were published in a six-volume book called "Andv'kur'' (Sleepless Nights).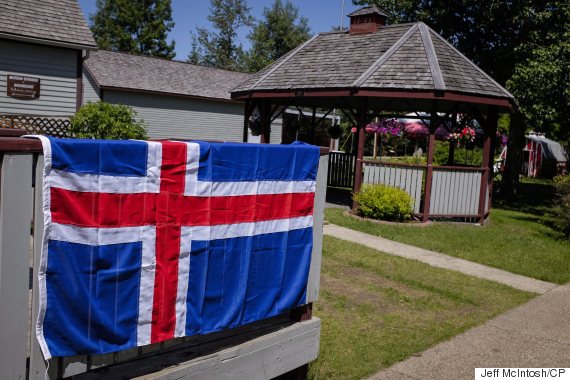 In Icelandic flag is displayed in Markerville, Alta. (Photo: Jeff McIntosh/CP)
Stephansson's homestead near Markerville is an Alberta Provincial Historic Site.
"Stephansson is still very big in Icelandic culture,'' said Henrikson.
She said the first immigrants went to North Dakota, but after a serious drought some moved to "New Iceland'' in Manitoba and the rest to central Alberta.
"A group of them sent out a scout to find a place where they could establish themselves, and in this area they didn't have to clear too much and it reminded them of home with the rivers and landscape.''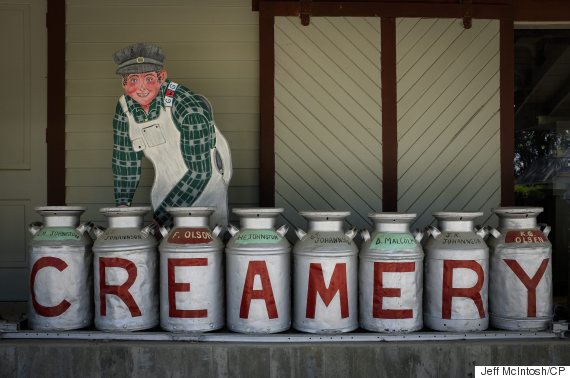 A cutout of a worker sorts jugs at the creamery museum in Markerville. (Photo: Jeff McIntosh/CP)
Markerville is about 30 kilometres off the main highway between Calgary and Edmonton near Red Deer, and the area attracts about 13,000 visitors each year between May and September.
Stephansson House is a few kilometres away, but in the hamlet there is an historic church, the Markerville Creamery Museum, a community hall and the Tindastoll Cemetery, which opened in 1899.
The entire area has a distinctive Scandinavian feel, said Henrikson.
"We are actually working on a Scandinavian Trail because there is a lot of little businesses in the area, a lot of artists here in Markerville. We have Stephansson House provincial site and we have Markerville,'' she said.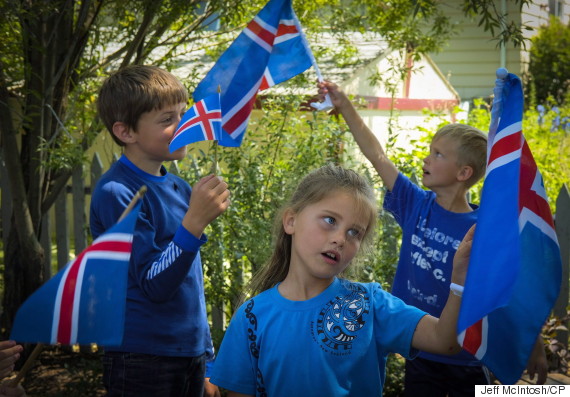 Children of descendants of the first Icelandic settlers in Alberta cheer for Iceland's soccer team in June 2016. (Photo: Jeff McIntosh/CP)
"If you go further west there's the Dickson Store Museum and the Danish Canadian National Museum. It's a very Scandinavian area.''
The area also hosts a number of summer festivals, including the Icelandic Picnic, Cream Day, which celebrates the cheques farmers used to receive every week while the creamery was still open, and the Viking Cup Golf Tournament.
"I just love Markerville. It's just such a quaint little hamlet and it's just for relaxation or for the kids to go back in time to enjoy the quiet and play. It's just a beautiful little place,'' said Henrikson.
"The hamlet itself and the community is just amazing — with the beautiful flowers and wildlife and lots of bird species in here and we're nestled right on the banks of the (nearby) Medicine River, which brings in the wildlife.''
___
If You Go ...
Visit Historic Markerville: http://www.historicmarkerville.com/
Stephansson House Provincial Historic Site:
http://history.alberta.ca/stephansson/default.aspx?gclid
Viking Days at the Danish Canadian Museum:
http://www.thedanishcanadianmuseum.com/
Follow @BillGraveland on Twitter.
Also on HuffPost:
11 Pulse Pounding Adventures In Alberta
New attractions in national parks don't come around very often so when they do, they're usually pretty darn cool. The Glacier Skywalk, Jasper National Park's latest addition, is no exception. This impressive site lets you dangle in the abyss, way out in the middle of a canyon, from a glass bottom platform. Get acquainted with your fear of heights as you observe birds soaring in the valley below and mountains towering above.

Canada Olympic Park (COP) is likely home to the country's greatest collection of adrenaline-fuelled activities. Take advantage of the facilities built for the 1988 Winter Olympics with a run down the bobsled or luge tracks. Dubbed "the fastest sport on ice," participants can hit speeds over 100 km/h and feel the intensity of up to four G-forces. If you happen to be in the neighbourhood during the summer, these toboggans on steroids are fitted with wheels for year-round thrills.

Grab your backcountry kit and drop in — that's if the height doesn't make you delirious. This special, experts-only, freeride zone inbounds at Banff's Sunshine Village resort is a steep cliff and chute-riddled area where skiers and riders can feel the true meaning of vertical. Avalanche equipment including beacon, probe and shovel are mandatory. Find yourself a (mandatory) partner to share in the stoke and dive in.

Fly above the clouds! No, wait, make that fly above the crowds as you zip line through West Edmonton Mall. The world's largest indoor zip line will keep you buzzing after you've buzzed the heads of everyone in the water park below you. There are four 137-meter parallel lines, which makes the set up perfect for a group experience. Bring a few friends and get ready to launch.

White water? More like white knuckle! Consider spending a day on the Bow River getting soaked. Rafters wind their way through the revered Horseshoe Canyon and if the up-to-Class IV rapids don't keep your adrenalin pumping, there's cliff jumping, too.

It might be Italian for "iron path" but having a steel set of something else might help as you cling to the side of Mt. Norquay in the Alberta Rockies. Luckily, there's a certified guide that'll lead you on your journey as you ascend a series of ladders and suspension bridges with the added benefit of a fixed anchor system in case you fall. Don't forget to bring your real camera (put the strap over your head so you don't have to worry about dropping your phone) and a pair of closed-toed shoes.

Another offering from the epicenter of Alberta adventure; Calgary Olympic Park's zip line is like none other in North America. Dubbed "The Monster" this setup is the pinnacle in a three-part crescendo of zip lines. Riders take off from the top of the park's ski jump and experience speeds up to 120km/h during their descent.

The water might be cold enough to take your breath away or stop your heart but it's nothing a few millimeters of neoprene won't fix. Despite being a land-locked province, surfing in Alberta is alive and well. Riding natural and man-made river waves, there's nothing quite like slaying perfect breaks hundreds of kilometers from the coast.

If the current realm of human abilities has bored you, this should help. Flyboarding is the culmination of just about every superhero fantasy out there. Head to the lake, strap a jet pack to your feet and take off. Hover 30 feet in the air or use the propulsion to rocket you in and out of the water. It may sound like something from back to the future, but it is real and you get to be Marty McFly.

Axes, crampons, helmets, harnesses might sound like the equipment list for a soldiers heading into battle. If you're in the mountains though, it's a totally different story. Set yourself up with a guide for a day of climbing frozen waterfalls and other awesome ice formations.

Although Alberta is home to some amazing mountains, the province also has an abundance of flat, windy, open spaces. Boring, you say? Wrong! Snow kiting is the best way to take advantage of the prairie landscape. Lock some skis to your feet, tie a kite to your body and be gone with the wind! Lessons are available throughout the Alberta.