Sen. Tom McInnis Wins $70K From 'Malicious' Neighbours
HALIFAX — A Conservative senator has won more than $70,000 in legal costs from his rural Nova Scotia neighbours after they attempted to seize part of his oceanfront property.
Senator Tom McInnis, a 71-year-old former deputy premier, found himself feuding with his new neighbours in Sheet Harbour shortly before he was appointed to the Senate in 2012.
Daniel and Francine Stone claimed a piece of McInnis' property, and called police repeatedly when the senator and his wife went on the land, according to an Aug. 12 ruling from Nova Scotia Supreme Court Justice Arthur Pickup.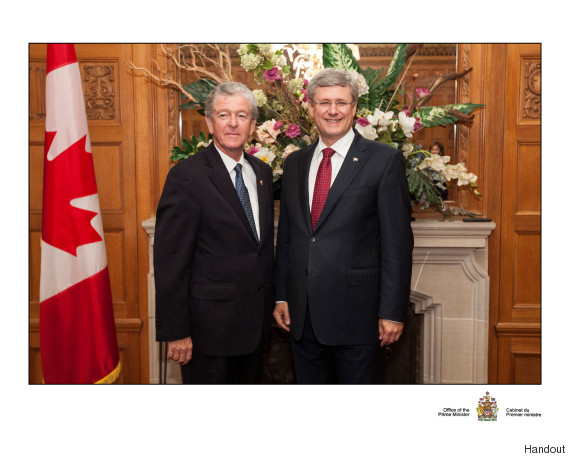 Senator Tom McInnis is shown with former prime minister Stephen Harper in this handout image.
"When we did go to the property just to go for a walk or sit in our chairs, Mr. Stone called the police and they would come to our home, no matter the time of day," McInnis said in an affidavit. "We have been literally shut out of the McInnis property virtually since the Stones moved in ... and put their boat in the water in 2011."
The Stones excavated and graded part of McInnis' property, and installed a fire pit on it.
"On one occasion in 2013 on a Saturday afternoon, I saw Mr. Stone at the fire pit that he had constructed ... Mr. Stone looked at me and smiled and said 'Tom, I am going right down to the bottom' and waved to the water," McInnis said in the affidavit.
Pickup said McInnis bought, surveyed and registered the land — adjacent to family property he inherited — and the Stones were "very aware" the disputed land and water access were not part of their property.
'Virtually robbed' of his own land
Their actions "virtually robbed" McInnis of his own land, the judge said.
"I find the actions of (the Stones) to have been calculated, malicious, inexcusable and a departure from a standard of decent behaviour," Pickup ruled.
The judge had earlier awarded McInnis $5,000 in damages; the new ruling awarded him another $70,569.69 in legal costs.
McInnis should not be put to any expense to defend himself and his property, Pickup said.
"Despite being told they had no claim to Mr. McInnis's land at the time they purchased (their property), they did everything possible to take Mr. McInnis's lands, including preventing him accessing his lands. The Stones systematically advanced into his lands, then cobbled together legal arguments after the fact to justify their actions."
McInnis, who is a lawyer, represented the area provincially for 15 years, but lost to the Liberals in 1993 after the electoral map was redrawn.
ALSO ON HUFFPOST:
Current MPs Who Were Provincial Ministers
Experience in provincial cabinets can go a long way at the federal level. Just look at NDP Leader Thomas Mulcair, who served as Quebec's minister of the environment (2003-2005) and minister of sustainable development (2005-2006) before making the jump to the House of Commons. Of course, Mulcair has also had to defend his record in Quebec. Click through the slideshow to see other current MPs who served in cabinet at the provincial level.

Tony Clement, a former federal cabinet minister, cut his teeth in Ontario as minister of transportation (1997-1999), minister of the environment (1999-2000), minister of municipal affairs and housing (1999-2001), and minister of health and long-term care (2001-2003).

Ron Liepert served in a number of key roles in Alberta, including minister of education (2006-2008), minister of health (2008-2010), minister of energy (2010-2011), and minister of finance (2011-2012).

MaryAnn Mihychuk previously served as Manitoba's minister of industry, trade, and mines (1999-2003), minister responsible for international relations coordination (2003-2004), and minister of intergovernmental affairs and trade (2003-2004). She currently serves as the federal minister of labour.

Jenny Kwan served British Columbia as minister of municipal affairs (1998-1999), minister of women's equality (1999-2000), and minister of community development (2000-2001).

Remember Ontario's only NDP government? Well, David Christopherson was a key figure in that cabinet. He served as Ontario's minister of correctional services (1992-1995) and solicitor general (1993-1995).

Irene Mathyssen also served in Ontario cabinet as minister without portfolio (culture, tourism and recreation) from 1994-1995.

Joyce Murray held cabinet jobs in B.C. before becoming an MP. She served as minister of water, land, and air protection (2001-2004) and minister of management services (2004-2005).

Judy Foote held a number of important roles in the government of Newfoundland and Labrador before going federal. She served as minister of development and rural renewal (1996-1997), minister of industry, trade and technology (1997-1998), minister of education and training (1998-2000), minister of education (2000-2003), and again minister of industry in 2003. She now serves as the federal minister for public works.

Yvonne Jones served as Newfoundland and Labrador's minister of fisheries and aquaculture and minister for the status of women in 2003.

Jean Rioux served as Quebec's minister of labour from 2005-2007.

Michael McLeod served in a number of key roles during his lengthy tenure in the Northwest Territories' legislative assembly, including: minister of environment, municipal and community affairs, natural resources, public works, transportation, housing, infrastructure, and minister responsible for youth.

Len Webber spent about 10 years in the Alberta legislature, where he served as minister of aboriginal relations and minister of international and intergovernmental relations.

Peter Fonesca served in the Ontario cabinet as minister of tourism (2007-2008) and minister of labour (2008-2010).

Robert Morrissey held a number of key jobs in P.E.I., including minister of transportation and public works (1986-1989), minister of industry (1989-1993), and minister of economic development and tourism (1993-1996).

During his 14 years in the Nunavut assembly (1999-2013), Hunter Tootoo held a number of roles, including minister of education and human resources. He also served as the minister responsible for homelessness, the Arctic College, and the Nunavut Housing Corporation. Tootoo briefly served as federal fisheries minister, but resigned from the role to seek addiction treatment in May 2016.