Ontario Liberal Government Promotes Federal CPP With Taxpayer-Funded Ads
TORONTO — Ontario's Liberal government is defending a publicly funded ad that promotes an agreement to enhance the Canada Pension Plan — a federal program.
The radio advertisement says, "Ontario has been working to help close the retirement savings gap" and "the improved CPP would help close the gap and strengthen retirement security for working Canadians."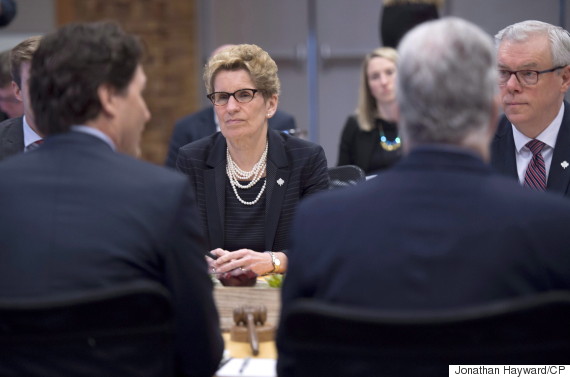 Ontario Premier Kathleen Wynne and former Manitoba Premier Greg Selinger listen to Prime Minister Justin Trudeau during the during a First Ministers Meeting in Vancouver, B.C., on March. 3, 2016. (Photo: Jonathan Hayward/CP)
Ontario Auditor General Bonnie Lysyk says she would not have approved the ad under the previous rules, but the Liberals changed them last year and she says the new rules remove her discretion to veto ads she feels are partisan.
In this case, she says this ad is more "self-congratulatory" than informative for Ontarians, and the subject of it is actually more federal jurisdiction — and is not a done deal.
Spent $70M on program that isn't needed
Ratification of the agreement-in-principle to enhance the CPP was delayed last month when British Columbia declined to sign off by the deadline, saying it needed more time to hear feedback from the public.
A spokeswoman for Ontario's finance minister says the CPP deal would not have been possible without a push from Ontario and the government has "a responsibility to raise awareness and communicate information about programs and services that affect Ontarians."
The provincial Liberal government spent $70 million to create an Ontario Retirement Pension Plan that now won't be needed as long as the CPP agreement goes through.
ALSO ON HUFFPOST:
Current MPs Who Were Provincial Ministers
Experience in provincial cabinets can go a long way at the federal level. Just look at NDP Leader Thomas Mulcair, who served as Quebec's minister of the environment (2003-2005) and minister of sustainable development (2005-2006) before making the jump to the House of Commons. Of course, Mulcair has also had to defend his record in Quebec. Click through the slideshow to see other current MPs who served in cabinet at the provincial level.

Tony Clement, a former federal cabinet minister, cut his teeth in Ontario as minister of transportation (1997-1999), minister of the environment (1999-2000), minister of municipal affairs and housing (1999-2001), and minister of health and long-term care (2001-2003).

Ron Liepert served in a number of key roles in Alberta, including minister of education (2006-2008), minister of health (2008-2010), minister of energy (2010-2011), and minister of finance (2011-2012).

MaryAnn Mihychuk previously served as Manitoba's minister of industry, trade, and mines (1999-2003), minister responsible for international relations coordination (2003-2004), and minister of intergovernmental affairs and trade (2003-2004). She currently serves as the federal minister of labour.

Jenny Kwan served British Columbia as minister of municipal affairs (1998-1999), minister of women's equality (1999-2000), and minister of community development (2000-2001).

Remember Ontario's only NDP government? Well, David Christopherson was a key figure in that cabinet. He served as Ontario's minister of correctional services (1992-1995) and solicitor general (1993-1995).

Irene Mathyssen also served in Ontario cabinet as minister without portfolio (culture, tourism and recreation) from 1994-1995.

Joyce Murray held cabinet jobs in B.C. before becoming an MP. She served as minister of water, land, and air protection (2001-2004) and minister of management services (2004-2005).

Judy Foote held a number of important roles in the government of Newfoundland and Labrador before going federal. She served as minister of development and rural renewal (1996-1997), minister of industry, trade and technology (1997-1998), minister of education and training (1998-2000), minister of education (2000-2003), and again minister of industry in 2003. She now serves as the federal minister for public works.

Yvonne Jones served as Newfoundland and Labrador's minister of fisheries and aquaculture and minister for the status of women in 2003.

Jean Rioux served as Quebec's minister of labour from 2005-2007.

Michael McLeod served in a number of key roles during his lengthy tenure in the Northwest Territories' legislative assembly, including: minister of environment, municipal and community affairs, natural resources, public works, transportation, housing, infrastructure, and minister responsible for youth.

Len Webber spent about 10 years in the Alberta legislature, where he served as minister of aboriginal relations and minister of international and intergovernmental relations.

Peter Fonesca served in the Ontario cabinet as minister of tourism (2007-2008) and minister of labour (2008-2010).

Robert Morrissey held a number of key jobs in P.E.I., including minister of transportation and public works (1986-1989), minister of industry (1989-1993), and minister of economic development and tourism (1993-1996).

During his 14 years in the Nunavut assembly (1999-2013), Hunter Tootoo held a number of roles, including minister of education and human resources. He also served as the minister responsible for homelessness, the Arctic College, and the Nunavut Housing Corporation. Tootoo briefly served as federal fisheries minister, but resigned from the role to seek addiction treatment in May 2016.