Indigenous Leaders Call On Justin Trudeau For Redress On Sixties Scoop
Indigenous leaders are calling on Prime Minister Justin Trudeau for redress of the Sixties Scoop, a government policy under which child welfare officials removed Indigenous children from their homes and placed them with non-Indigenous families.
"Commit your government to resolving this issue without more delay and support our call to recognize and right an immense wrong — with both words and deeds," say Ontario Regional Chief Isadore Day and four other Indigenous leaders in an open letter to Trudeau.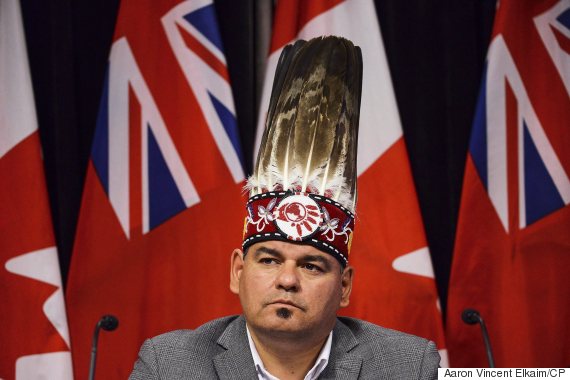 Ontario Regional Chief Isadore Day attends a news conference at the Ontario Legislature in Toronto on September 9. 2015. (Photo: Aaron Vincent Elkaim/CP)
The letter comes on the same day Indigenous Affairs Minister Carolyn Bennett formally apologized to Manitoba's Sayisi Dene on behalf of the Canadian government for its role in forcibly relocating the First Nation some 60 years ago.
"This moment is an opportunity for Canada to put an ugly legacy behind us, for the government to take steps to reform its conduct so that the injustice does not continue and build a better future for all. It's a chance to open the door for future generations to grow up healthy and proud of who they are," the letter to Trudeau said.
The open letter to Trudeau also comes a week ahead of a scheduled court date for survivors who filed a class-action lawsuit seven years ago on behalf of an estimated 16,000 children taken away from their parents.
A pipe ceremony and community feast were organized on Victoria Island in Ottawa Tuesday by the National Indigenous Survivors of Child Welfare Network in support of Marcia Brown, the lead plaintiff in the case, and the other survivors.
The lawsuit is scheduled to be heard at the Superior Court of Ontario in Toronto on Aug. 23.
The letter to Trudeau was co-written by:
- Phil Fontaine, the former national chief for the Assembly of First Nations, who was not immediately available for an interview.
- Cindy Blackstock, executive director of the First Nations and Family Caring Society.
- Colleen Hele-Cardinal and Duane Morrisseau-Beck, organizers with the National Indigenous Survivors of Child Welfare Network.
- Jesse Wente, CBC Radio pop culture critic.
The prime minister's office declined to comment on the letter, referring CBC News to the office for the minister of Indigenous affairs.
Bennett's office said while the government can't comment on the lawsuit while it is before the courts, it is committed to improving the lives of Indigenous people.
"Our government is deeply committed to reconciliation in the relationship with Indigenous peoples and working collaboratively with key partners to improve outcomes for children, families and communities," said Sabrina Williams, a spokesperson for Bennett, in an email to CBC late Tuesday.
"Historically, Indigenous children have been harmed in care settings and this has impacted Indigenous communities," she said.
The Canadian Human Rights Tribunal ruled in January that the Canadian government discriminated against First Nations children in its funding of child welfare services.
Saskatchewan apology delayed
The final report of the Truth and Reconciliation Commission published last December noted that "the effects of the residential school experience and the Sixties Scoop have adversely affected parenting skills and the success of many Aboriginal families."
According to a 2011 Statistics Canada study, 14,225 or 3.6 per cent of all First Nations children aged 14 and under were in foster care, compared with 15,345 or 0.3 per cent of non-Aboriginal children.
"By the end of the 1970s, the transfer of children from residential schools was nearly complete in Southern Canada, and the impact of the Sixties Scoop was in evidence across the country," the final report of the TRC said.
"In 1977, Aboriginal children accounted for 44 per cent of the children in care in Alberta, 51 per cent of the children in care in Saskatchewan, and 60 per cent of the children in care in Manitoba."
Saskatchewan Premier Brad Wall said last summer his government would issue an apology for its role in the Sixties Scoop, but scheduling difficulties appear to have delayed the promise.
Kathy Young, a spokeswoman for Wall, told CBC the government of Saskatchewan still intends to issue an apology.
The Manitoba government issued a formal apology last June.