Limo Company Used By Health Minister Jane Philpott Offers To Repay Taxpayers
OTTAWA — A long-time Liberal supporter who runs a Toronto-based limo company that provided thousands of dollars worth of services to Health Minister Jane Philpott is vowing to reimburse taxpayers, while taking aim at her political critics.
Reza Shirani, owner of Executive Sedan Livery Service Inc., said he is "confirming without hesitation" he will refund the total amount charged to the federal government for services provided for Philpott.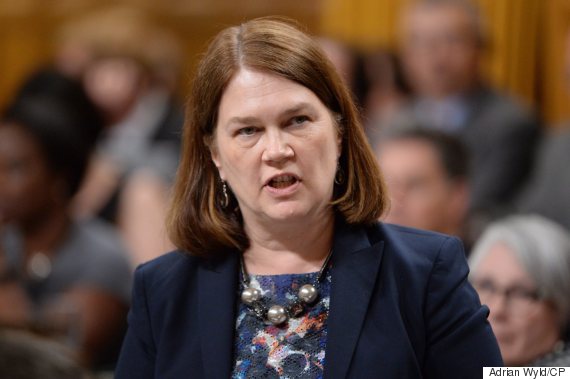 Health Minister Jane Philpott answers a question during Question Period in the House of Commons on Parliament Hill in Ottawa on June 16, 2016. (Photo: Adrian Wyld/Canadian Press)
"In taking this step, I fully expect to be accused by the 'defenders of Canadian taxpayers' of making a donation of services to the Liberal party of Canada that exceeds authorized individual donation limits, even if I promise not to seek any political tax credit," Shirani said in a statement on Thursday.
"It never occurred to me that providing a service to a minister of the Crown at my company's normal and standard rates — rates that are competitive for the service we provide — would end up damaging the reputation of the MP I respect and the political party I love."
'She was able to work full-time'
Shirani also said he drove the minister on July 12 — the day Philpott spoke at the Assembly of First Nations annual meeting in Niagara Falls, Ont.
"The entire day that minister Philpott was with me, I was driving," he said. "She was able to work full-time on what I can only assume was important business for our national government."
Philpott's office told The Canadian Press on Wednesday it charged $1,994 for service on that day, though Shirani disputed that figure in his statement.
"It never occurred to me that charging $1,535 plus HST ... for multi-stop, multi-passenger, all-day car service on July 12 would be regarded as extravagant or excessive given the cost of the alternatives to Canadian taxpayers," he said.
'Petty political posturing'
Philpott's office also said Wednesday it billed $3,814 for 20 trips to Toronto's Pearson airport for flights to Ottawa on ministerial business.
The disclosure came after the Conservatives learned through Access to Information that Philpott paid $1,700 on a single day in March for transportation between work events.
Shirani said his only purpose for responding to criticism — which he characterizes as "petty political posturing" — is to restore Philpott's "fine reputation and relieve her of being required to answer for such patent nonsense."
"More importantly, I hope to encourage those who feed so voraciously on this petty sort of thing to focus on issues that really matter to the people of Canada," he said.
'Minister Philpott and I both deserve better'
Shirani canvassed for the minister in the last federal election — a connection Philpott knew about while using the service.
However, Shirani said he resents the suggestion he's somehow "playing the system" or that he is an "insider" in any way.
"I know that minister Philpott and I both deserve better," he said. "I will have no further comment."
Philpott's office has stopped short of saying she would repay the money, prompting Tory health critic Colin Carrie and the Canadian Taxpayers Federation to call for a full refund.
Tories call for full refund
It is absolutely not appropriate for Shirani to reimburse taxpayers, Carrie said Thursday, stressing the minister needs to be the one held accountable.
"Putting taxpayers on the hook for these kinds of outlandish amounts just to get around the Toronto area is totally unacceptable," Carrie said in an interview.
"The interesting thing is, the minister has acknowledged this herself. She is the one who needs to pay the money back."
In a Wednesday statement, Philpott said the price tag associated with the car service was "too high" and not appropriate. Her office added it will no longer use the company.
"I have already taken steps to prevent this from occurring in the future," Philpott said.
The minister's has not responded to media requests on Thursday.
Also On HuffPost:
Prime Minister Justin Trudeau has kept his promise of a smaller, gender-balanced cabinet. At 31 ministers (including him), Trudeau's first cabinet features many new faces and some veterans.

Minister of Finance Morneau is the former executive chair of Morneau Shepell, one of Canada's largest human resources firms.

Minister of Foreign Affairs An MP since 1996, Dion served as Canada's intergovernmental affairs minister under Jean Chrétien and environment minister under Paul Martin. He served as Liberal leader and leader of the Official Opposition from 2006 to 2008.

Minister of Justice and Attorney General of Canada Wilson-Raybould is a former Crown prosecutor and regional chief of the B.C. Assembly of First Nations.

Minister of International Trade An MP since 2013, Freeland was courted by Trudeau's team when she was a senior editor at Thomson Reuters in New York City.A Rhodes scholar, she is a well-known author and journalist. She was part of Trudeau's team of economic advisers.

Minister of Health Philpott is a family physician, associate professor at the University of Toronto, and former chief of the department of family medicine at Markham Stouffville Hospital.

Minister of National Defence Sajjan is a retired lieutenant colonel who served in Afghanistan and was the first Sikh to command a Canadian Army regiment. He also served as a Vancouver police officer for 11 years.

Minister of the Environment and Climate Change McKenna was a former legal adviser for the United Nations peacekeeping mission in East Timor and founded Canadian Lawyers Abroad (now known as Level), a charity focused on global justice issues.

Minister of Employment, Workforce Development, and Labour Mihychuk was an NDP MLA in Manitoba from 1995 to 2004, serving as minister of industry, trade, and mines, and later minister of intergovernmental affairs.

Minister of Infrastructure and Communities An Edmonton city councillor since 2007, Sohi immigrated to Canada from India 35 years ago. He spent time as a political prisoner in India in the late 1980s.

Minister of Canadian Heritage Joly, 36, made a name for herself by finishing second to ex-Liberal cabinet minister Denis Coderre in the Montreal mayoral race in 2013. She's a lawyer and communications expert.

Minister of Democratic Institutions Monsef, a community organizer, was born in Afghanistan. She fled the Taliban and came to Canada as a refugee with her widowed mother and sisters in 1996.

Minister of Veterans Affairs and Associate Minister of National Defence Hehr was an Alberta MLA from 2008 to 2015, was one of just two Liberals elected in Calgary. In 1991, he was the victim of a drive-by shooting that left him confined to a wheelchair.

Minister of Status of Women Hajdu was executive director of Shelter House, Thunder Bay's largest homeless shelter.

Minister of Sport and Persons with Disabilities Qualtrough is a lawyer and former Paralympian. Legally blind, she won three Paralympic and four World Championship medals for Canada in swimming and was president of the Canadian Paralympic Committee.

Minister of Families, Children, and Social Development Duclos is a renowned economist who taught at at Laval University.

Minister of Natural Resources Carr, a former Manitoba MLA and deputy leader of the Manitoba Liberal Party, served as president of the Business Council of Manitoba from 1998 to 2014.

Minister of Public Services and Procurement An MP since 2008 and the party whip, Foote previously held several cabinet portfolios in Brian Tobin's provincial government.

Minister of Transport The former astronaut, navy engineer, president of the Canadian Space Agency and Liberal leadership contender was first elected in 2008. He has served as an industry and foreign affairs critic.

Minister of Public Safety and Emergency Preparedness The finance minister under Paul Martin's government, Goodale was the only Liberal elected in Saskatchewan.

Minister of Innovation, Science, and Economic Development An MP from 2004 to 2011, Bains regained his seat this year. In addition to being a certified management accountant, holding an MBA, and teaching at Ryerson University, Bains was an important Trudeau organizer and also served on the Liberals' national election readiness committee.

President of the Treasury Board An MP since 1997, Brison was the public works minister and receiver general of Canada in Paul Martin's government. He had been the Liberal spokesman on economic issues and the vice-chair of the Commons' committee on finance.

Minister of Indigenous and Northern Affairs A family physician who has been an MP since 1997, Bennett was Canada's first minister of state for public health and oversaw the 2003 response to the SARS epidemic. In recent years, Bennett has served as the party's vocal critic on aboriginal affairs.

Minister of Agriculture and Agri-Food An MP since 1988, MacAulay has served as solicitor general of Canada, minister of labour, secretary of state for veterans and secretary of state for the Atlantic Canada Opportunities Agency. In the last Parliament, MacAulay was the critic for fisheries and oceans.

Minister of Fisheries, Oceans, and the Canadian Coast Guard LeBlanc served as the Government House leader until August 2016, when he was replaced by Bardish Chagger. LeBlanc was sworn in as a privy councillor in 2004 when, under Paul Martin, he served as parliamentary secretary to the leader of the government in the House and deputy government whip. He is a childhood friend of Trudeau's.

Minister of Immigration, Refugees, and Citizenship First elected in 2000, McCallum, a former chief economist at the Royal Bank of Canada, served as minister of national defence and minister of veterans affairs under Jean Chrétien. He was named minister of national revenue under Paul Martin and was also tasked with leading an expenditure review of government spending.

Leader of the Government in the House of Commons and Minister of Small Business and Tourism Chagger, 35, worked for the Kitchener-Waterloo Multicultural Centre. She also worked on Trudeau's leadership campaign.

Minister of National Revenue A small business owner who has been an elected warden for the Regional County Municipality of Rocher Percé since 2010, Lebouthillier won a seat in Gaspé that the Liberals haven't held in more than a decade.

Minister of International Development and La Francophonie Bibeau worked for the Canadian International Development Agency (CIDA) in Ottawa, Montréal, Morocco and Benin, Africa, before settling and launching her own business in her riding.

Minister of Science Elected in 2008, Duncan taught meteorology, climatology, climate change, and medical geography at the university level.