Brad Wall Shuffles Saskatchewan Cabinet, Adds 4 New Faces
REGINA — Six ministers are changing portfolios and four new faces are being added in a cabinet shuffle Saskatchewan Premier Brad Wall promised after last spring's election.
Some of the high-profile changes include moving Dustin Duncan out of health to take over Bill Boyd's energy and resources duties. Duncan also becomes responsible for SaskTel and SaskEnergy.
Jim Reiter, who was handling those Crowns as well as government relations, becomes health minister.
Boyd was involved in recent controversies
Boyd, who has found himself in the middle of at least two controversies in recent years, had asked Wall earlier this month not to keep him in cabinet. He said he started thinking of stepping back shortly after the April election because of the "high-quality team'' in place.
Boyd had been a minister ever since the Saskatchewan Party formed government for the first time in 2007
Another veteran legislature member and cabinet minister, Don Morgan, sees deputy premier added to his current duties at education and labour.
"Don Morgan has always been a leader in our government's caucus and cabinet,'' Wall said in a statement issued moments before the shuffle. "His sound judgment and the respect he has earned among his colleagues made Don the clear choice for deputy premier.''
Wall needed a new deputy premier after Don McMorris was charged with impaired driving earlier this month and resigned from cabinet.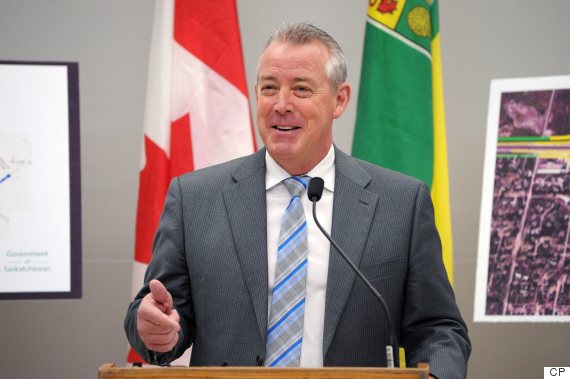 Don McMorris resigned after being charged with impaired driving. (Photo: CP)
His other responsibilities as minister responsible for the Crown Investments Corp., Saskatchewan Government Insurance, Saskatchewan Liquor and Gaming Authority and the Public Service Commission have been divvied out in the new cabinet.
Four ministers are keeping their portfolios. Kevin Doherty remains at finance, Lyle Stewart stays at agriculture, rural and remote health is still headed by Greg Ottenbreit and Gordon Wyant is still justice minister, although he is also taking on corrections and policing from Christine Tell.
Four people entering cabinet for the first time are Regina MLA Tina Beaudry-Mellor, Dave Marit of Wood River, Saskatoon's Bronwyn Eyre and Prince Albert MLA Joe Hargrave.
The size of cabinet is smaller by one. Wall has reduced the number of ministers, including himself, to 17.
Also on HuffPost:
Saskatchewan Election 2016
Premier Brad Wall has tweeted that he met with Lt.-Gov. Vaughn Solomon Schofield in Saskatoon and has asked her to dissolve the legislature on March 8.

Saskatchewan NDP party leader Cam Broten kicked off his campaign in Regina on March 8.

Saskatchewan NDP party leader Cam Broten celebrates International Women's Day with NDP supporters in Saskatoon on March 8.

Brad Wall shakes a supporter's hand during the Saskatchewan Party's election campaign kick-off in Saskatoon on March 8.

Cam Broten speaks at a meeting of the Saskatchewan Association of Rural Municipalities in Regina on March 9.

Brad Wall speaks to delegates during a meeting of the Saskatchewan Association of Rural Municipalities on March 9.

Saskatchewan Premier Brad Wall and NDP leader Cam Broten pose for photos before a leaders' debate at the CBC Saskatchewan building in Regina on March 23.

Cam Broten, his wife Ruth, and children Ingrid, Clara and Gudrun arrive at an advance poll.

Cam Broten holds up a supporter's dog during a campaign rally on April 3.

Brad and Tami wall share a laugh after Wall won his third majority government on April 4. The Saskatchewan Party took 51 seats in the 61-seat legislature.

Cam Broten speaks to supporters after losing his seat in a tight race.