Big Brothers Big Sisters Calgary Forced To Turn Away Volunteers
For the first time in 40 years, a Calgary charity is being forced to turn away new volunteers due to a lack of funds to support their programs.
Big Brothers Big Sisters Calgary (BBBS) announced Thursday that it had temporarily stopped accepting new volunteers, meaning kids in need won't be paired with mentors from the community-based organization.
"It saddens us that we have to turn away volunteers at a time when demand for our programs is larger than ever," said Karen Orser, president and CEO of BBBS, in a statement.
"But with most of our programs already at full capacity, it would not be fair for us to keep children and volunteers waiting indefinitely when we know we don't have the resources to support them."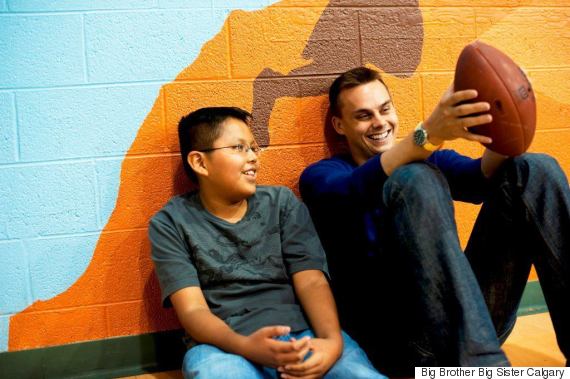 A mentor and mentee with Big Brothers Big Sisters Calgary share a laugh. The organization has stopped accepting new volunteers due to the economy. (Photo: Big Brothers Big Sisters Calgary)
Hundreds of children are on the organization's wait list, including eight-year-old Tatiana.
Tatiana's parents both have physical disabilities and aren't able to play with her as much as they'd like to. Tatiana's mom isn't able to work, and she has two baby siblings, so her family has been in a tough financial situation, BBBS wrote on Facebook.
The eight-year-old, who loves crafts and wants to open her own restaurant when she grows up, has been waiting for a mentor for two years, the organization said.
Not enough resources
Volunteers who want to be mentors have to undergo extensive training, and with the economic downturn in Alberta there just simply aren't enough donations to support those programs.
BBBS has started a public fundraising campaign with the goal of raising $100,000.
"When the economy forced us to cancel our largest annual fundraiser this past spring, we were very concerned about how we were going to continue supporting the children in our programs," the organization said in a statement.
Donations to the non-profit are being matched during the month of August.
Like Us On Facebook
Follow Us On Twitter
Also on HuffPost:
Timeline: Oilpatch Layoffs Of 2015
Here's a look at some of the major energy industry layoffs that have affected Alberta in 2015:

Company: Royal Dutch Shell Layoffs: Hundreds of layoffs at its massive Albian Sands project. The company announced it is laying off less than 10 per cent of its 3,000 workers.

Company: Suncor Energy Layoffs: The company announced it will layoff about 1,000 people from its workforce of 14,000. It also cut $1 billion from its capital budget

Company: Schlumberger Layoffs:Schlumberger announced they would cut 9,000 jobs in January, and another 11,000 in April, but did not report on how may of those jobs would affect Alberta employees.

Company: Newalta Layoffs: The company announced it would cut 180 people from its workforce to reduce costs and improve margins. The cuts amounted to 15 per cent of its staff.

Company: Weatherford International Layoffs: The oilfield services company said it will lay off 8,000 workers worldwide, or about 15 per cent of its workforce. According to Global News, about 1,000 of those positions affected Albertans.

Company: Cenovus Energy Layoffs: Cenovus Energy Inc. said it will cut its staff by about 15 per cent, the bulk of layoffs coming from its contract workforce. The company also suspended employee salary increases for this year.

Company: Precision Drilling Layoffs: Precision announced a net loss of $114 million, and was forced to adjust to a "swift and severe" decline in crude prices, said CEO Kevin Neveu. At the time, Neveu said about 50 fewer Precision rigs, and 1,000 fewer people, were running than at the same time a year ago.

Company: Finning International Layoffs: Finning International said it will cut 500 employees, or about 9 per cent of its Canadian workforce. Some of these cuts came to people working the Alberta oilsands or based in Edmonton.

Company: Husky Energy Inc. Layoffs: Husky Energy Inc. unexpectedly laid off 1,100 workers at its Sunrise oilsands project.

Company: Nexen Energy Layoffs: Nexen said they would slash 400 jobs "in response to the recent industry downturn." The majority of Nexen's cuts affected employees at its Calgary office.

Company: Talisman Energy Layoffs: Talisman Canada said it would reduce its workforce by 10 to 15 per cent as it grapples with low crude prices. Spokesman Brent Anderson says up to 200 employee and contractor jobs would be cut, mostly at the company's head office in Calgary.

Company: ConocoPhillips Layoffs: ConocoPhillips announced that they will cut seven per cent of their Canadian staff — or about 200 people in total. Spokeswoman Kristin Ashcroft said that some Calgary-based staff and workers in the oil field would be let go.

Company: Trican Well Services Layoffs: Trican Well Service Ltd. cut 2,000 employees from its North American workforce, including about 800 in Canada, and said it will stop paying dividends to its shareholders, citing the difficult current and future market conditions.

Cenovus Energy Inc. cut between 300 to 400 jobs in the second half of this year, on top of 800 layoffs announced in February.

Penn West announced it is cutting its workforce by 400 full-time employees and contractors — most of them working at company headquarters in Calgary.

ConocoPhillips Canada confirmed to CBC News it will reduce its workforce by about 15 per cent — 400 employees and 100 contractors. The majority of jobs lost will be in the Calgary office.

Cenovus, Suncor, Athabasca Oil and Calfrac all lay off hundreds of workers. "Unfortunately, these are the necessary steps required to weather an extended downturn," company spokesman Matt Taylor tells CBC.

Enmax, Transcanada and Enbridge all announced layoffs, totalling more than 560 employees, CTV reported.

ATCO Group laid off more than 400 people, according to The Calgary Herald, bringing the total group layoffs of the year to over 18,000 workers.