Calgary Apologizes For Breaching 3,700 Employees' Privacy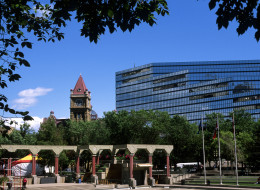 CALGARY — The City of Calgary has wrapped up its investigation into a privacy breach in June involving more than 3,700 employees.
It involved Workers' Compensation Board claim reports from 2012 to 2016.
The information included claim numbers and names, but not birth dates, banking information, addresses, health numbers or Social Insurance Numbers.
The city said in a news release that it happened when a city employee sought technical assistance from another Alberta municipality while working with this information.
The recipient received the information at both personal and work email addresses.
Affected employees being notified
Registered letters are being sent to affected employees and Alberta's privacy commissioner has been contacted.
"We apologize for this situation. The City takes its responsibility of handling and managing the personal information of our staff and citizens very seriously. We are conducting a full review of our current processes and information and data security safeguards to reduce the potential for this type of incident to occur again,'' the city said in the statement.
(CHQR, CFFR)
Also on HuffPost:
7 Household Items That Pose Privacy Problems
If you have a color laser printer, then the documents you print may have imperceptible yellow tracking dots that reveal the printer's serial number and the date and time of printing. The dots are used as part of an effort to track counterfeiters, but the Electronic Frontier Foundation reports that there's nothing stopping the government from tracking any document you print, whether or not its related to currency.

According to the book Brandwashed by Martin Lindstrom, coupon providers often encode your personal information in the bar codes of digital coupons you print. The information can include your computer's IP address, when you found the coupon, where you redeemed it, and the search terms you used to find it.

According to a chart compiled by the Electronic Frontier Foundation, ebook companies often retain your book searches, book purchases and even information on how you're reading the book.

In an interview with Charles Duhigg about his article in The New York Times called "What Does Your Credit-Card Company Know About You?" the reporter said that many credit card companies now have "massive laboratories where they can track what you buy with your card and sort of deduce a lot of things about you, based on those patterns."

Next time you shop at Target, you might want to leave that discount card at home. Many retailers' discount and loyalty cards cards collect purchasing data on customers who use them. The data isn't just used to inundate you with coupons, it may also be used against you by insurance companies.

The Electronic Frontier Foundation warns that many new "smart" electricity meters let utility companies track your power usage "moment by moment." That means your utility company could potentially learn what time you wake up, when you go on vacation, or even more minute details -- like when you run the dishwasher or take a hot bath.

Companies like Verizon and Microsoft have sought to patent processes for monitoring TV watchers. There has also been speculation that Microsoft's soon-to-be-released Xbox One will spy on you via the Kinect, a motion-sensing camera. But that doesn't mean your TV watching habits haven't already been monitored. The Wall Street Journal in 2011 reported that cable companies target ads using TV watchers' personal data.