Dreams Take Flight Surprises Fort McMurray Kids With Trip To Disneyland
Just a few months after a wildfire forced them to flee their homes, 50 Fort McMurray, Alta. kids are about to embark on the trip of a lifetime to Disneyland.
Dreams Take Flight Edmonton, the charity organizing the trip, usually takes 150 disadvantaged kids to the theme park every year.
'Magical' experience
But this time, thanks to sponsor Air Canada, they were able to make room on the September flight for the Fort Mac kids.
The organization surprised the children with the news at a hotel in Edmonton on Sunday.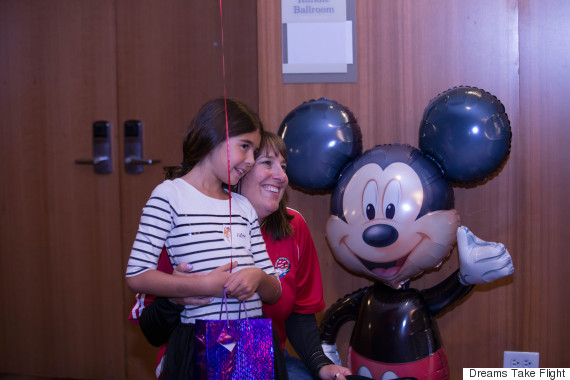 One of the kids headed to Disneyland poses with a volunteer. (Photo: Dreams Take Flight)
"Aside from the flight itself, this is an event that our volunteers wait for all year," said the organization's Nadine Bailey in a release.
"Giving children this kind of experience is magical."
Their parents were in on the secret, but the kids had no idea what was about to happen.
Watch their reaction to the surprise in the video above.
Like Us On Facebook
Follow Us On Twitter
Also on HuffPost:
Fire Aid Benefit Concert For Fort McMurray
Fans cheer during Fire Aid, a benefit concert held in Edmonton on June 29, 2016, for those affected by the Fort McMurray wildfire. The concert raised $2 million.

Nickelback performs.

Fans sing the national anthem at the concert.

Blue Rodeo performs.

City and Colour performs.

Kylie Brown cheers while wearing an "Alberta Strong" T-shirt.

Corb Lund performs in an Oilers jersey at Fire Aid.

A fan gets a better vantage point at the concert.

Trevor Goodall enjoys the Fire Aid concert.

Janelle Lambert, left, and Samantha Sinclair, right, take in the show at Fire Aid.

Dear Rouge performs.