Simon-Pierre Canuel, Quebec Restaurant Customer, Unfairly Attacked By The Media: Lawyer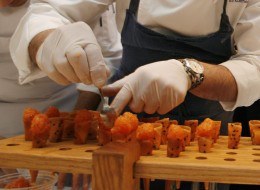 MONTREAL — The lawyer for a man at the heart of a legal complaint over salmon tartare says his client is being portrayed unfairly as a con in Quebec media.
Francois Daigle, who is representing Simon-Pierre Canuel, says he's taking issue with reports this week his client has previously used his allergy to seafood to seek financial compensation.
Daigle said allegations Canuel has tried to obtain money are false and unsubstantiated.
"That's completely false according to my client and isn't reflected in the case files I've consulted," Daigle said Friday. "No one has brought me any evidence there is even one claim for compensation — here or anywhere else."
Canuel, 34, of Gatineau, Que., filed a criminal complaint over salmon tartare he was served at a restaurant in May. He said he ordered beef tartare and told a server repeatedly he was severely allergic to seafood.
He said he left his EpiPen in the car and fell ill after taking a bite of the dish in a dimly lit room in the Sherbrooke restaurant.
"What we have as information is this person says he is not allergic. I have a lot of trouble with a journalist reporting this when I have 250 pages of medical records that say the opposite."
— Francois Daigle
Canuel was hospitalized and Daigle said he fell into a coma for two days and suffered cardiac arrest.
Daigle spoke on Canuel's behalf Friday and said his client is not up to giving interviews himself because he is suffering from severe anxiety.
Canuel, Daigle said, is facing huge social pressure and contending with disparaging comments circulating about him.
"Presently, the element that is the most disturbing for my client is the media," Daigle said. "Mainly, the false information that is out there."
Daigle said he also takes issue with another allegation by an unnamed ex-partner of Canuel's that his client isn't allergic to seafood at all.
For now, the amount of damages remains unspecified.
"What we have as information is this person says he is not allergic," Daigle said. "I have a lot of trouble with a journalist reporting this when I have 250 pages of medical records that say the opposite."
Daigle said he intends to ask for a retraction from Quebec City radio station FM 93, which reported the allegations about him using the allergy as a way to obtain money.
The station said it spoke to Canuel this week after it published its story. It reported he said he never used his allergy to seek money.
Daigle said legal action against the restaurant is pending: a first letter was sent in August and a claim is expected to be filed if there's no agreement.
For now, the amount of damages remains unspecified.
Police in Sherbrooke, about 150 kilometres east of Montreal, started their probe in late July after a formal complaint alleging a waiter didn't take enough care with Canuel's order.
In August, police confirmed they were investigating a 22-year-old male restaurant employee for alleged criminal negligence.
Police have not identified the waiter and the allegations have not been proven.
It will be up to the Crown to decide whether charges are warranted.
Police said they reopened their investigation this week to look at the allegations and Daigle said he's reached out to investigators.
ALSO ON HUFFPOST:
Yes, meat. Many people are allergic to chicken, beef, lamp or pork -- or any combination thereof. "Interestingly, in most allergic reactions, it's the protein that the body is responding to. But with meat allergies, it's the sugar," Dr. Hemant Sharma, Director of Food Allergy Program at Children's National in Washington DC. Sharma tells HuffPost Healthy Living that researchers now believe there's a connection between allergies to meat and tick exposure because the distribution of meat allergies mimics the distribution of tick populations in the south. He notes that Southern author John Grisham is an outspoken meat allergy sufferer -- he is unable to eat any red meat.

Sesame seeds are often thought of as the ninth common allergan, according to Sicherer, and are continuing to grow. Sharma explains that this may be simply a matter of changing food choices in the U.S. "It's a pretty common food allergy in other parts of the world, especially the Middle East where the diet is rich in sesame," he says. "Now the American diet is incorporating more and more sesame seed, which could explain the rise in prevalence."

Marshmallows are made of sugar and gelatin, which causes an allergic reaction in some people. That makes marshmallows, gummy candy and, interestingly, some gelatin-containing childhood vaccines off limits.

Mild apple allergies are more common than you'd think, according to Sicherer. But it isn't anything inherent to the fruit that allergists believe cause the reaction. Instead, it's the birch pollen that's commonly found on the surface of raw apples that can cause an itchy throat. Birch pollen is also commonly found on peaches and plums, so those with hay fever beware!

If you get an itchy mouth from eating melon, it could be a ragweed pollen allergy that's causing the discomfort, according to Sicherer.

Often, if someone has an allergic or intolerant reaction to hot dogs, they assume it's the preservative nitrates found in many processed meats. But, according to Sicherer, it could very easily be the Annato seed, which is used as a natural dye to turn foods orange or pink.

Just as with wine, the actual fruit may not be the problem. Instead, the preservative sulfites can cause a reaction in many, including an itchy jaw and flushed face.