Trudeau In China: Prime Minister Takes Hard Stance Against 'Divisive, Fearful Rhetoric' At G20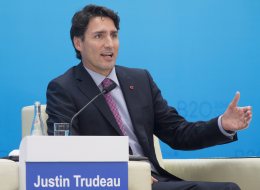 HANGZHOU, China - In his first event at the G20 leaders' summit, Justin Trudeau urged his peers Saturday to drive away the anti-globalization and protectionist attitudes that have been fuelling "divisive, fearful rhetoric'' in different parts of the world.
The prime minister pointed to slowing global economic growth as a source of the anxiety behind the movements. He noted how it has surfaced in the Brexit debates in the United Kingdom and in election campaigns, an apparent reference to the United States.
Trudeau's message was driven by one of Canada's goals at the gathering in the Chinese city of Hangzhou: encouraging countries to beat back the growing sentiment that trade is bad.
"We know that isolationism, that building walls, that closing in on oneself does not create opportunity, it does not create growth,'' Trudeau said from a stage he shared with the presidents of Argentina and South Africa at a Business 20 meeting, which is part of the G20.
"But it's very tempting to fall into divisive, fearful rhetoric. And that's one of the things that we have to be very, very strong and compelling in standing against.''
"I look forward to continuing to have extremely productive conversations with my provincial counterparts.''
Trudeau enters the heavily fortified Hangzhou summit area for his second G20 gathering of major economies - this time with much more experience. His first G20 summit last November came only a couple of weeks after his Liberals took office.
Canada's objectives at this summit are expected to range from promoting trade and investment, encouraging other countries to move forward in the fight against climate change and pressing them to use the necessary policy tools to generate growth.
Some observers expect Trudeau to carry more sway with his counterparts at this year's G20, particularly since many of the other leaders have seen their voices diminished. Some face challenges, some carry baggage, some are dealing with both.
This will be the final G20 meeting for outgoing U.S. President Barack Obama, while German Chancellor Angela Merkel and French President Francois Hollande have elections on the horizon.
Meanwhile, new British Prime Minister Teresa May continues to deal with the aftermath of the Brexit vote to leave the European Union. Trudeau will meet May this weekend in person for the first time.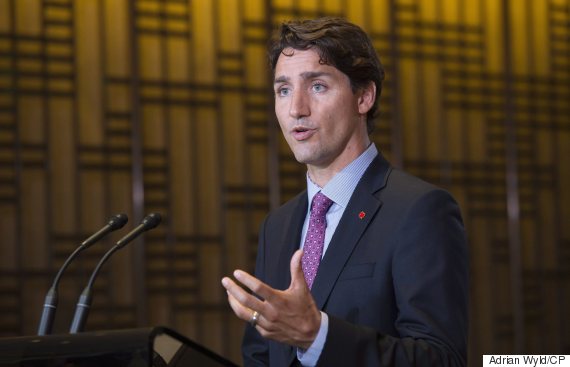 Prime Minister Justin Trudeau answers questions from the media during his news conference in Hangzhou, China on Saturday. (Photo: Adrian Wyld/CP)
"I think that strength in his position in terms of being able to influence the debate - there will be even more eyes on him,'' said Thomas Bernes, of the Centre for International Governance Innovation think tank.
"I think Trudeau will be seen even more as both the new force that now has a year under his belt and has not appeared to have made any big mistakes.''
Bernes said with the central debate at this year's summit on the anaemic pace of global growth, he also expects Trudeau to continue to attract attention for his commitments to invest tens of billions of dollars in infrastructure with an aim of boosting the Canadian economy.
That type of fiscal stimulus, Bernes noted, has been advocated by the International Monetary Fund.
Trudeau is also expected to continue efforts at the summit to promote Canada as an international leader in combating climate change.
On Saturday, China and the United States held a ceremony in Hangzhou to formally join an ambitious, global treaty on climate change that was negotiated last year.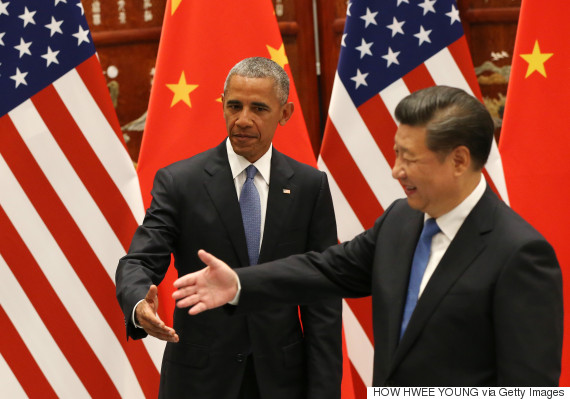 US President Barack Obama (L) gestures as Chinese President Xi Jinping extends his hand during their meeting at the West Lake State Guest House in Hangzhou on September 3, 2016. (Photo: How Hwee Young/AFP/Getty Images)
Trudeau still has work to do at home in bringing provinces on board before Canada can ratify the Paris Agreement.
"It's one thing to say, 'We're going to ratify Paris,' '' said John Kirton, director of the G8 Research Group at University of Toronto.
"A promise to ratify Paris by the end of the year is not nearly enough.''
Asked on Saturday about the Paris Agreement, Trudeau told reporters in Hangzhou that work toward ratification remains a "hot item'' on the Liberal government's agenda.
"As well as ongoing discussions with the premiers, who have all demonstrated a desire to be positive actors in reaching our Paris targets and goals associated with it,'' Trudeau said.
"I look forward to continuing to have extremely productive conversations with my provincial counterparts.''
ALSO ON HUFFPOST:
Prime Minister Justin Trudeau has made his first official visit to China. The PM aims to strengthen ties between Canada and the world's second-largest economy, and promote human rights.

Prime Minister Justin Trudeau, his wife Sophie Gregoire Trudeau, and daughter Ella-Grace are greeted as they arrive in Beijing, China, on Aug. 30, 2016.

China Entrepreneur Club chairman Jack Ma shares a laugh with Prime Minister Justin Trudeau during a question and answer session in Beijing on Aug. 30., 2016.

Prime Minister Justin Trudeau inspects an honour guard with the Premier of China Li Keqiang during an official welcoming ceremony at the Great Hall of the People in Beijing, Wednesday August 31, 2016.

Prime Minister Justin Trudeau and China's Premier Li Keqiang prepare to leave at the end of a joint press conference at the Great Hall of the People in Beijing on Aug. 31, 2016.

Prime Minister Justin Trudeau and Sophie Gregoire hold Ella-Grace's hand as she jumps over a drainage pipe as they visit a section of the Great Wall of China, in Beijing on Sept.1, 2016.

Prime Minister Justin Trudeau participates in a promotional event for Canadian company Manulife in Shanghai, September 2, 2016.

Prime Minister Justin Trudeau poses with for a group photo at the Nanyang Model Private High school in Shanghai, Friday September 2, 2016.

Prime Minister Justin Trudeau prepares to throw the ball for the jump ball to start a basketball game.