Montreal Taxi Drivers Sue City Over Right To Wear Black Jeans
MONTREAL — A group of more than 100 Montreal taxi drivers announced Tuesday it will sue the city over the right to wear black jeans on the job.
Cabbies say they will file an injunction in the coming days asking the court to repeal a dress code bylaw that went into force in January.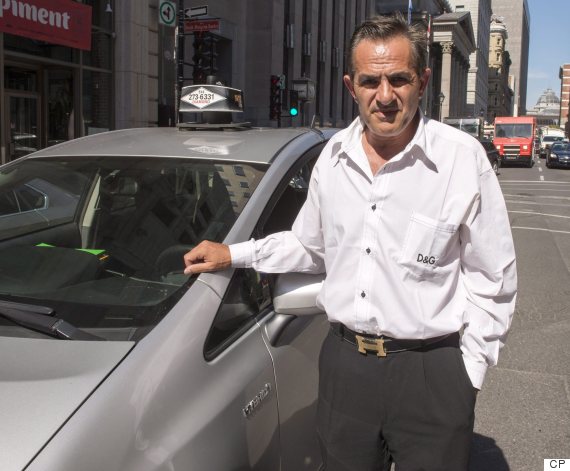 Taxi driver Mouhcine El Meliani stands beside his cab, Sept. 6, 2016 in Montreal. (Photo: Ryan Remiorz/The Canadian Press)
The law requires drivers to wear "long, black pants" but cabbies say city inspectors have taken it upon themselves to interpret the law as prohibiting black jeans.
"The inspectors are arrogant against all the taxi drivers in the city without exception," Mouhcine El Meliani, one of the plaintiffs, said in an interview.
"Long, black pants are all kinds of pants — it's general. It's causing us moral stress. Every time we go out on the job we fear getting fined for wearing the wrong pants."
He says he's received two tickets of $174 for wearing black jeans.
"Every time we go out on the job we fear getting fined for wearing the wrong pants."
The dress code is part of the city's ongoing reforms to modernize the heavily regulated industry.
Taxi drivers "must be dressed properly and soberly; clothing shall not be stained or torn," the bylaw reads.
Aside from the stipulation of long, black pants, drivers are allowed to wear black "Bermuda shorts" between May 1 and Sept. 30.
In Quebec, the government maintains strict caps on the number of taxi permits allowed in each city in order to ensure drivers receive a certain amount of business.
New, illegal entrants such as Uber have upset the market and politicians have been trying to find ways to make the province's taxi fleets more attractive to citizens.
"I would say the industry is very happy with all the changes."
The new rules also force drivers to get out of their car and open the door for passengers entering and exiting the vehicle.
Marie-Helene Giguere, a spokeswoman for Montreal's taxi bureau, wouldn't comment on El Meliani's case.
She said the city's "action plan" on modernizing the industry is going over well.
"I would say the industry is very happy with all the changes," Giguere said. "(Drivers) are engaged in our action plans."
She added that cabbies can always contest their tickets at municipal court.
Also on HuffPost:
Dos And Don'ts Of Job Interview Attire
"What you wear allows the interviewer to see you beyond what you are wearing," says Lebanthal. "Something too bold may be either off putting or will make the interviewer less focused on what you have to say."

"My must have interview items are khakis, a neutral tone suit, a button down shirt and simple, yet elegant jewelry," says Lebanthal.

"It's always better to be more formal than less," says Lebanthal.

While suits are generally the best way to go, more casual interview attire may be preferred in some workplaces. "That doesn't mean wearing jeans and a t-shirt, even though that may be the norm once you work there," says Lebanthal. "Tailored pants and a button down shirt are a good midway point between suit and casual."

"You don't want your outfit to be more memorable than you," says Lebanthal. "Once you get the job, you can start showing your style."

"Make sure your resume is in an attractive folder; leather or otherwise," says Lebanthal. "It's all part of your presentation."

"Make sure your clothes are clean and there aren't any stray threads," says Lebanthal. "Sounds obvious, but I've seen it all."

"Lastly, while it's not about dress, if your hands are sweating- it's natural if you're nervous- tap your fingers against one another while cupping your palms," says Lebanthal. "It really helps air your palms out. No matter how put together you are, a clammy handshake is something that your interviewer will remember."