'Blue's Clues' Steve: Despite The Rumours, He Is Not Dead
It's been 20 years since "Blue's Clues" first aired and now everyone's wondering, "What the heck happened to Steve?"
Steve Burns was the original host of the show and played the owner of the cartoon dog, Blue. He got the role at the age of 23 and starred on the show from 1996 until 2002. At that point, Steve "left for college" and his cousin Joe, played by Donovan Patton, took over the role as host.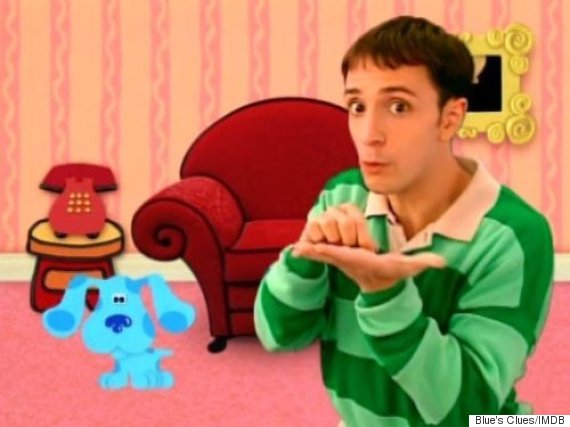 So where is Steve now? Ever since he left the show, it's been long rumoured that the actor died of a heroin overdose. But we have good news! Steve is actually alive and well.
Here's what he looks like now:
Despite the terrible rumour, Steve has kept a good sense of humour. Following gossip of his death, the 42-year-old changed his social media handles to @SteveBurnsAlive.
Arguably still alive.

— Steve Burns (@SteveBurnsAlive) January 6, 2015
According to MTV, Steve pursued a music career following his departure from "Blue's Clues." His first indie rock album, "Songs for Dustmites," was released in 2003, and his second, "Deep Sea Recovery Efforts," was released in 2009. The latter was made in collaboration with The Flaming Lips.
Steve also kept to his acting roots. He went on to star in the 2007 comedy-horror "Netherbeast Incorporated," as well as the 2008 sci-fi film "Christmas on Mars." Most recently, Steve appeared in the YouTube series "The Professionals," Us Weekly reports.
Today, Steve credits "Blue's Clues" for jumpstarting his career.
"I don't think [being on the show] has caused any sort of credibility deficit," he once said. "I think it's an amazing children's television show... I'm incredibly proud to have been even involved in it. I think coming from kids TV, it just makes the story more interesting."
On the show's anniversary on Thursday, the actor paid tribute to "Blue's Clues" on Twitter.
Blue's Clues turns 20 today and I'm still so grateful for all your help.

— Steve Burns (@SteveBurnsAlive) September 8, 2016
He also joked about hating his khaki pants on the show, and how life is less exciting as a grown up.
Blue's Clues turns 20 today and I'm still a little mad about the pants. pic.twitter.com/p9BJbviWVK

— Steve Burns (@SteveBurnsAlive) September 8, 2016
Noticing that I'm less excited about the mail at 42 than I was at 22.

— Steve Burns (@SteveBurnsAlive) September 8, 2016
ALSO ON HUFFPOST:
Kids' TV Shows That Adults Secretly Love
Running now for 45 years, Sesame Street is arguably the classic crossover smash-hit. Characters such as Elmo, Big Bird, and The Cookie Monster have become bona-fide cultural icons, and countless parents have watched over the shoulders of their children as they recite the alphabet and are taught to count by none other than The Count himself. Winner of 159 Emmy Awards, little wonder it's managed to attract huge names such as Johnny Cash, Robert DeNiro, and most recently Benedict Cumberbatch, to perform on the show.

Brightly coloured, wide-eyed, cartoon ponies going by the names of Rainbow Dash, Flutter Shy, and Sweetie Belle, might not seem like an obvious choice for adult cult favourite, yet the existence of legions of loyal male fans suggests otherwise. The self-proclaimed 'Bronies' come out in force at fan-conventions, and have taken the internet by storm producing remixed versions of the show's theme- tune and art.

Now here's a pitch meeting we'd love to have sat in on: 'We want to make a television show about a talking, fully-clothed, sponge, who works as a cook in the town of Bikini Bottom. His best friend is a star fish, and we were thinking he could possibly live in a pineapple...' Miraculously greenlit, and dripping in adult humour behind the silliness, it's not hard to see how it soon won fans the world over.

Like an even wackier version of Ferris Bueller's Day Off, Phineas and Ferb follows the antics of two step-siblings attempting to fill each day of the summer holidays with unparalleled fun. Possessing a seemingly endless budget, the boys cause the type of chaos young tykes can't help but love, all the while providing in-jokes and running gags for the parents. Bonus points for the fedora-wearing shallow-water loving superspy Perry The Platypus.

Any show that crosses a unicorn with a rainbow to create a character named Lady Rainicorn is worthy of a special place in our hearts. Adventure Time is set in the Land of Ooo and finds a twelve year old battling evil with the help of his magical dog. Anime-influenced, and loveably bonkers, this is the type of children's television that produces future Terry Gilliams and Lady Gagas from its young audience. Well worth a watch whatever your age.

Second only to My Little Pony in terms of its bright colours and saucer-eyed creations, the Emmy-Award nominated heroics of Blossom, Bubbles, and Buttercup – superhero siblings who save the world whilst dealing with the everyday challenge of school bullies and bed-wetting – are popular worldwide. Described by critics as 'gleeful pop culture and exquisite high-art', the cartoon has gained a strong following of adult fans.

Tommie, Chuckie, Phil, Lil, and Angelica – five carpet-crawlers who shuffled their way into mainstream public consciousness during the '90s. Role-models for watching toddlers, and providing enough laughs (especially in its depiction of the clueless adults) and cultural references for the older viewers, the show proved highly influential. Later sequel All Grown Up revealed that Tommie grew up sporting diabolical N Sync-esque purple hair.

Once voted the UK's favourite children's TV programme; adults will always sit themselves down by the television and enjoy a slice of homecooked nostalgia when this kid's classic repeats. In each episode the 'fat furry Catpuss' would discuss the virtues of various old broken objects with his toy friends in stop-motion, and then fall asleep. Not a riveting plot admittedly, but enchanting nonetheless. Radiohead's Thom Yorke is an unlikely celebrity fan.

The adventures of the sea-faring pirate Captain Pugwash have featured on our airwaves at regular intervals since the 1950s. The Captain's cowardice and over-reliance on his cabin boy provides comic japes for the children, while adults have always been keen to tune in for the ship-shape puns (The Flying Dustman etc.) and to investigate the (sadly untrue) rumours about character names laden with blatant innuendo.

Brainchild of legendary Finnish illustrator Tove Jannson, the Moomins gained huge popularity both in Europe and Japan, as fans instantly took to the friendly Sea Hippo-esque creatures. Beloved for its beautiful art design and the gentle, almost hypnotic, adventures of the inhabitants of Moominvalley. A themed-shop in the heart of London exists for parents to splash out for both their kids, and, who are we kidding, themselves.

A nostalgic classic. Bananaman followed the crime-fighting adventures of a boy turned fruity-superhero. The wry voiceover kept the grown-ups entertained. Bonus points too for promoting a 5-a-day message, and allowing countless parents to slip fruit into their kid's lunch-boxes with the tantalising promise that one day they too might suddenly turn into muscle-laden, masked defenders of the galaxy.

Thunder. Thunder. Thunder. Thunder. Cats! Has a TV theme tune ever been more rousing? Thundercats may have faded to black on its final episode after 25 years, but its feline legacy lives on as a cult classic. Instantly transforming sensible grown-ups into imaginary sword-wielding kids, renowned lover of children's television, Benedict Cumberbatch is a confirmed fan having had the theme tune adapted for him at a recent birthday.

The Stephen Spielberg-produced cartoon was choc-full of pop-culture references and Charlie Chaplin-esque slapstick that seemed to stem from the Golden Age of Hollywood, represented by the studio water tower from which they burst at the start of each show. Adults still have the insanely catchy theme-tune screeching on a loop in their head many years later. All together now 'It's time for Animaniacs. And we're zany to the max....'

A British television fixture: Jackanory ran to over 3,500 episodes across its 30 year run. The premise was simply to bring together great voices to tell quality children's stories. Its appeal lay in the recreation of the bedtime story and the family time that surrounded that moment in the day – and the show was adored by kids and parents alike because of it. Storytellers included Alan Rickman, Spike Milligan, Judi Dench, and rather notably, Prince Charles.

Head to any major fan convention in Japan (or indeed almost anywhere else), and you'll see fully-grown adults dressed head to tail in the yellow fur of Pikachu. It may have originally been conceived for children, but those children have grown up and their Pokemania remains undimmed. Still wildly popular almost two decades after its origin, the franchise continues to 'catch 'em all', regardless of age, and is drawing in further fans from its new home on Netflix.

As the name suggests, this is perhaps one of the most magical children's television shows screened to date, featuring the day-to-day lives of characters who live near to the park which hosts the titular roundabout. The original slot during the seventies had the show broadcast before the evening news – when this was changed to an earlier viewing time to suit its younger audience, adults complained furiously as they were unable to watch.

Featuring well-loved characters Zippy, George and recent 'The Voice' contestant Bungle. Rainbow sees the creatures help out presenter Geoffrey with the various tasks and activities that need completing. The series didn't tend to have a continuing storyline so this allowed for the characters to create as much mischief as possible. With an impressive 23 series under its belt it's no wonder that it's a cult favourite – plenty for fans to re-watch!

With the recent (and utterly brilliant) film adaptation just nominated for a BAFTA, its fair to say that Paddington bear is still very much loved. The story follows the young bear who travels from deepest darkest Peru to find a new family in London after disaster strikes his country. And, of course, Paddington is always a hit with the fashion crowd as he can always be spotted in his signature duffle coat, hat, and accessorizing with a pot of marmalade. High fashion indeed.

Despite only thirteen episodes of this programme ever having been made, the 1970s cartoon still remains very popular with children, and big kids who remember it from the good old days. The series features bowler-hat loving Mr Benn visiting a fancy dress shop and picking out an occupational outfit within which to undertake his next merry adventure. Kid's shows were a lot less complicated back then...

The show is still highly popular today with both adults and children still tuning in to see repeats and revamps of the adventures of Sooty, Sweep and Soo. It is the longest-running children's television show in the UK and the original series hit just under 500 episodes in total. There are still various versions of the show in production now, and scores of parents swear on the unlikely virtues of using sock puppets to successfully tell the kids to do their chores.

Despite ending its original broadcast in 2004 the phrase 'Hey Arnold!', heard continuously in its opening title sequence, still incites various corresponding cries amongst adults. And regardless of the laughs it brought us, in hindsight we're sure that Helga's obsessive/stalker-ish tendencies towards Arnold were bordering on illegal, which is probably why we rooted for her winning his heart in the end.

There's no need to wait until your little ones have gone to bed to watch this on iPlayer because we're ready to stand up and openly admit our love for these gruesome tales. Where's the shame in admitting that all your historical knowledge stems from educational books such as The Terrible Tudors and The Awesome Egyptian – and now with a CBBC series continuously on TV, we've got more chances than every brush up on our facts. Who knew Queen Elizabeth I had to resort to online dating?

As a certified classic The Flintstones will probably never disappear from our screens entirely, its juxtaposition of modern everyday realities in the Stone Age had us relating to their struggles and triumphs. And despite being over 50 years old every episode seemed to be relatable; from Fred's issues with his boss to his constant battles with his mother-in-law. And let's not forget the family's purple pet dinosaur, Dino, whose energy and distinct colour constantly stole the show – eat your heart out Barney because Dino definitely wore it better.

Although not as popular as some of the other show's on this list, Total Drama Island is definitely one to watch. This animated series successfully parodies every survival reality show in existence, with every character playing up to their full potential as clichéd contestants – such as mean girl and all- round villain Heather. Before the third episode you'll find yourself rooting for a favourite, despising a few and brushing off the Celebrity Big Brother drama in comparison.

With a 10 year-run on the Cartoon Network, Ed, Edd 'n' Eddy was (and probably still is) one of TV's best cartoons. Set in a neighbourhood in perpetual summer these boys with identical names, with a commendable persistence, attempted to scam the other cul-de-sac children out of their allowances using various schemes. Full of vibrant colours and questionable fashion trends, Ed, Edd 'n' Eddy taught us a lot about life as an adolescent while reassuring us that our pre-teen years could always have been much worse.