Julian Fantino's Claims That Language Email Was Doctored Proved Wrong
OTTAWA — A document obtained under access-to-information laws refutes former Conservative cabinet minister Julian Fantino's claim that an email at the heart of an official languages complaint had been doctored.
In 2013, an email from Fantino's office asked that all correspondence signed by the minister be sent in English, even if the addressee was French-speaking.
"I would like to reiterate that ALL correspondence signed by the minister be sent in English,'' said the email, dated Feb. 14 of that year.
"In special cases, ie (Haitian Prime Minister Laurent) Lamothe, then it makes sense, but for example, for the Ethiopia trip thank you letters to staff, we noted twice that we had some in FR (French). I understand that we know the recipients' first language is French however the minister can write in English if he chooses to do so. That is also in line with the OL (Official languages) act.''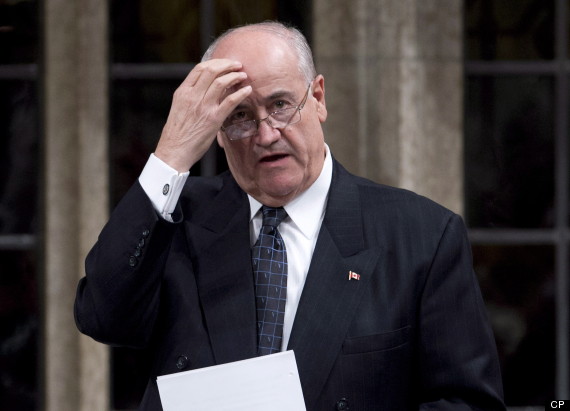 Former cabinet minister Julian Fantino in 2013. (Photo: CP)
The Canadian Press wrote about the email at the time after receiving a copy from a source.
That prompted Fantino, the then-international co-operation minister, to state in a letter sent to various media that the email had been doctored.
"The source of these allegations has either altered documentation before giving it to the reporter, or the reporter has selectively edited what they were given,'' he said.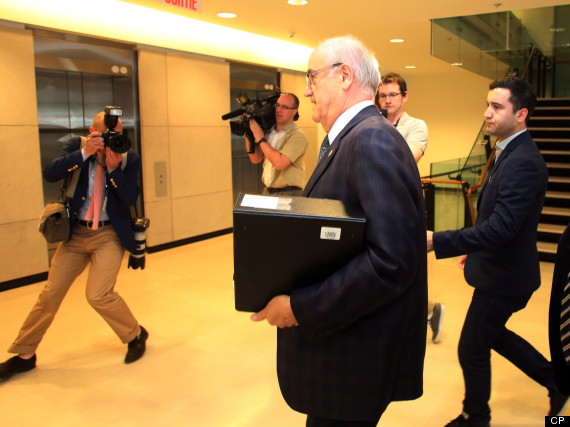 Fantino in 2014. (Photo: CP)
Fantino claimed concluding words to the email — "for review'' — had been removed.
The extra words would have meant Fantino just wanted to approve the emails in English without necessarily sending them only in English, even to francophones.
A request to Fantino's office at the time for a copy of what he claimed was the original email was turned down for privacy reasons.
Redacted version surfaces

In March 2014, when the Conservatives were still in power, a completely blacked-out version was obtained from the Canadian International Development Agency.
In explaining the redacted version, the department invoked articles in the access-to-information law allowing for passages in a document to be edited out, notably if it contains recommendations from a federal institution or minister.
The Canadian Press then filed an access-to-information request with the Office of the Information Commissioner of Canada to obtain a copy of the email. The communication is identical to the one obtained from the source in 2013.
Fantino did not return calls for an interview request for this story.
Complaint deemed 'well-founded'
The 2013 email prompted NDP MP Yvon Godin to file a complaint with Official Languages Commissioner Graham Fraser.
"The complaint was deemed to be well-founded and (it was determined) there had been a breach of the official languages (act),'' said Robin Cantin, a spokesman for the Office of the Commissioner of Official Languages.
Cantin said the official languages office did a follow-up in October 2015.
"We then recommended that the instructions for ministerial correspondence be reviewed to ensure that language preference of the addressee was fully taken into account,'' he said.
Fantino, a former Toronto police chief, was first elected to the Commons in 2010. Following his stint as international co-operation minister, he was named veterans affairs minister before being stripped of the portfolio in 2015 after being criticized for his performance.
He lost his seat in the 2015 election.
Also On HuffPost:
5 Ontario Liberal Scandals Likely To Resurface
Ontario's publicly funded air ambulance service has been under fire for almost two years over sky-high salaries, financial irregularities and corruption allegations. A legislative committee has been probing the service's complex structures and pay scales in detail, and opposition parties have been alleging wrongdoing with nearly every revelation. The auditor general has criticized the governing Liberals for failing to oversee Ornge, despite giving it $730 million over five years and allowing it to borrow another $300 million. The Liberals insist Ornge went rogue with a web of for-profit companies and questionable business deals, as well as exorbitant salaries and lavish expenses.

Scandal has swirled around the government's decision to cancel the construction of two Toronto-area gas plants ahead of the 2011 election, in which the government then led by Dalton McGuinty was reduced to minority status. The cancellation costs have now been pegged at $1.1 billion, but opposition parties have accused the Liberals of actively trying to cover up that figure. Ontario's privacy commissioner has concluded that staff working for McGuinty and a former energy minister broke the law by deleting emails pertaining to the project. Ontario Provincial Police are also investigating the document deletions, seizing government computers at both Queen's Park and beyond.

The provincial agency was given a $1-billion budget to develop electronic health records, but wound up building themselves a bad reputation. A lot of the eHealth money went for untendered contracts given to highly paid consultants who then billed taxpayers for additional expenses in a scandal that cost former health minister David Caplan his job. In 2009, the auditor general said the agency had very little progress to show for its efforts, and opposition parties have alleged further financial mismanagement since then.

The government has taken heat for not immediately acting when it learned a $1.4-billion infrastructure project didn't live up to safety standards. The Liberals were told that questionable materials were being used on the support beams on Windsor's Herb Gray Parkway in December 2012, but didn't halt the project until July. More than 500 support beams are being replaced by the project overseer at no cost to the tax payers, but the NDP has accused the Wynne government of trying to cover up the affair and only backing down when threatened with media exposure.

Premier Kathleen Wynne has hailed the 2015 games as a cause for celebration, but opposition parties call it just another scandal. The $1.4-billion budget for the games does not include some key expenses, like the $700 million athletes' village. The government has also come under fire for $7 million worth of bonuses paid out to 64 executives.