Toronto Secret Menu 2016: Delicious Dishes To Try At The City's Top Spots
There's a feeling of satisfaction every foodie gets when they think they have the insider secret at their favourite restaurants. Whether it's choosing the right table, knowing when to book reservations or ordering off a secret menu, you are suddenly an expert.
Fortunately, a city like Toronto, which has hundreds of restaurants that offer all types of cuisines, you can also find a long roster of secret menu items. What are these mythical foods, you ask? Secret menu items are dishes that restaurants serve off-menu and are often advertised by word-of-mouth. (So, sometimes they're not-so secret.)
While some items like Salad King's Islamic Noodles are well-known, other restaurants like Miku, The Carbon Bar and Adamson Barbecue occasionally switch up their secret menus, keeping foodies on their toes.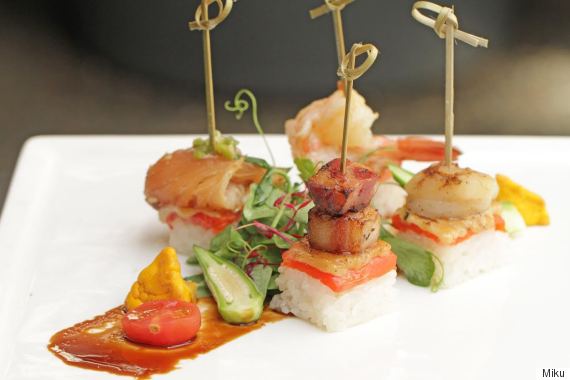 Salmon Oshi Bites from Miku
It's also well-known that fast food giants like McDonald's, Burger King and chains like Starbucks all have their own secret menus, but the majority of Toronto restaurants are willing to make accommodations to their traditional menus to please their customers. So yes, even if you are aren't getting a "secret" meal, you can still choose something vegetarian, gluten-free or just free of tomatoes for personal taste.
And before you check out the list, our one piece of advice is to just ask your server for off-menu items. Sometimes, you will be surprised to find chefs who are willing to get more creative in the kitchen — especially if you ask them to make a meal they are testing out for their menus.
Below is just a glimpse of secret menu items in the city from burgers to poutine to barbecued meat. And yes, we realize the city has a lot more to offer (we have another list here), so let us know, which secret menu dishes are your favourite?
Toronto Secret Menu Items 2016
The joint: The Carbon Bar The secret: Korean Fried Chicken Sandwich $20 (subject to change) What's in it: A burger with gochujang sauce, lettuce, kimchi, American cheese and served with fries.

The joint: Miku The secret: Salmon Oshi Bites, $17 What's in it: Fusion of Salmon Oshi topped with spot prawn, bincho, Hokkaido scallop, and double smoked bacon. This dish is only available during dinner.

The joint: Luckee The secret: Golden 'Pot Pie' with abalone, $6 What's in it: A pot pie that's bursting with umami from abalone, shrimp and shiitakes.

The joint: Doomie's The secret: Vegan Mac Daddy, $16 What's in it: It's no big secret, but Doomie's version of the Big Mac is nowhere to be seen on the menu. However, through word-of-mouth, this delicious vegan patty burger with vegan cheese is on every foodie's must-try list.

The joint: Pizzeria Libretto The secret: The Mama's Hot Pepper pizza, $17 What's in it: The pizza includes tomato sauce, basil, mozzarella, house-made fennel sausage, and very spicy preserved Thai chilis.

The joint: Salad King The secret: Thai Islamic noodles, $12.50 What's in it: This combination of coconut curry over your favourite pad thai is a Toronto classic. You can also get a vegetarian version. Photo: Instagram/amandafacciolo

The joint: Banh Mi Boys The secret: Several secret menu items What's in it: Not only do we love the kimchi at Banh Mi Boys, but the kimchi fries can be added to any type of steamed bao. You can also order the club bao (a mix of fried chicken and pork) and the lemongrass tofu bao.

The joint: Smoke's Poutinerie The secret: Several menu items What's in it: The city's well-known poutine joint's Slaughter House is made with six different types of meat (beef, chili, steak, bacon, pulled pork and sausage) and topped with gravy and fries. Smoke's also serves the Big Daddy Poutine and Curb Bombs — which are deep-fried cheese curds.

The joint: Richmond Station The secret: Tasting menu, $70 for dinner and $50 for lunch What's in it: Not always advertised, but the Toronto hot spot serves up a not-so-secret tasting menu that is constantly changing.

The joint: Maman The secret: Café à la française, $10 What's in it: Try a double shot of espresso, milk foam and cognac. If you want to order it, Maman says to make sure you tell the cashier, "How is your café à la française?"

The joint: Canoe Restaurant et Bar The secret: The Chef's Rail What's in it: This one isn't really a secret menu item per say, but at Canoe, if you ask to sit at the "Chef's Rail," you get an up-close and personal table overlooking the kitchen. The restaurant also adds that sometimes they will tell customers about this option on a busy night and often, the chef is quite interactive — you can even ask for dishes off the menu!

The joint: Fancy Franks Gourmet Hot Dogs The secret: The Wild Turkey Poutine, $11 What's in it: While Franks is known for their over-the-top dogs and poutines, one poutine is actually not on the menu. The Wild Turkey Poutine is made with Cajun fries and turkey sausage.

The joint: Adamson Barbecue The secret: Several menu items What's in it: We can confirm this restaurant made the following three secret menu items when we reached out for this story — so yes, time to eat more BBQ meat. Adamson Barbecue will serve up three secret dishes including the "El Sucio" (chopped brisket sandwich with half a bratwurst sausage); the "Texas Trinity" (1/4lb beef brisket, 1/4lb pork spare rib, jalapeno cheese curd sausage and two sides), and the "Double Everything Tray" which includes 2lbs beef brisket, 2lbs pork spare ribs, four bratwurst sausage, four jalapeno cheese curd sausage, 1lb turkey breast, 1lb pulled pork, one quart potato salad, one quart coleslaw and one quart of beans. Deadly.

The joint: Maker Pizza The secret: Several menu items What's in it: The Cameron Street pizza joint has three secret menu pizza offerings, but the most popular one is the Big Mac Pizza. A small one starts at $17, while a large pizza is $36. Photo: Instagram/aliciahunter

The joint: Cut The Cheese The secret: Several menu items Why we love it: This Junction joint's not-so-secret-menu has several dishes with cheese as the star ingredient, including this bacon grilled cheese (shown in photo) with candied bacon, double smoked bacon, hickory sticks, a fried egg and cheddar cheese.

The joint: The Burger's Priest The secret: Several menu items What's in it: Holy Smokes Burger (pictured here) is a double cheeseburger topped with panko-crusted and deep-friend jalapenos. Now, the double patties already make the burger, but if you want four patties, get the "The Four Horsemen of the Apocalypse." They also serve "Noah's Ark," which is veggie mushroom burger with chili and cheese.