B.C. Naloxone Kits Flood Province To Reverse Overdoses Amid Fentanyl Crisis
VANCOUVER - British Columbia is bombarding the province with thousands of overdose-reversing naloxone kits as part of an all-out assault against a drug crisis that has killed 488 people so far this year.
Health Minister Terry Lake said Wednesday during an update on the opioid emergency that 13,000 life-saving kits have been distributed cost-free to nearly 300 sites across B.C., including emergency departments, public-health units and provincial and federal correctional facilities.
Newly released data from the provincial coroners' service show the number of deaths involving illicit drugs decreased to 49 in August from 55 the previous month, though the 488 fatalities so far this year have nearly overtaken the 505 deaths reported for all of 2015.
"(August) marks the first month of 2016 where the number was reduced over the equivalent month in 2015, but we are very, very cautious about what that means," Lake told a news conference.
"We need more data, more time to see if there's a trend happening."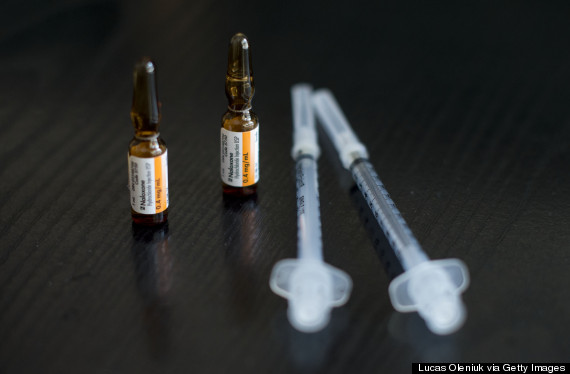 Naxolone and syringes are seen as part of an overdose kit distributed in Toronto. (Photo: Lucas Oleniuk/Toronto Star via Getty Images)
Over 11,000 people have been trained to administer naloxone, including first responders such as police officers and firefighters.
"All ambulance crews and 46 fire departments are now carrying naloxone," Lake said, adding the B.C. Centre for Disease Control is expanding its take-home naloxone program and that the province expects to reach its goal of opening 500 new addiction treatment beds by 2017.
The number of drug deaths where fentanyl was detected between Jan. 1 and July 31 of this year has remained strong at 264, or around 55 per cent of total illicit drug deaths. That's more than three times the 82 fentanyl-related deaths that occurred over the same period last year.
"Thirty-six per cent of fentanyl deaths also involved cocaine, which is frightening, because we know there are people who thought they were taking cocaine and had absolutely no idea they were taking fentanyl," Lisa Lapointe, B.C.'s chief coroner, told the news conference.
Fentanyl continues to take an exceptionally high toll, she added.
"Despite the small decrease in the number of deaths in August, the last thing we would want is for anyone to become complacent or think that the danger is over or that the risks are diminished."
— Lisa Lapointe, B.C.'s chief coroner
"We must all work together to try and reduce that toll, which is predominantly affecting young people and people who should have many more years of life ahead of them," said Lapointe.
"Despite the small decrease in the number of deaths in August, the last thing we would want is for anyone to become complacent or think that the danger is over or that the risks are diminished."
British Columbia has been the epicentre of opioid deaths in Canada, and the province declared a public health emergency in April, after which the coroner's service began collecting and releasing monthly statistics on overdose deaths.
While Vancouver has seen the highest number of deaths in the province this year, the fatality rate has remained consistent since last year. The same can't be said for other B.C. municipalities such as Kamloops, where the number of fatalities has spiked more than five times higher.
Story continues after slideshow:
Fentanyl In Metro Vancouver
Hardy and Amelia Leighton, both in their 30s, were found dead July 20, 2015, leaving behind their two-year-old son Magnus. Toxicology testing confirmed that the couple ingested toxic levels of fentanyl in combination with other drugs.

From January to May 2015, 54 deaths were linked to fentanyl. From July 7 to Aug. 7, 2015, fentanyl was detected in at least 12 deaths, said the BC Coroners Service. In 2012, there were a total of 15 deaths related to the narcotic.

Jack Bodie, 17, and a 16-year-old friend were both found unconscious in a Vancouver park on Aug. 1, 2015 in a suspected fentanyl overdose. The teens were rushed to hospital where Bodie was placed on life support but he died a day later. His friend recovered and was released from hospital. Police believe the pair took fake Oxycontin.

Police in Delta, B.C. said it's a miracle that no one died after nine people overdosed within a 20-minute period on what are believed to be drugs laced with fentanyl. Emergency crews responded to a series of nearly simultaneous calls from four locations about recreational drug users who thought they were taking cocaine.

Fake Oxycontin pills containing fentanyl are displayed during a news conference at RCMP headquarters in Surrey, B.C., on Sept. 3, 2015. Fentanyl is 50 to 100 times more toxic than morphine.

The cheap synthetic opioid often added in drug labs to heroin or Oxycontin to make it more potent and fast-acting, according to police. (Pictured is a photo released by Vancouver police of packages of fentanyl which users thought were heroin.)

North Vancouver RCMP said they suspect the death of a 31-year-old man on July 31, 2015 is also linked to fentanyl. A relative found the man in distress and called police, but he died at the scene.

On Aug. 9, 2015, 16 people overdosed in Vancouver — including six in one hour — from pink heroin that police suspect was laced with fentanyl.

Mounties showed off equipment, pills, money and weapons seized from a counterfeit Oxycontin production facility in Burnaby in 2015. They said there was enough fentanyl pills to put 200 to 300 people's lives at risk. Riley Goodwin, 26, of Vancouver, has been charged with production and possession for the purposes of trafficking.

RCMP Cpl. Derek Westwick shows off seized pill making equipment during a news conference at RCMP headquarters in Surrey, B.C. on Sept. 3, 2015. Among the gear was a pill press capable of producing 18,000 tablets an hour, said police.

A member of the RCMP Clandestine Laboratory Enforcement Team is framed by pill manufacturing equipment while standing in a protective suit, of the type worn when dismantling drug production facilities containing fentanyl, during a news conference at RCMP headquarters in Surrey, B.C., on Sept. 3, 2015.

RCMP Cpl. Derek Westwick of the RCMP Clandestine Laboratory Enforcement Team, holds genuine Oxycontin pills, left, and seized fake Oxycontin pills containing fentanyl, right, during a news conference at RCMP headquarters in Surrey, B.C., on Sept. 3, 2015.

In October 2014, Vancouver police issued a warning about fentanyl masquerading as heroin. It caused more than 30 overdoses and one death that month.
In June, Premier Christy Clark announced a joint task force on overdose response.
"It's a massive effort," Lake said, adding that overdose deaths involving fentanyl have hit communities across North America.
"People have been reaching out to British Columbia to learn about what we're doing," he said.
More safe-injection sites
Earlier Wednesday, the chief medical health officer of Vancouver Coastal Health said the city could see as many as four new supervised-injection sites by early next year.
Dr. Patricia Daly said the health authority is applying to Health Canada to expand the number of harm-reduction sites in its area, where there are currently two such facilities. Insite, in Vancouver's Downtown Eastside, was North America's first supervised injection site.
Daly said she hoped the sites will be up and running by early 2017.
Applying to offer safe-injection services became especially difficult in early 2015 after the previous federal government passed a bill that added several prohibitive regulations.