Canada's ISIL Mission: Feds Want Kurdish Promises Before Sending Weapons To Iraq
OTTAWA — The Liberal government's plan to provide weapons to Kurdish forces in Iraq is being held up by concerns the military equipment won't be used for purposes other than fighting the Islamic State of Iraq and the Levant.
The revelation comes amid growing calls in some Kurdish circles for an independent state separate from the rest of Iraq, and allegations — which the Kurds deny — that they are committing war crimes.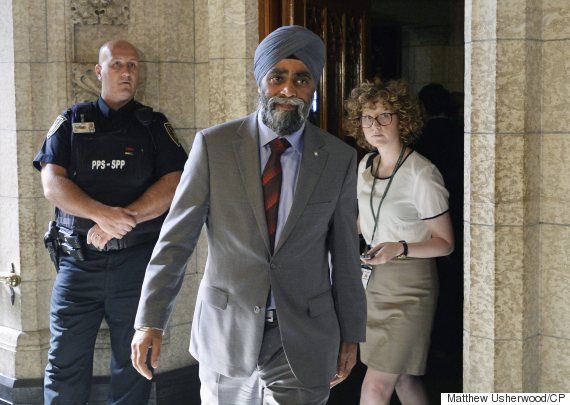 Defence Minister Harjit Sajjan leaves the House of Commons on Parliament Hill in Ottawa on Sept. 20, 2016. (Photo: Matthew Usherwood/CP)
The government said in February that Canada would provide small arms, ammunition and optical sights to the Kurds as part of its revamped mission to fight ISIL. It also expanded the number of special forces in Iraq to about 200 and withdrew Canadian fighter jets from the U.S.-led bombing campaign.
Nearly eight months later, however, none of that so-called lethal aid has been delivered.
The government still intends to provide weapons to the Kurds, National Defence spokeswoman Ashley Lemire said in an email. But first, she said Canada needs to get "Iraqi diplomatic assurances" that the equipment will be used in accordance with international laws.
'Planning is currently ongoing'
"This requires time to allow for a co-ordinated interdepartmental effort to ensure good governance and accountability in the delivery of equipment," Lemire said. "Planning is currently ongoing."
The government has said little about the weapons, including how many or what type Canada is planning to send to Iraq.
Officials did say on Tuesday that Canada will purchase the weapons on the open market. They are expected to include rifles, machineguns and light mortars.
The provision of arms to certain groups involved in armed conflicts has been controversial for a number of reasons. Some say such measures only contribute to fighting, while there are many reports of weapons being lost, stolen or sold.
Damning New York Times report
A report from the New York Times last month found that the U.S. has lost track of hundreds of thousands of weapons handed out in Iraq and Afghanistan since 2001. Many of those have ended up on the black market or even in the hands of groups like ISIL.
Internal briefing notes show that Canadian officials have also previously worried that Canadian-supplied weapons could end up with a Kurdish terrorist group in the region, the Kurdistan Workers' Party, or PKK.
But Bessma Momani, a Middle East expert at the University of Waterloo, said relations between Kurdish forces in Iraq and the PKK have been cool lately. The more pressing concern, she said, relates to rising Kurdish aspirations for independence from the rest of Iraq.
The Kurds already have a degree of autonomy from Baghdad when it comes to running their territory in northern Iraq.
Some Kurdish officials want independent state
But a number of high-ranking Kurdish officials have been increasingly vocal in their calls for a fully independent Kurdistan once ISIL is defeated. They have also warned that territory claimed by the central government in Baghdad but liberated from ISIL by the Kurds will not be returned.
Tensions are rising between Kurdish and non-Kurdish forces around the oil-rich city of Kirkuk, whose ownership is in dispute. Human rights groups have also accused Kurdish forces of committing war crimes by destroying more than a dozen non-Kurdish towns and villages in parts of northern Iraq to consolidate control over the territory.
"The reference to international law, in my opinion, is really about the potential misuse of Canadian weapons against civilians," Momani said in an email.
Kurds deny committing war crimes
The Kurds have fiercely denied they are committing war crimes, and say homes and businesses are being destroyed only because of concerns with booby-traps and other dangers left behind by ISIL.
Canadian officials warned Prime Minister Justin Trudeau last year that the Kurds could use the military training and equipment Canada is providing to fight ISIL to one day push for an independent state.
In a briefing note prepared for Trudeau shortly after the election, officials said, "Should the (ISIL) threat recede Baghdad will have to contend with a range of land disputes with the (Kurdistan regional government), as well as strengthened Iraqi Kurdish forces, which have received training and equipment from coalition members, including Canada."
ALSO ON HUFFPOST:
Canada's ISIS Mission: Then & Now
Her'es a look at some of what's been said — recently and otherwise — about Canada's evolving role in the U.S.-led mission against the Islamic State of Iraq and the Levant, which was officially retooled by the new Liberal government. (Information from The Canadian Press)

"Our efforts should better reflect what Canada is all about; defending our interests and freedoms alongside our allies and working constructively with local partners to build real solutions for the longer term." — Trudeau, announcing a larger training and development mission and the withdrawal of CF-18 fighter-bombers.

"ISIL would like us to see them as a credible threat to our way of life and to our civilization. We know Canada is stronger — much stronger than the threat posed by a murderous gang of thugs who are terrorizing some of the most vulnerable people on earth." — Trudeau.

"Left unchecked, this terrorist threat can only grow, and grow quickly. As a government, we know our ultimate responsibility is to protect Canadians and to defend our citizens from those who would do harm to us or our families." — Former prime minister Stephen Harper on Oct. 3, 2014, as he announced in the House of Commons a plan to send Canadian aircraft to fight in Iraq.

"Canadians did not invent the threat of jihadi terrorism and we certainly did not invite it; nor, as this global threat becomes ever more serious, can we protect ourselves, our communities, by choosing to ignore it. That is why a strong majority of Canadians have supported our government's mission against ISIL. Canadians understand that it is not merely in the wider interests of the international community, but specifically in Canada's national interest." — Harper on March 24, 2015, telling the Commons of a plan to extend and expand the mission.

"It is important to understand that while airstrike operations can be very useful to achieve short-term military and territorial gains, they do not, on their own, achieve long-term stability for local communities. Canadians learned this lesson first-hand during a very difficult decade in Afghanistan where our forces became expert military trainers renowned around the world." — Trudeau on Monday.

"Along with our allies and through the auspices of the United Nations, Canada should provide more help through a well-funded and well-planned humanitarian aid effort. The refugee crisis alone threatens the region's security, overwhelming countries from Lebanon to Turkey, from Syria itself to Jordan. Here at home, we should significantly expand our refugee targets and give more victims of war the opportunity to start a new life in Canada." — Trudeau as Liberal opposition leader in the Commons, March 2015.

"Our allies want us in the fight against ISIS, that is clear. This is a despicable terrorist group. And Canadians want us in the fight against ISIS because it is our fight and that is clear. When our friends and our allies are attacked, it is our fight and when our values are threatened and our country is threatened and our friends are threatened, it is our fight. And when human rights are trampled and human dignity is trampled, then it is our fight." — Interim Conservative leader Rona Ambrose.

"The prime minister likes to say he cares about diversity, but there is nothing that threatens diversity more than ISIS — whether it is the rights of women, cultural and religious freedoms, or the rights of gays and lesbians." — Ambrose.

"The Canadian announcement is the kind of response the secretary has been looking for from coalition members as the United States and our coalition partners push to accelerate the campaign against ISIL ... the United States is willing to lead the coalition in the fight against ISIL, but the barbaric group poses a threat to every nation, so every nation should join this fight. If countries are unwilling or unable to contribute militarily, then they should consider the important non-military ways they can contribute to this effort." — Pentagon press secretary Peter Cook during Monday's Department of Defense briefing.

"We are concerned that the Liberal government has chosen to place Canadian Forces personnel deeper into an open-ended combat military mission in Iraq — a mission that fails to even define what success would look like. And while we welcome the government's announcement today of increased humanitarian assistance to the region, we are concerned that this aid is being linked to the military mission." — NDP MP Helene Laverdiere.

"I commend Prime Minister Justin Trudeau for committing to increase humanitarian and military aid for the nearly 4.6-million Syrian refugees who have been displaced by five years of brutal war in the region." — Green party Leader Elizabeth May.

"As a founding member of the coalition, Canada has been a valued and willing partner in the mission to degrade and destroy (ISIL) and has played an important role across all lines of effort." — Bruce Heyman, the U.S. ambassador to Canada.

"We're pleased Canada is continuing to invest and play a leadership role in educating and protecting children affected by crises in Syria and Iraq." — David Morley, president and CEO of UNICEF Canada.