Mylan Hicks Was Trying To Be A Peacemaker When He Was Shot: Sister
The sister of slain Calgary Stampeder Mylan Hicks says he was "pure love'' and was trying to be a peacemaker before he was shot outside a nightclub.
Hicks, 23, and some of his teammates were at the Marquee Beer Market and Stage in Calgary celebrating the team's win Saturday night against the Winnipeg Blue Bombers. Police say there was a fight inside the club that later continued and escalated in the parking lot, where Hicks was shot.
Nelson Tony Lugela, 19, is charged with second-degree murder.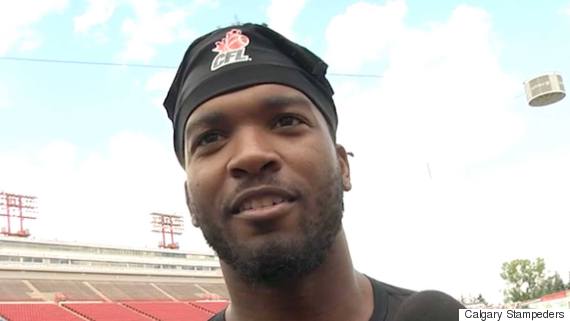 Mylan Hicks, 23, was shot in Calgary on Saturday night. (Photo: Calgary Stampeders)
"The guy was in there causing havoc and from what I understand my brother was the one that tried to defuse the situation and tried to calm him down — 'Hey man, it's going to be all right. Let me buy you a round,'" Jazzmine Fowlkes said Wednesday in an interview from Detroit.
"He even bought him a round. He even gave him a hug, put his arm around him — 'Hey man, we're all right. We're good.'''
"My brother was hit trying to save his team, trying to save his teammates.''
"Pure love — that's the best way I can describe my brother. Just pure love. Genuine, loyal, respectful."
Fowlkes, 29, said she and her brother were close. He often acted as her "little big brother,'' imparting advice and looking after her.
"Pure love — that's the best way I can describe my brother. Just pure love. Genuine, loyal, respectful.''
Hicks was a doting uncle to her two sons Kaiden and Carter, who are three and two years old, she said.
"He loved my babies. Those were his world,'' Fowlkes said.
"This is why he worked so hard. He worked so hard so he would be able to take care of his family.''
Moved from Detroit to Calgary
Fowlkes said she thought her brother would be safer from violence in Canada than he had been in Detroit.
She was the first in the family to get the news that he'd been shot early Sunday.
"I can't begin to describe the type of agony and pain I felt all through my body. All I could do was scream and holler.''
Fowlkes said she talked to her brother on the phone a day earlier.
"I asked him when he was coming home and he said in December, and I couldn't wait. I was looking forward to it because I love my brother.''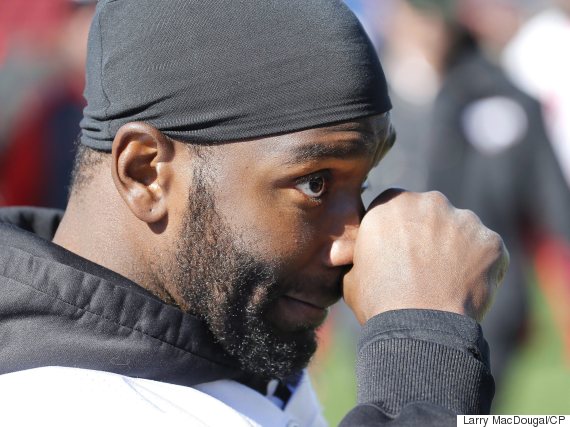 Stampeder Jamar Wall is wearing #31 to honour his teammate, Mylan Hicks. (Photo: Larry MacDougal/CP)
Members of the Calgary Stampeders were still upset over Hicks's death at practice Wednesday and were eager to meet with his family.
Stampeders head coach Dave Dickenson said president and general manager John Hufnagel was picking up Hicks's parents at the airport Wednesday afternoon.
Team members were planning to meet with Hicks's parents, Renee and Reggie Hill, on Thursday.
"It's a pretty big family ... and the mom has a tragic story earlier in her life as well. You feel for them,'' Dickenson said.
"The guys are going to try and reach out, as well as our front office and coaching staff, and hopefully we kind of connect with the parents and there's some good stories and memories we can share.''
"This is why he worked so hard. He worked so hard so he would be able to take care of his family.''
A 2013 profile of Hicks's mother on the community website My Grandmont Rosedale says she moved into a Detroit neighbourhood nearly three decades ago as a single mom shortly after her husband was killed in a robbery.
Stamps defensive back Jamar Wall is to wear Hicks's No. 31 jersey in this weekend's game in Hamilton.
"I just want to shake his mother's hand,'' said Wall.
"I know she (is) a big lady of faith, a Christian lady, and it makes me feel that he was kind of a sheltered guy. Talking with the chaplain, he spoke with (Hicks's) mother, and she's at a good place and it makes me feel better.''
A fan-organized vigil was scheduled for Wednesday evening in the south parking lot of McMahon Stadium.
"It's great. I think that's the right thing to do,'' said Dickenson.
"People have reached out to us in many, many ways.''
— With files from Bill Graveland