Friends and family are devastated after a 25-year-old Lethbridge woman was brutally attacked on her way to work last week.
Karla Rouse was walking to her job at Firestone Restaurant and Bar between 6 and 7 a.m. Friday when she was assaulted and left for dead, according to a Lethbridge police statement.
She was found in a back alley, according to CTV Calgary.
Police aren't sure if the attack was random or targeted.
"In my career, I haven't seen too many of these, and it certainly ranks up to the top of the list of some of the most disturbing things that I've seen," Staff Sgt. Scott Woods told reporters.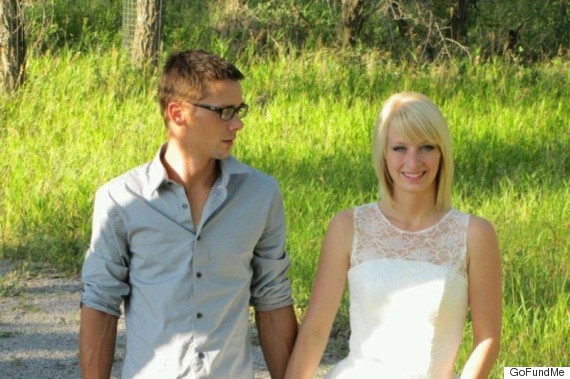 Karla Rouse and her husband Braeden just married recently. (Photo: GoFundMe)
As of Monday, Rouse was listed in critical but stable condition, according to Global News. She is being kept in a medically-induced coma to control brain bleeding after suffering substantial head injuries.
Coworkers told Global News they couldn't imagine that the 25-year-old, who was recently married, could have been the victim of such an attack.
"She's one of the kindest women you would ever have the privilege of getting to know," Mariah Miller said.
"She would never hurt a fly."
"It certainly ranks up to the top of the list of some of the most disturbing things that I've seen."
— Lethbridge police Staff Sgt. Scott Woods
Those concerned about Rouse and her husband Braeden have been sharing updates and support via a "Karla's Journey" Facebook page.
In a Sunday evening update on her condition, someone close to Rouse celebrated the news she had no spinal injuries. They also noted swelling in her face had gone down.
A GoFundMe page has been set up to pay for travel and medical expenses, as well as time off work for her husband Braeden. Supporters had already raised more than $15,000 by Tuesday afternoon.
A fundraiser has also been set up through the website Bridges of Hope.
Police are asking anyone who may have seen Rouse, who they describe as 5'3″ and 110 lbs with blonde hair, or anything suspicious around the time of the Friday attack to get in touch.
Police are using the incident to remind people to be attentive to their surroundings when it comes to their personal safety.
"Day or night, it's important for everyone to always be vigilant," Staff Sgt. Scott Woods in a statement.
Also on HuffPost
Edmonton's Most Wanted (July 2016)
Suggest a correction