Canadian Pole Vaulter Shawn Barber Tests Positive For Cocaine Before Rio
TORONTO — World champion pole vaulter Shawn Barber says a tryst with a woman he met on Craigslist led to a positive doping test for cocaine.
The 22-year-old from Toronto tested positive for trace amounts of the drug prior to the Rio Olympics, but the 2015 world champion was permitted to compete in Brazil after it was determined he inadvertently ingested the banned substance.
The Sport Dispute Resolution Centre of Canada rendered its decision on Aug. 11, four days before Barber competed in Rio, but the report wasn't released until Thursday.
"I'm very happy with the process that we went to," Barber told a conference call. "It was quite an ordeal going into the Olympics, but everything worked out the way it was supposed to."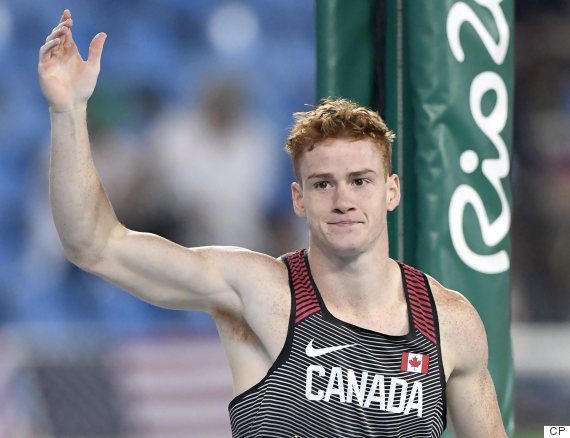 Shawn Barber struggled in the rainy conditions in Rio and finished 10th. (Photo: CP)
While the Canadian Centre for Ethics in Sport proposed a four-year ban from competition, Barber wasn't suspended but was stripped of his 2016 national title.
"This has been a learning experience for Shawn, he is a young athlete learning how to compete on the field of play, and prepare away from it," Athletics Canada said in a statement.
According to the dispute centre's report, Barber ingested the cocaine on July 8, the night before he won the Canadian title in Edmonton. The report said he had posted in the "casual encounter" section of Craigslist for a "professional person" to engage in a sexual rendezvous as a way to relieve stress. He specified in the post he wanted a woman who was drug-free and disease-free, the report said.
The woman, referred to as "W" in the report, testified that she consumed cocaine before she met Barber and then again in the bathroom of his hotel room. She said at his hearing that he could not have known she'd used the drug, and that she felt "horrible about what happened," and would hate to be the reason for Barber not achieving his dream.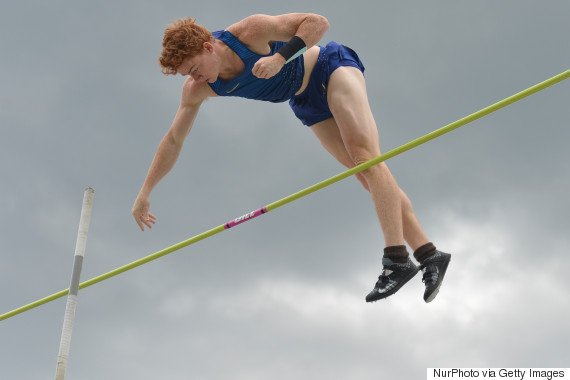 Shawnacy Barber on the third day of the 2016 Canadian Track & Field Championship, on July 6. (Photo: Artur Widak/NurPhoto via Getty Images)
The woman, a mother of two, also said she'd consumed a 26-ounce bottle of vodka that evening, and had four or five drinks before meeting Barber. She offered him a drink, she said, which he declined. According to the report, there was no money exchanged between the two.
The court ruled that Barber, who called the positive test "a complete shock," had unknowingly ingested the drug through kissing.
Arbitrator Ross Dumoulin, however, wrote in his decision that "Counsel emphasized that Mr. Barber chose a random woman he had no history with, knew very little about and had barely met in person for five minutes before kissing. This was a pre-meditated effort by the athlete to have a sexual encounter with a stranger in a hotel room. Exercising utmost caution would require him to have made inquiries to satisfy himself that there was no cocaine involved."
Disappointing finish at Rio
Barber was a strong hope for a medal at the Rio Olympics after winning the 2015 world title in Beijing. But he struggled in the rainy conditions in Rio and finished 10th.
It's been a tough year for the vaulter, whose dad George was banned by Athletics Canada last fall. George Barber had acted as Shawn's coach until Canada's governing body for the sport learned of his 2007 criminal conviction on charges of having sex with a student while employed at a U.S. high school.
Also On HuffPost:
U.S. sprinter Kelli White won two gold medals at the 2003 World Championships in Paris, but she tested positive for the stimulant modafinil. With the aid of Victor Conte, founder of the BALCO steroid lab, White said she created a cover story. White claimed she had suffered for years from the sleep disorder narcolepsy and had been prescribed modafinil. Conte even arranged for a doctor to vouch for White's diagnosis. White's story crumbled, and she later confessed and was suspended from track.

In 2002, bicycle racer Tammy Thomas tested positive for the use of the designer steroid norbolethone and was banned from cycling. But she disputed the ban, saying that her use of contraceptives had caused a false positive test. In 2003 she repeated her denials before a federal grand jury. "Actually, they never found norbolethone in my system," she testified at one point. "What they found was alleged metabolites." She was convicted of perjury and sentenced to house arrest.

At a 2005 congressional hearing, Baltimore Orioles first baseman Rafael Palmeiro wagged his finger at lawmakers and denied using banned drugs. That summer he tested positive for steroids. Palmeiro denied wrongdoing, and blamed the positive test on an injection of vitamin B-12 provided by teammate Miguel Tejada. Tejada told congressional investigators he had never used banned drugs and didn't know any other players who had, either. Palmeiro was suspended. Tejada pleaded guilty to lying to Congress and was put on probation.

When cycling champion Alberto Contador tested positive in 2010 for the banned drug clenbuterol, the cyclist blamed a steak dinner. He said the meat must have been cut from a cow that had been dosed with the substance. After two years of appeals, the doping charges were upheld, and he was stripped of his Tour de France title.

In 2005, tests showed cyclist Tyler Hamilton had undergone a blood transfusion - a banned method of boosting endurance by increasing the number of red blood cells in an athlete's system. Hamilton denied wrongdoing, blaming the test result on a twin sibling he had never known. As the New York Times summarized the defense, Hamilton said he had "a twin that died in utero but, before dying, contributed some blood cells to him during fetal life. And those cells remained in his body, producing blood that matched the dead twin and not Hamilton." Hamilton was suspended anyway. In 2011, he told the television show "60 Minutes" that he had repeatedly used banned drugs during his cycling career. He also implicated cycling great Lance Armstrong in the use of banned drugs.

Elite track coach Trevor Graham contended that sprinter Justin Gatlin was deliberately dosed with steroids after a 2006 race in Kansas. Graham claimed that Gatlin's former masseur rubbed a mysterious cream into the runner's groin area. The masseur was angry because Gatlin had fired him and the cream triggered the positive test, Graham claimed. Gatlin was banned for four years. In a BALCO-related prosecution, Graham was convicted of lying to federal investigators about distributing steroids to his runners and put on house arrest.

In their 2003 raid on the BALCO steroids lab in Burlingame, federal investigators found reports indicating that Giants slugger Barry Bonds had tested positive for steroids in a series of private tests. Bonds' trainer, Greg Anderson, had delivered the urine samples to BALCO for the private tests, according to evidence in the case. After Bonds was indicted on charges of lying to a federal grand jury about steroids, his lawyers asked the judge to forbid any mention of the private steroid tests. The only way to prove that the urine belonged to Bonds and not somebody else was to question Anderson, the trainer, the defense lawyers said. Anderson, who had pleaded guilty to steroid-dealing in a separate case, refused to testify against Bonds and served more than a year in prison for contempt instead. The judge threw out the test results as Bonds' lawyers requested. The government failed to convict Bonds on charges of lying about his use of steroids, although the jury found the slugger guilty of obstruction of justice.