Quebec Native Affairs Minister Geoffrey Kelley Rebuked For Using Term 'Indian Time'
QUEBEC — A joke by Quebec's native affairs minister stereotyping indigenous peoples' concept of time did not go down well with at least one Cree official Thursday.
Speaking at a news conference announcing a new bill recognizing indigenous customs related to adopting children, Geoffrey Kelley mused about the fact it took eight years to complete.
"We have finally introduced this bill,'' he told reporters. "In certain circles, some make comments on the notion of 'Indian time', but 'government time' is at times also something that leaves much to be desired.''
A few minutes after the joke, Cree health spokeswoman Bella Moses Petawabano corrected Kelley.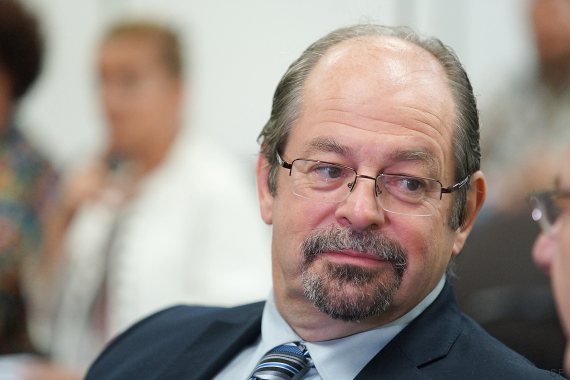 Geoffrey Kelley said his reference to "Indian time" was a joke. (Photo: CP)
"I just want to say a few words about Indian time,'' she told the news conference. "That the true meaning of Indian time is really getting things done before the expected time. That is a true meaning and I don't know who changed it along the way."
A reporter pounced on Kelley's comments and asked whether he had been clumsy to use such a term at a news conference.
"No, no, it was a joke,'' he replied. "But honestly, I want to say it takes time, because these are complex questions."
The new legislation, known as Bill 113, amends Quebec's Civil Code and Youth Protection Act with regard to the adoption process in Quebec.
It includes official recognition — when it's in the interest of the child — of the rights and obligations between an adopted aboriginal child and his or her parent of origin.
Also On HuffPost:
11 Facts About Canada's First Nations
The word Canada comes from the Iroquois word kanata meaning village, settlement or land.

There are currently over 60 First Nations languages in Canada grouped into 12 distinct language families, according to Statistics Canada.

Before European Settlers came to Canada, it was not uncommon for Aboriginal women to hold equal power to men, and even had to ability to take the power away from the chief, reports UBC. Women's suffrage in Canada was not granted until 1918.

The North American headdress was earned, each feather representing an act of bravery.

There are over 600 different tribes in Canada each with their own culture and belief system.

The High King of France commissioned Giovanni da Verrazzano to reach Asia by sailing around North America in 1523. He described the coastline as densely populated and full of bonfire smoke, saying it could be smelt from hundreds of miles away at sea. Some academics place the American Aboriginal population at 50 million while some argue it to have been 100 million. Today's First Nations population of Canada falls around 1.4 million.

During the early days of colonization, Britain saw Aboriginal people as essential to protecting their colonies and considered them powerful allies who helped battle the French during the Seven Year War and fought off American invasion during the War of 1812.

First Nations people played a major role during the fur trade between the 17th and 19th centuries, which attracted merchants from around the world.

Archaeology tells us that aboriginal people have lived in the Maritimes provinces of Canada for at least 11,000 years.

After the decline of the fur trade and the end of the War of 1812, more settlers came to Canada, creating a large enough population to protect their own borders. First Nations were seen as impeding on economic development and were sent to live on isolated reserves, while more land was set aside to accommodate new settlers.

Aboriginal people have the youngest demographic in Canada, with a median age of 28, while the median age for non-aboriginal Canadians is 41.