Toronto Blue Jays Win 7-6, Sweep Texas Rangers In ALDS After Josh Donaldson Slides Home
TORONTO — Josh Donaldson came home from second base on an errant double play attempt in the 10th inning to give the Toronto Blue Jays a dramatic 7-6 win over the Texas Rangers and a sweep of the American League Division Series on Sunday.
Donaldson opened the 10th with a double off hard-throwing Matt Bush and Edwin Encarnacion was intentionally walked, cranking up the noise in a sold-out Rogers Centre.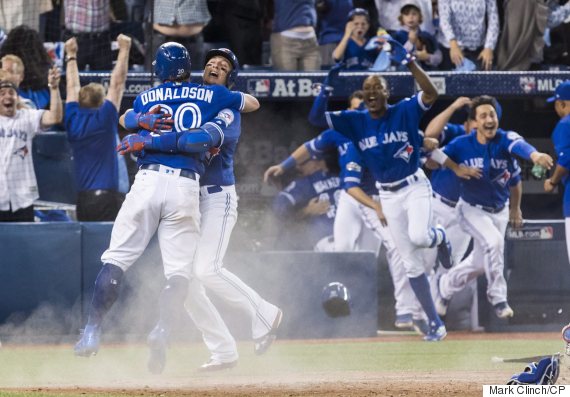 Toronto Blue Jays Josh Donaldson, left, celebrates with Troy Tulowitzki, second left, as his team celebrates their win to eliminate the Texas Rangers in American League Division Series action on Sunday. (Photo: Mark Blinch/Canadian Press)
After Jose Bautista struck out, Russell Martin -- in an eight-pitch at-bat -- hit into what seemed to be an inning ending-double play. But Rougned Odor bounced the throw to first and a diving Donaldson beat Mitch Moreland's desperate throw to home.
The Toronto dugout emptied. Texas challenged the play to no avail and the celebration was on.
It's over! Canada's Team is heading back to the #ALCS! #OurMoment pic.twitter.com/rjGLqlZSkX

— Blue Jays (@BlueJays) October 10, 2016
The Jays will face either Boston or Cleveland in the AL Championship Series.
It was a wild ending to a white-knuckle ride of a game with Texas, the top seed in the American League, fighting tooth and nail to extend its season one more day. But the Jays were equally determined. In three of the four innings the Rangers scored before extra innings, Toronto answered with runs of its own.
The Rangers took an early 1-0 lead but refused to fold when the Jays pulled ahead. Texas came back from 3-1 and 5-2 deficits and briefly pulled ahead 6-5 in its half of the sixth. The Jays tied it in the bottom of the sixth on a passed ball with the bases loaded.
A steady stream of relievers for each side then put up a string of zeros.
The MVP tells us how it happened! #OurMoment pic.twitter.com/FyD9g4mSNM

— Blue Jays (@BlueJays) October 10, 2016
Encarnacion and Martin homered for Toronto. Elvis Andrus and Odor homered for Texas, which had failed to reach the fences in the first two games of the best-of-five series.
Jays starter Aaron Sanchez exited with two outs in the sixth after his fourth walk of the game. The Toronto ace was not his normally crisp self, giving up six runs on three hits with five strikeouts in 5 2/3 innings. His 92-pitch outing that featured 53 strikes.
Rangers starter Colby Lewis managed just six outs, giving up five runs on five hits with two strikeouts in a 42-pitch performance that opened the door to the Jays rather than slam it shut as Texas had hoped.
The 37-year-old Lewis, who was pitching on seven days rest, missed three months this season with a strained right lat muscle in the back of his right shoulder. He has given up eight homers in 20 1/3 innings since coming back.
Both bullpens gave up little in relief of their starters. Four Toronto relievers gave up just one hit between them through the 10th, retiring 13 in a row included six by closer Roberto Osuna. The Rangers bullpen limited Toronto to one unearned run through the ninth, with Bush striking out four in two innings.
All the feels. 😍👏🙌 pic.twitter.com/EwvmqJbWO2

— Blue Jays (@BlueJays) October 10, 2016
The sellout crowd of 49,555 was up for it from the get-go under the roof, chanting "Let's Go Blue Jays" before Sanchez threw his first pitch under the roof.
But eight of his 11 pitches were called balls and an opening five-pitch walk to Carlos Gomez came with a cost as he stole second and scored on a pair of groundouts. It was the Rangers' first lead of the series.
The Jays answered quickly. One out after Ezequiel Carrera's single, a big swing by Encarnacion sent his bat flying into the stands. One pitch later so did the ball, which left Encarnacion's bat at 105 m.p.h and travelled 395 feet into the second deck in left field. Martin, notching his first hit of the post-season, added a 378-foot solo shot to left one out later for an early 3-1 lead.
Martin becomes the fourth player to hit a post-season home run with four different teams, joining Ron Gant, John Olerud and Reggie Sanders.
It was the Jays' second multi-homer inning of the series. They had three in the fifth inning of Game 2.
Andrus ended the Rangers' long ball drought with a 411-foot drive to left-centre on a 1-0 pitch to open the third.
Carrera singled to start the bottom of the third, coming home on Donaldson's ground-rule double to right. That chased Lewis. Encarnacion then singled Donaldson home for a 5-2 lead.
Now that's dedication 👏👏👏 #OurMoment pic.twitter.com/30XB3qmNnV

— Blue Jays (@BlueJays) October 9, 2016
One out after Sanchez walked the first batter of the fourth, Odor cut the lead to 5-4 with a two-run shot that travelled 419 feet deep to centre.
The Jays did not help their cause by hitting into inning-ending double plays in the fourth and fifth.
Sanchez seemed to have found his groove by striking out the side in the fifth. But a two-out walk and single in the sixth ended his night and cost the Jays. Moreland brought both base-runners home for a 6-5 lead with a double off reliever Joe Biagini's second delivery with a ball deep to centre that a diving Kevin Pillar just missed.
Toronto countered in its half of the sixth by loading the bases with one out on Troy Tulowitzki's single, pinch hitter Melvin Upton's double and Pillar's intentional walk. Reliever Keone Kela, the third pitcher used in the inning, induced Darwin Barney to pop up in foul territory but Tulowitzki scored on a pass ball to tie it at 6-6 before right-fielder Nomar Mazara made a fine catch in right to end the threat.
Toronto won on better pitching and more timely hitting. The Jays hit .563 (9-for-16) with runners in scoring position in the first two games of the series.
Coming into the game, Toronto had outhomered Texas 6-0 in the series with six different Jays swinging for the fences. Martin made it seven Sunday. Twelve of Toronto's 22 runs in the series came via the long ball.
The Jays ranked third in the AL this season with 221 homers, six more than the fifth-ranked Rangers.
The Rangers finished the regular season at 95-67. Only the Chicago Cubs (103-58) had a better record in the majors.
The first two games of the series were a mirror images of last year's ALDS, when Texas came to Toronto and won twice only to lose the next three.
But the Rangers could not pick themselves off the floor like the Jays had done a year ago.
Get loud, @BlueJays fans! Here we go! #OurMoment pic.twitter.com/F7SDOZGsx6

— Blue Jays (@BlueJays) October 9, 2016
"The last two games, they've been way better than us," Texas third baseman Adrian Beltre said prior to the Game 3.
"Pitched better, hit better and even played better defence so we have to clean up our game and find away to be more consistent, the way we were in the regular season."
History was on Toronto's side.
Of the 72 previous teams to go up 2-0 in a best-of-five playoff series, 43 went on to sweep. Only nine lost the series.
Only three times have teams rallied from an 0-2 deficit after losing the first two games at home: the 2001 Yankees (against Oakland), the 2012 Giants (Cincinnati) and the 2015 Jays (Texas).
The Rangers came into the game 0-3 in playoff series in which they went down 0-2. But they led the major this season with 49 come-from-behind wins.
Second baseman Devon Travis (knee) was in the lineup Sunday but wasn't healthy enough to start. Darwin Barney was at second base for the second game in a row.
Prior to the game, the Jays announced enhanced security and "alcohol management measures" would be in place at the stadium. That included all beer in cups in the wake of a can-throwing incident in the ALDS wildcard game that led to a fan being charged with mischief.
ALSO ON HUFFPOST:
World Series Blue Jays Now
Follow him: @joecarter_29 Position and number: #29, right fielder Age: 55 Where he is now: Chairs the Joe Carter Classic, a charity golf tournament for golfers and celebrities, with proceeds going toward the education and development of Canadian youth

Position and number: #14 and #24, left fielder Age: 56 Where he is now: Often working as a roving instructor with the Oakland A's

Follow him:@RobbieAlomar; @robbiealomar Position and number: #12, second baseman Age: 47 Where he is now: Lives in Toronto, got married at the AGO in 2012 (on 12-12-12!) and works as a spokesperson for various companies, as well as Jays Care

Follow him:@ToddStottlemyre Position and number: #30, pitcher Age: 50 Where he is now: Motivational speaker and entrepreneur with Team World Class

Position and number: #50, pitcher Age: 57 Where he is now: Jefferson City, Missouri, running an annual charity golf tournament and being a grandfather

Follow him:@carlosdelgado21; @carlos_delgado_oficial Position and number: #6, first baseman Age: 43 Where he is now: Most recently, he and Roberto Alomar helped coach Puerto Rico's men's baseball team at the Pan American Games in Toronto

Position and number: #37, pitcher Age: 58 Where he is now: Still works with Blue Jays training camps; also a contractor in Reno, Nevada.

Position: Manager Age: 71 Where he is now: Professional speaker, as well as baseball adviser (often to the Jays)

Follow him:@DaveWinfieldHOF Position and number: #32, right fielder Age: 64 Where he is now: Runs the David M. Winfield Foundation for underprivileged youth and families in need, as well as speaks publicly and writes books and articles

Follow him:@dcone36; @coney3636 Position and number: #11, pitcher Age: 52 Where he is now: Currently a commentator and New York Yankees analyst with YES Network

Follow him:@goldglovedevo Position and number: #25, center fielder Age: 52 Where he is now: Working with Jays Care and young ballplayers across the country

Position and number: #31 Age: 51 Where he is now: Often found on Sportsnet 590 The Fan commentating on Jays' games.

Follow him:@EdSprague Position and number: #33, third baseman Age: 48 Where he is now: Head coach of the Pacific Tigers college baseball team in Stockton, California until this year

Position and number: #22, pitcher Age: 54 Where he is now: He's become an amateur golfer in Florida

Position and number: #9, first baseman Age: 47 Where he is now: Clyde Hill, Washington, where he famously had a neighbour cut down two trees to better his view

Position and number: #66, pitcher Age: 48 Where he is now: Spends time with family and works with former teammate Tony Fernández on his foundation in Florida and the Dominican Republic

Position and number: #17, third baseman Age: 53 Where he is now: Running Gruber Baseball Camps and participating in fundraising events across North America

Follow him:@themiketimlin Position and number: #40, pitcher Age: 49 Where he is now: Retired from baseball in 2009, and now lives in Colorado, often working with fundraising.

Position and number: #10, catcher Age: 52 Where he is now: Manager of the Williamsport Crosscutters, the Philadelphia Phillies' short-season single A affiliate

Position and number: #19, designated hitter Age: 59 Where he is now: Manager for the Minnesota Twins

Position and number: #41, pitcher Age: 46 Where he is now: Currently special assistant to the Blue Jays, after working as the bullpen coach on and off since 2011

Position and number: #1, shortstop Age: 53 Where he is now: Running the Tony Fernandez Foundation, to help children "to be productive citizens of the world." He is also an ordained minister.