Breast Cancer Signs And Other Important Things You Should Know
October is now well established as breast cancer awareness month, and we've certainly made strides against the disease in recent decades, but breast cancer is still a reality for too many Canadians.
The positive news, however, is that knowing what to watch for can help you catch any problems before they get worse.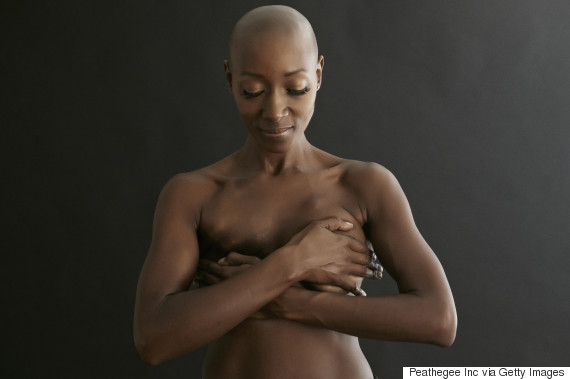 First of all, it's important to know the updated recommendations for breast cancer screening.
The Canadian Cancer Society recommends talking to your physician about breast cancer risks between the ages of 40 and 49, having a mammogram every two years between the ages of 50 and 69, and talking to your doctor about the best mammogram schedule for your risk profile after age 70.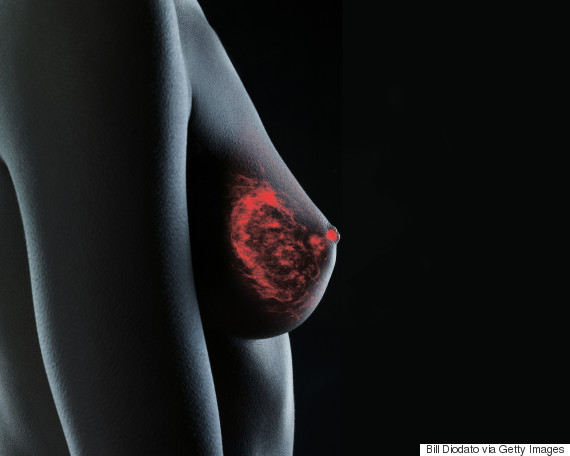 Your need for a mammogram when you are younger than 50 or older than 70 can vary based on factors like family history of the disease, genetic profile, or past cancer history, among other things. Every province has breast-screening programs for women between the ages of 50 and 69.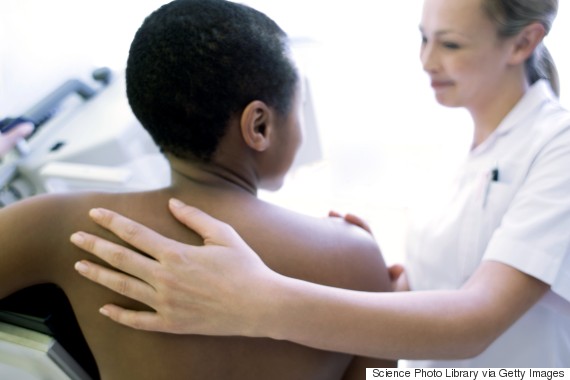 But what is important for everyone — of any age, gender or risk profile — is to know what is "normal" for your breasts and to be mindful of any changes, Rethink Breast Cancer notes.
And if you do notice something that is out of the ordinary for your breasts, speak to your physician right away. Here are 11 things you should watch for when it comes to breast health and cancer.
11 Things To Know About Breast Cancer
Understand your risk: We often hear the statistic about how one in nine Canadian women will develop breast cancer in her lifetime, but it doesn't tell the entire story. About 11 in every 100 women in Canada can expect to develop breast cancer over the course of an entire lifetime, according to Rethink Breast Cancer, but that's a period of 90 years. Only five per cent of breast cancer diagnoses are in women under 40 in Canada. And even those with particular risk factors aren't guaranteed to get the disease — it just means that their overall risk is higher than for those without those factors.

Men can get it too: Most cases of breast cancer are diagnosed in women, but the disease can occur in men as well. The disease is rarer, according to the Mayo Clinic, and most likely to occur in older men. It is often diagnosed at a more advanced stage because men are reluctant to have changes in the breast investigated or think they cannot get breast cancer, the Mayo Clinic says, so any of the signs of changes that would apply to women should be investigated in men as well.

Watch for lumps: The most common first symptom of breast cancer is a lump in the breast, according to the Canadian Cancer Society, and that is usually found by the patient themselves. However, sometimes a mammogram will find a lump before it can be seen or felt without a scan.

But know not all lumps are created equal: Not every lump in the breast is a sign of a problem, even if you aren't prone to lumpy breasts. According to the Canadian Cancer Society, those that are most concerning are lumps that are present all the time and ones that don't shrink or go away with the menstrual cycle. You should also look out for lumps that can't be moved (they may feel attached to the skin or chest wall), lumps that feel hard or irregular or somehow quite different from your breast tissue, and lumps that are tender but not painful.

Don't just pay attention to your breast: Sometimes a lump indicating breast cancer shows up first in the armpit and not the breast itself. When found in the axilla, these lumps can be small and hard and may indicate that the cancer has spread to the lymph nodes, according to the Canadian Cancer Society.

Look for skin changes: Sometimes problematic changes within the breast show up visibly on the breast skin. "There are skin changes that can be seen in breast cancer," says dermatologist Dr. Tsippora Shainhouse. "In particular, inflammatory breast cancer, a rarer, quick-spreading, aggressive version (up to five per cent of breast cancers) may not present as a lump of tumour, but rather with specific skin changes caused by invasion, inflammation, and blockage of lymph vessels and lymph nodes," she says. Some of these changes include peau d'orange, a skin puckering that looks like an orange peel; a pink/red/purple area that is not painful but won't heal; an area that feels hot as if infected; or breast or nipple itching that isn't relieved by normal anti-itch medications or creams.

Check out unilateral changes: If something changes in one nipple and not the other, that could be an indication of a problem in one breast, Shainhouse says. "Inverted or inward-turned nipples can be normal, but if one nipple suddenly inverts, you must get examined," she says. By the same token, sudden asymmetry between the breasts — for example, a lump or a rapid increase in size in one breast — should be checked out as well. Breast asymmetry is perfectly normal, but a new change in one breast is not.

Is nipple discharge a problem?: The appearance of discharge from the nipple can be alarming, but it's not necessarily a sign of cancer, the Canadian Cancer Society says. Most of the conditions that cause nipple discharge are benign, but discharge that is blood stained or comes only from one nipple should be investigated. Crusting, ulcers, or scaling on the nipple can be a sign of some rare types of breast cancer, the society says.

Pregnancy doesn't rule out examination: If you're pregnant, Cancer.org notes, and see something that seems unusual, don't hesitate to get it checked out. "Breast cancer can develop in pregnancy and often can be evaluated and even treated during or immediately after pregnancy," Shainhouse says. "It is safe to get a breast exam and even mammogram in pregnancy, if needed."

Breast cancer and trans people: Research released in 2015 found that trans people don't appear to have a higher risk of developing breast cancer, despite the use of hormone therapy. That's good news, but it's still important for trans individuals to discuss their individual risk profiles with physicians and determine their best plan for screening, the same as everyone else, Fenway Health notes.

Later-stage symptoms: There are several symptoms that are potentially signs of breast cancer that has grown larger or spread to other parts of the body, the Canadian Cancer Society says. If you have these symptoms without known cause, get them investigated: bone pain, nausea, loss of appetite, unexplained weight loss, jaundice, shortness of breath or cough from fluid build-up around the lungs, headache, double vision, or muscle weakness.