Donald Trump And The Religious Right: Evangelical Voters Mostly With Him After Tape
ANNAPOLIS, Md. — Hundreds of hands clasp in a downtown square. Hundreds of voices murmur messages of prayer. A moment later, the decibel level leaps. When the preacher raises a topical news event, the hands respond with a rousing ovation, the voices roar with approval. Yes, the faithful agree: Our police are under attack.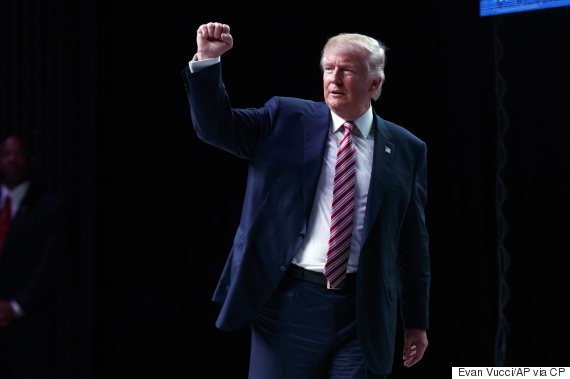 Republican presidential candidate Donald Trump pumps his fist at rally in Panama City, Fla. on Oct. 11, 2016. (Photo: Evan Vucci/AP via CP)
Anyone wondering why evangelical voters have stuck by Donald Trump will find answers here. 
They can be summed up in five words: Abortion. Nationalism. Redemption. Hillary Clinton. One participant shakes her head when asked if she's heard that vulgar audio — where her candidate extols adultery and unsolicited vagina-grabbing.
She believes he's sought salvation.
A candidate who last year said he never asked God for forgiveness; couldn't cite a favoured Bible verse; still gloats about material wealth; boasts about charitable donations more often than he's listed making them; and skates around scriptural admonishments regarding sexual immodesty by bragging about his genital endowment, beauty-queen conquests, and penchant for replacing his aging wives — she believes he's changed.
'He's born-again now'
Susan Priest says she heard it on a conference call this week with fellow churchgoers. Apparently, Trump found faith last year. And that's why she won't bother watching the video.
"He's born-again now. He's a Christian," said the Maryland resident. "We consider the things he did in his past now forgiven — like our sins are forgiven.
"He's not the same person."
A vast majority of evangelical Christians support Trump. Yet the cultural cleavages of this election appear among Christians, too. Trump is dominant among white evangelicals — a poll this month by the Public Religion Research Institute said it was 69 per cent for him, and 19 per cent for Clinton. Among non-white Christians, Clinton led by 56 percentage points.
Son of legendary preacher holds rally
That culture clash permeated this week's event in downtown Annapolis, Md., where Franklin Graham, the son of legendary preacher Billy Graham, held his latest prayer rally during a 50-state election tour.
The messages sounded like Trump's nostalgic nationalism. The country song that played as Graham approached the stage, "In America," refers to an eagle flying slow, the stars-and-stripes flying low, and the scourge of ISIL. People waved flags, as the singer saluted the troops. When he mentioned his support for the police, Graham got an especially loud reaction.
He urged the faithful to defend their traditions. That means leaving the Ten Commandments up on school walls, even if it offends people: "Good. Let it offend them," he said. It means singing, "The Pledge of Allegiance," in the morning.
It means telling Muslims and Buddhists where you stand: "Muhammad didn't die for your sins. Buddha didn't die for your sins. Only one — and that is Jesus Christ." A man in the crowd responded, "Yes, he did."
Story continues after slideshow:
Republicans Who Have Withdrawn Their Support For Donald Trump
"Donald Trump's behavior this week, concluding with the disclosure of his demeaning comments about women and his boasts about sexual assaults, make it impossible to continue to offer even conditional support for his candidacy," McCain said in a statement.

Ayotte never formally endorsed Trump, but said she was withdrawing her support."I wanted to be able to support my party's nominee, chosen by the people, because I feel strongly we need a change in direction in our country. However, I'm a mom and an American first, and I cannot and will not support a candidate who brags about degrading and assaulting women. I will not be voting for Donald Trump or Hillary Clinton and instead will be writing in Governor Pence on election day."

"I'm out. I'm pulling my endorsement," Chaffetz said in an interview on Friday."I can not support in any way, shape or form the comments or approach Donald Trump has taken. This is so over the top, it is not even acceptable in locker rooms. It shouldn't be acceptable anywhere. We are talking about the president of the United States. I want someone of high moral values."

"I'm incredibly disappointed in our party's candidate. And unlike the Democrats who have proven completely unwilling to hold secretary Clinton accountable for her illegal activities that endangered our national security, I am willing to hold Mr. Trump accountable. I am therefore calling for him to step aside and to allow Mike Pence to lead our party.

"Donald Trump's comments regarding women were disgraceful and appalling," Byrne said in a statement. "There are absolutely no circumstances when it would ever be appropriate to speak of women in such a way.""It is now clear Donald Trump is not fit to be President of the United States and cannot defeat Hillary Clinton. I believe he should step aside and allow Governor Pence to lead the Republican ticket."

"I will no longer support the guy at the top of the ticket," Hardy said on Saturday.

"Donald Trump should withdraw and Mike Pence should be our nominee effective immediately," Thune tweeted.

"I can no longer look past the pattern of behavior and comments that have been made by Donald Trump," Heck said on Saturday. "Therefore, I cannot in good conscience continue to support Donald Trump."

"We need national leaders who can lead by example on [sexual assault and domestic violence]. The reprehensible revelations about Donald Trump have shown me that he can't. Therefore I am withdrawing my support for his candidacy," Sullivan said in a statement.

"I have committed my short time in Congress to fighting for the most vulnerable in our society. As a strong and vocal advocate for victims of sex trafficking and assault, I must be true to those survivors and myself and condemn the predatory and reprehensible comments of Donald Trump," Wagner said in a statement to the St. Louis Post-Dispatch. ""I withdraw my endorsement and call for Governor Pence to take the lead so we can defeat Hillary Clinton."

"The abhorrent comments made by Donald Trump are inexcusable and go directly against what I've been doing in Washington to combat assaults on college campuses. Because of this, I am rescinding my support for Donald Trump and asking to have my name removed from his agriculture advisory committee. With the terrible options America has right now, I cannot cast my vote for any of the candidates, so I hope Donald Trump withdraws from the race so the American people can elect Mike Pence as our next president," Davis said in a statement to the St. Louis Post-Dispatch.

"As a woman, a mother, and a grandmother to three young girls, I am deeply offended by Trump's remarks, and there is no excuse for the disgusting and demeaning language. Women have worked hard to gain the dignity and respect we deserve. The appropriate next step may be for him to reexamine his candidacy.

Garrett said that Trump's running mate, Indiana Gov. Mike Pence, would be "the best nominee for the Republican Party to defeat Hillary Clinton," according to the AP.

"I will not vote for Donald Trump," he said in a statement. "If Donald Trump wishes to defeat Hillary Clinton, he should do the only thing that will allow us to do so — step aside, and allow Mike Pence to be the Republican party's nominee. If he fails to do so, I will not vote for Hillary Clinton but will instead write-in my vote for Mike Pence."

"The comments made by Mr. Trump were disgusting and totally unacceptable under any circumstance. It would be wise for him to step aside and allow Mike Pence to serve as our party's nominee," Fischer said in a statement.

"I endorsed Governor John Kasich for President, because I felt like he was the most qualified and the best person to lead our nation. I certainly won't vote for Hillary Clinton, but I cannot and will not vote for Donald Trump," Bentley said in a statement.

"As the father of three young sons, I don't want my boys growing up in a world where the President of the United States is allowed to speak or treat women the way Donald Trump has," Rooney said in a statement. ""My greatest responsibility in life is to try and be a good husband and father. If I support Donald Trump, I will be telling my boys that I think it is okay to treat women like objects – and I'll have failed as a dad."

"I will not be voting for him," Paulsen said in a statement.

"Saying this election has been incredibly disappointing is an understatement. It never had to be this way. We should be debating the issues that affect our nation's future. Instead we have two horribly flawed choices. It is clear that neither Donald Trump nor Hillary Clinton can unify a deeply divided country."I have repeatedly and strongly spoken out against Mr. Trump when he degrades and insults women, minority groups and Gold Star military families. I will not vote for a candidate who boasts of sexual assault. It is my conclusion that Mr. Trump is unfit to be President."Similarly Secretary Clinton's dishonorable actions – flagrantly ignoring federal laws, repeated failures in judgment on critical foreign policy and national security decisions, and intentionally lying to Congress and the American people – have disqualified her."I cannot support and will not vote for Donald Trump or Hillary Clinton to be President of the United States. I will write in Governor Mike Pence for President," LoBiondo said in a statement.
There were only a few Trump signs at the rally. Graham didn't tell people who to vote for. He simply invited them to send a text message and receive his ministry's analysis of the party platforms, while asking them to pray for their leaders.
The analysis tilts decidedly toward Trump.
It warns about the need to defend the Supreme Court from liberal same-sex marriage "zealots" and pro-abortion judges. It mentions military strength, terrorism, immigration, Internet decency and Israel. There's a section on poverty and charity, too.
Not all Christians view the election the same way.
'The very embodiment of what the Bible calls a fool'
One writer for, "Christianity Today," criticized both candidates this week. But he reserved particular venom for Trump, in a piece titled, "Speak Truth to Trump: Evangelicals... should not be silent about Donald Trump's blatant immorality.''
He said no public figure exhibits such idolatry, greed, sexual immorality, and pride.
"He is, in short, the very embodiment of what the Bible calls a fool," said the magazine's editorial director, Andy Crouch.
''Enthusiasm for a candidate like Trump gives our neighbours ample reason to doubt that we believe Jesus is Lord. They see that some of us are so self-interested, and so self-protective, that we will ally ourselves with someone who violates all that is sacred to us."
Another writer at the magazine predicted: "(This is) the last spasm of energy from the Religious Right before its overdue death."
"Hillary is absolutely unacceptable. She's willing to see any child murdered."
A historian who's written four books on the history of religion in U.S. politics says this election is the culmination of a movement that started in the 1970s.
Faith leaders like Jerry Falwell and Pat Robertson organized a cultural counter-revolution against changes of the 1960s, said Franklin Lambert of Purdue University. Over time the religious right, he said, became less "religious" than ''right'': ''So, pardon the pun, politics 'trumps' religion.''
So Trump wins votes even from the wary.
At Tuesday's rally, Sharon McCall said she used to change the channel when Trump was on TV — that's how much she disliked him. She supported Ben Carson in the primaries. But she believes Trump will keep his promise to appoint conservative Supreme Court judges.
As for that old video, she didn't sweat it.
Not sweating the video
''That's just a hit job,''  McCall said.
Priest is also preoccupied with the court. She's desperate for justices who will stop abortion. She believes so passionately in the issue that she was once arrested for a sit-in outside a clinic.
Trump has vowed to appoint conservative judges.
If conservatives doubted his sincerity, he attempted to mollify their skepticism earlier this year by releasing a list of his possible court picks. A few months later, he released a second list.
It's still better than what his liberal opponent offers, Priest said.
''Hillary is absolutely unacceptable. She's willing to see any child murdered." She illustrated her point by citing a relative: ''(He says), I'm voting for Trump even if he shoots somebody. Because he's not Hillary.''