behaviour
in a 2005 video, in which he bragged about using his fame to force himself on women.
Trump has denied the accusations of sexual misconduct and said the women are liars. He has apologized for his comments on the video, which was disclosed this month, but also dismissed them as "locker-room talk" and a distraction from the campaign.
A look at the women and their allegations: —Summer Zervos, 41, says Trump made aggressive, unwanted sexual advances in a Beverly Hills, California, hotel room in 2007. A former contestant on "The Apprentice," Zervos says she contacted Trump to ask for a job. He later invited her to dinner, and when she met him at his hotel, Zervos said, Trump almost immediately began kissing her and placed his hand on her breasts.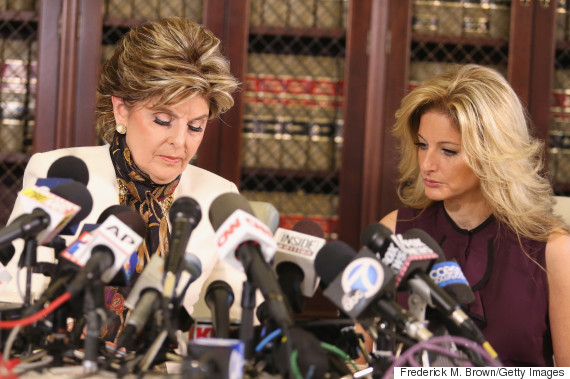 Attorney Gloria Allred holds a press conference on Friday in Los Angeles with Summer Zervos, a former candidate on '"The Apprentice,' who is accusing Donald Trump of inappropriate sexual conduct. (Photo: Frederick M. Brown/Getty Images)
—Kristin Anderson, 46, told The Washington Post that she was sitting on a couch with friends at a New York nightclub in the early 1990s when someone reached up her skirt and touched her through her underwear. Anderson, then in her early 20s, said she pushed the hand away, turned around and recognized Trump as the man who had groped her. —Jessica Leeds, 74, told The New York Times that Trump groped her on an airplane more than three decades ago. Leeds says the two were seated next to each other when Trump lifted the armrest separating them and began to touch her, grabbing her breasts and trying to put his hand up her skirt. Leeds called the incident an "assault." —Rachel Crooks says Trump kissed her without invitation in 2006 when she was a 22-year-old receptionist for a real estate firm located at Trump Tower. Crooks told the Times she was meeting Trump for the first time when he took her hand to shake it and would not let go. He began kissing her cheeks and then kissed her on the mouth, she told the paper.
"Within seconds, he was pushing me against the wall, and forcing his tongue down my throat."
—Mindy McGillivray, 36, of Palm Springs, Florida, says Trump groped her after she attended a Ray Charles concert at Trump's Mar-a-Lago resort in 2003. McGillivray told The Palm Beach Post she was standing with a group of people after the show and Trump came up behind her and grabbed her buttocks. —Natasha Stoynoff, a reporter for People magazine, says Trump forced himself on her in 2005, when she was interviewing him for a feature on the one-year anniversary of his marriage to Melania Trump. Stoynoff wrote in an article published on the magazine's
website
that Trump was giving her a tour of his Mar-a-Lago mansion when he said he wanted to show her a special room. He shut the door "and within seconds, he was pushing me against the wall, and forcing his tongue down my throat."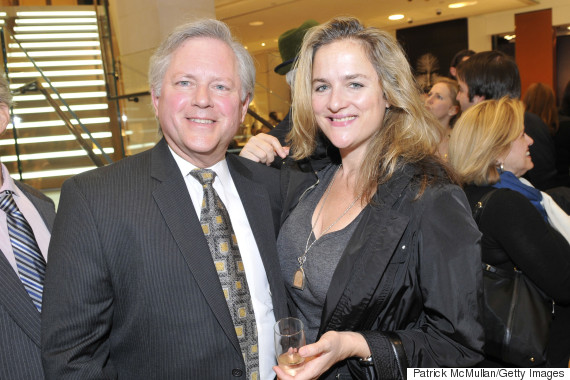 Natasha Stoynoff attends a book signing on Oct. 18, 2011 in New York City. (Photo: Jonathon Ziegler/Patrick McMullan via Getty Images)

—Temple Taggart, a former Miss Utah, says Trump kissed her on the mouth more than once when she was a 21-year-old contestant in his Miss USA beauty pageant. Taggart initially told her story to the Times in May. She said she was struck by how Trump's comments from the 2005 video mirrored her experience. —Jill Harth, a former business associate, told the Times that Trump put his hands under her skirt during a business dinner in 1992 and, on another occasion, tried to force himself on her. Harth sued Trump accusing him of sexual harassment in 1997. She dropped the lawsuit Trump after he settled a separate breach of contract suit. —More than 20 former crew members, editors and contestants on Trump's "Apprentice" reality show described a pattern of crass

behaviour

and demeaning comments on the set. Trump repeatedly addressed women with sexist language, rated female contestants by the size of their breasts and talked about which ones he'd like to have sex with, the people told The Associated Press.

Also on HuffPost

Republicans Who Have Withdrawn Their Support For Donald Trump

Suggest a correction

A number of women have come forward recently to say they were assaulted, groped or kissed without consent by Republican presidential nominee Donald Trump. Several have said they were moved to go public after listening to Trump boast about such