B.C. Storm Knocks Out Power To Thousands Of Customers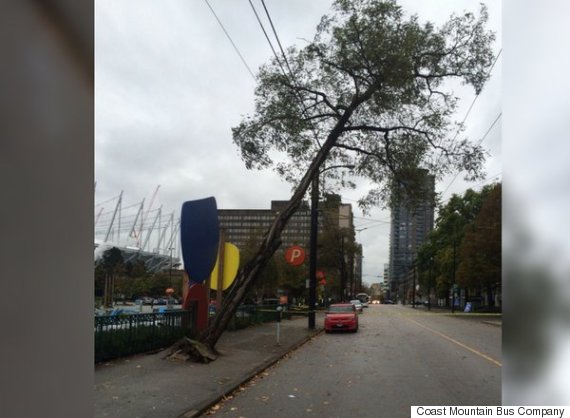 A tree fell on bus trolley wires in downtown Vancouver on Friday. (Photo: Coast Mountain Bus)
VANCOUVER - The third and strongest storm in a series of disturbances fuelled by the remnants of typhoon Songda cancelled ferry service and knocked out power for thousands of customers on the south coast of British Columbia on Saturday.
BC Hydro spokeswoman Simi Heer says additional crews from the interior were called in ahead of the storm to provide support in areas that are expected to see the most damage.
Heer says customers should be patient if they lose power and only call emergency services if they see downed wires.
BC Hydro's website indicated thousands of customers were affected by outages on Saturday.
Flood on Amer side, police shutting down road. @CorpDelta worker says no floods on #Delta side yet but water known to seep through #BCStorm pic.twitter.com/SzAEo7mprS

— Emily Lazatin (@EmilyLazatin980) October 16, 2016
City parks in Victoria and Vancouver's Stanley Park have been closed to the public to prevent accidents with falling trees and branches.
BC Ferries cancelled a number of routes Saturday afternoon and evening in anticipation of poor sailing conditions, but said service is expected to start early on Sunday to compensate.
Environment Canada has issued warnings for heavy rain and wind gusts up to 90 km/h that are expected to peak overnight for the east coast of Vancouver Island, the Lower Mainland, Sunshine Coast and Fraser Valley.
Highest wind so far: 81km/h over Juan de Fuca. Strongest winds gusting to 100km/h expected b/t 5pm & midnight #BCstorm pic.twitter.com/9zYJ76uQmI

— EC_BCweather (@EC_BCweather) October 15, 2016
Earlier on HuffPost:
B.C. Storms, December 2014
The city of Courtenay declared a state of emergency because of flooding.

A mudslide partially buried a house near Qualicum Beach.

Firefighters on central Vancouver Island had to use chainsaws to free a man trapped inside his home that was partially buried by a mudslide. The frightening incident occurred Dec. 10, 2014 near Qualicum Beach, B.C., when an earthen bank behind the home collapsed.

Highway 101 on B.C.'s Sunshine Coast was flooded at Myrtle Rocks due to the king tide blocking the culvert outlet, according to crews.

Part of Highway 19A near Courtenay and Comox was closed due to flooding.

Heavy water on HIghway 19A caused road closure near Buckley Bay.

Heavy water on roads around Vancouver Island, warned Transportation B.C.

A series of storms lashed B.C. in early December.

High winds and heavy rain pounded many B.C. regions.

A double rainbow after a storm.

City crews laid 30,000 sandbags along some waterfront as a preventative measure against a king tide that was forecast for the next day.