Under Fire, Liberals Will Support NDP's First Nations Child Welfare Motion
OTTAWA — The federal Liberals plan to support an NDP motion on First Nations child welfare when it comes up for a House of Commons vote on Tuesday— a decision that follows political pressure from the former chairman of the Truth and Reconciliation Commission.
In strongly worded written comments obtained by The Canadian Press, Sen. Murray Sinclair said he cannot overstate the importance of the federal government immediately complying with legal orders from the Canadian Human Rights Tribunal.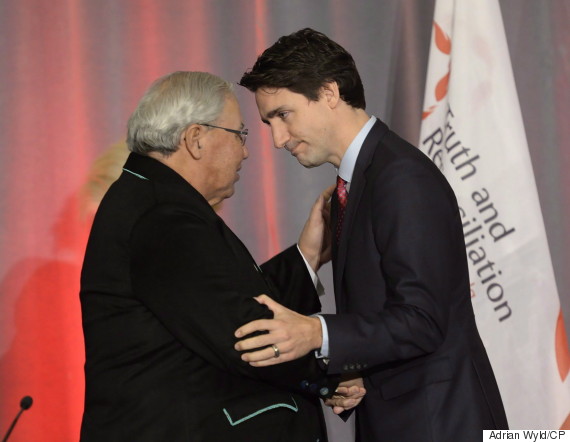 Justice Murray Sinclair greets Prime Minister Justin Trudeau in Ottawa on Dec. 15, 2015. (Photo: Adrian Wyld/CP)
"Canada's discriminatory policies have led to greater failed and failing interventions into the lives of indigenous families than the residential schools and serious changes must be undertaken," Sinclair said.
"Immediate action is required," he said. "I encourage members of the House to support the motion proposed by member of Parliament Charlie Angus."
Indigenous Affairs Minister Carolyn Bennett took to social media on Monday to say the Liberals plan to vote in favour of the motion.
The government also says it is willing to sit down with the parties in the case.
"Canada's discriminatory policies have led to greater failed and failing interventions into the lives of indigenous families than the residential schools."
"The federal government is open to entering into a facilitated process and agrees such a process could support us in working together to find timely, meaningful solutions to implement and respond to the issues raised by the tribunal," Bennett said in a letter to the Canadian Human Rights Commission dated Oct. 29.
In September, the commission urged the parties to resolve their dispute without further legal action.
The NDP motion calls for an immediate $155-million investment and a funding plan for future years.
It also urges the government to adopt Jordan's Principle, which says no aboriginal child should suffer denial, delay or disruption of health services available to other children because of jurisdictional feuds.
2 legal orders urged action from Liberals
The principle is named after Jordan River Anderson, a five-year-old boy with complex needs who died in hospital in 2005 after a two-year battle between the federal and Manitoba governments over his home care costs.
"This is about our historic obligations to repair the damage that has been done to generations of First Nations families and children," Angus said.
The tribunal decision, issued in January, found the federal government discriminates against First Nations children in the way it delivers child welfare services on reserves.
It has since issued two legal orders urging action from the Liberals.
Letter From Sen. Murray Sinclair To MPs by HuffPostCanada on Scribd
The tribunal only issues these orders due to a lack of compliance, said Cindy Blackstock — a First Nations child advocate who, along with the Assembly of First Nations, spent nine years fighting the government on the issue.
"If the government was in full compliance with the orders, there would been no need at all for the tribunal to point to increasing measures that they have to comply with and demanding that the federal government report back that they have indeed met those measures."
Prior to a debate in the Commons on the motion last week, Bennett announced that a new special representative will lead national discussions on the reform of First Nations child welfare services.
Cynthia Wesley-Esquimaux — a Lakehead University professor and a Liberal candidate in the 2011 election — is to advise the government as it works with provinces, territories and child welfare agencies on an overhaul of the system.
'Reconciliation means not saying sorry twice'
Officials at the Indigenous Affairs Department insist government funding is being phased in over time deliberately because it has heard from agencies about the challenges of hiring and retaining staff, as well as the need for time to roll out new programs.
Blackstock said she has yet to find one report that recommends an adviser despite more than 20 years experience on the file.
"What is necessary is that Canada invests in equity at the level of other children, providing prevention services that meets the needs of these kids and acts on the recommendations on the books," Blackstock said.
Sinclair's comments highlight the immediate need to address the underfunding in First Nations child welfare, she added.
"Reconciliation means not saying sorry twice," Blackstock said. "That's what Justice Sinclair is reminding of us of. When I went to the TRC hearings, I heard survivor after survivor after survivor saying 'I'm telling this story so it doesn't happen to my grandkids.' And it is happening to their grandkids."