Travis Vader Sentenced To Manslaughter After Trial Error
EDMONTON — An Edmonton judge has changed his murder verdict to manslaughter in the high-profile case of Travis Vader and the two missing seniors he was convicted of killing.
Lawyers had returned to court to argue about whether there should be a mistrial because Justice Denny Thomas used an outdated section of the Criminal Code in his original verdict.
Thomas told Court of Queen's Bench that he made a mistake when he convicted Vader last month of second-degree murder in the deaths of Lyle and Marie McCann.
The McCanns, in their late 70s, disappeared after setting out on a camping trip from their Edmonton-area home to British Columbia in 2010.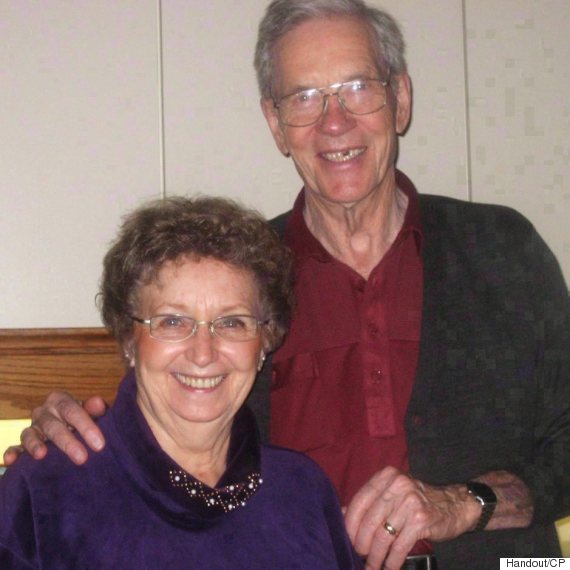 Lyle and Marie McCann are shown in an undated handout photo. (Photo: Handout/The Canadian Press)
"I am glad to see this. I am glad to see this come to an end,'' said Bret McCann, the couple's son, when reached on the phone.
"I am glad that Vader will be in prison for a long time. I am glad that the public will be safe. At some point in the future, he will be looking for parole and I am hoping that he shows remorse and lets us all know where my parents' bodies are.''
In finding Vader guilty, the judge used Section 230 of the Criminal Code, which the Supreme Court declared unconstitutional in 1990. The government didn't remove the section from the book, as antiquated laws are rarely repealed.
Section 230 allowed for a second-degree murder verdict if a killing occurred during the commission of another crime such as robbery. Otherwise, there must be intent to cause death or bodily harm that one knows is likely to cause death.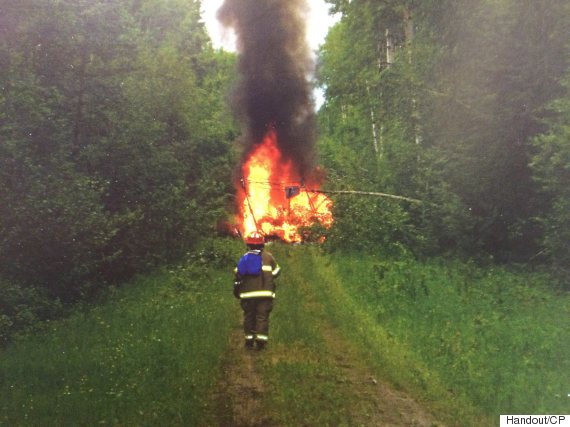 The burning motorhome belonging to Lyle and Marie McCann is shown in an evidence photo released at the Travis Vader trial. (Photo: Handout/The Canadian Press)
"I accept that it was an error,'' Thomas told court at the start of the mistrial hearing Monday.
Thomas told court his written decision for the change will follow.
Thomas said in his original verdict that Vader was a desperate drug addict who came across the couple in their motorhome and shot them during a robbery.
He said in his verdict that he found no evidence Vader intended to kill the McCanns and ruled out a planned and deliberate first-degree murder.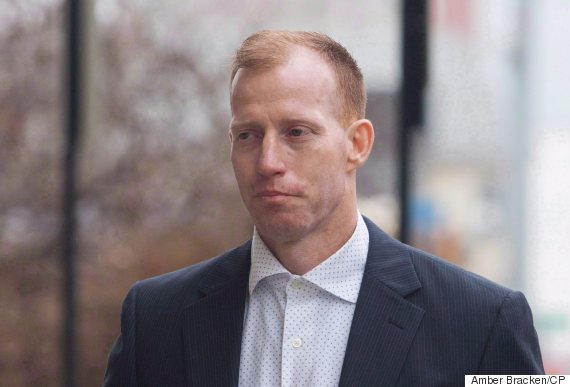 Travis Vader was found guilty last month of second-degree murder in the deaths of Lyle and Marie McCann. (Photo: Amber Bracken/The Canadian Press)
The defence had argued that the judge couldn't go back and find Vader guilty of second-degree murder on other grounds, so the only solution was a mistrial.
The Crown wrote in its arguments that the judge could still do more analysis for second-degree murder or substitute the verdict with manslaughter.
Thomas set aside two weeks beginning Dec. 12 for a sentencing hearing.
Travis Vader Trial: A Timeline
A judge has found an Alberta man guilty of second-degree murder in the killing of two seniors who disappeared more than six years ago. Lyle and Marie McCann vanished six years ago after they headed out on a camping trip. Vader was charged with first-degree murder and had pleaded not guilty. Justice Denny Thomas said there wasn't enough evidence to conclude Vader planned to killed the McCanns. Here is a timeline with some key events in the case. — The Canadian Press

2010 July 3: Lyle and Marie McCann are last seen fuelling up their motorhome in their hometown of St. Albert, north of Edmonton, for a trip to Abbotsford, B.C.

July 5: The burned-out motorhome is discovered in the bush near Edson, about 200 kilometres west of St. Albert. Mounties phone the couple's home and knock on the door. Officers later explain that they weren't alarmed because vehicles are often found burning in the bush and it's not unusual for people to be away from home during the summer.

July 10: Trudy Holder calls RCMP when her parents fail to show up in Abbotsford. Mounties start searching for the couple. July 13: Two people go to the RCMP detachment in Prince George, B.C., and report having spotted a green Hyundai Tucson like the one the McCanns were towing behind their motorhome, but they are rebuffed. Mounties later issue a public plea for the tipsters to return.

July 16: RCMP announce that the SUV the couple was towing has been found off a bush trail near Edson. Officers name Travis Vader as a person of interest in the case and release his photo. July 19: Vader is arrested on outstanding warrants on unrelated charges.

2011 July 20: A judge declares the McCanns dead so their wills and estates can be processed. Dec. 22: Vader is sentenced to 33 months in prison for arsons and break-ins in the Whitecourt, Mayerthorpe and Barrhead areas of Alberta in 2009. He gets credit for time served but is kept in custody on other charges.

2012 April 18: Vader is charged with first-degree murder in the deaths of the McCanns. May 1: Vader is convicted of drug trafficking, theft and weapons offences in the Barrhead area in June 2010. Oct. 19: Before Vader can be sentenced, a judge declares a mistrial because evidence was not properly disclosed to the defence. Justice June Ross cites the RCMP as "negligent'' and orders a new trial.

2014 Feb. 7: Vader files a lawsuit against the RCMP and justice officials claiming they kept him behind bars on trumped-up charges until he could be charged with murdering the McCanns. He had faced charges related to passing off a forged employment letter in court, but they were dropped. March 19: Crown prosecutor Michelle Doyle issues a stay on the murder charges, days before the trial is to begin, after discovering Mounties failed to disclose all evidence to lawyers. The RCMP later make changes to the way disclosure is handled in major investigations.

April 22: Vader files another lawsuit alleging misconduct by RCMP, malicious prosecution by the Crown and mistreatment by prison guards. Oct. 8: Vader is found not guilty of the previous drug, theft and weapons charges after a second trial. He pleads guilty to failing to comply with a 2010 court order and is sentenced to one day of time served. He is released from custody for the first time in four years and tells reporters his treatment by the justice system has been a "witch hunt.'' Dec. 19: RCMP arrest Vader and charge him again with murder in the deaths of the McCanns.

2016 Jan. 26: Justice Denny Thomas denies an application by defence lawyers to drop the murder case over alleged abuse of process and an unreasonable delay in getting to trial. March 8: Vader's first-degree murder trial begins. He tells the judge: "I am not guilty of that charge.'' May 30: Vader is denied bail on new charges laid during his murder trial. They include break and enter, possession of stolen property and breaching conditions of his release. His bail had previously been reviewed when he showed up late four times during the trial.

June 22: Final arguments begin. The Crown asks the judge to look at the "totality of the evidence.'' The defence suggests there's not enough evidence to prove the couple is dead and that police should have looked at other suspects. Sept. 13: Justice Thomas rules that cameras will be allowed in the courtroom to broadcast his verdict. He says it will increase the public's confidence in the judicial system. Several media outlets had argued for cameras as being in the public interest, because of the cost of the extensive police investigation and trial.

A University of Alberta law professor who specializes in legal issues in criminal trials said Queen's Bench Justice Denny Thomas used an invalid section of the Criminal Code in his decision to find Vader guilty of second degree murder. Defence lawyer Brian Beresh said he noticed the issue as well.

September 22: Travis Vader's lawyers officially file a motion for a mistrial.

October 31: An Edmonton judge changed his murder verdict to manslaughter, after Justice Denny Thomas used an outdated section of the Criminal Code in his original verdict.