Sudbury Byelection Scandal: Pat Sorbara, Gerry Lougheed Charged With Bribery
TORONTO — Ontario Provincial Police have laid bribery charges under the Election Act against two provincial Liberals.
Pat Sorbara, who recently took a leave of absence as the premier's deputy chief of staff to become party CEO and 2018 campaign director, is charged with two counts of bribery under the act.
Gerry Lougheed, a Liberal operative in Sudbury, Ont., faces one count of the same charge.
Both are to appear in court in Sudbury on Nov. 21.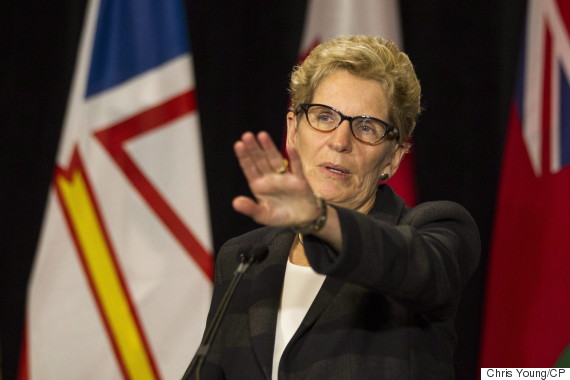 Ontario Premier Kathleen Wynne speaks in Toronto on March 3, 2015. (Photo: Chris Young/CP)
Ontario Provincial Police Commissioner Vince Hawkes says in a statement that it was a "complex and unprecedented investigation" for the OPP anti-rackets branch.
The charges, which stem from allegations Sorbara and Lougheed offered a would-be candidate a job or appointment to get him to step aside in a 2015 byelection in Sudbury, come in the midst of two new ongoing byelection campaigns in Ottawa and Niagara.
Premier Kathleen Wynne said earlier Tuesday that Sorbara would step aside as party CEO and campaign director when she was charged.
The OPP had been investigating the pair both criminally and under the Election Act. Sorbara was cleared criminally, but Lougheed was charged with one count of counselling an offence not committed and one count of unlawfully influencing or negotiating appointments — charges that were stayed earlier this year.
Lougheed maintains he did nothing wrong
Following the staying of Lougheed's criminal charges in April, the police turned their focus to the Election Act, specifically a bribery section that says no person shall directly or indirectly "give, procure or promise or agree to procure an office or employment to induce a person to become a candidate, refrain from becoming a candidate or withdraw his or her candidacy."
A conviction under the bribery section of the Election Act carries a penalty of up to $5,000. If a judge finds it was broken "knowingly," the penalty is a fine of up to $25,000 and/or up to two years less a day in jail.
Lougheed's lawyer, Michael Lacy, said in a statement that they are disappointed to now have new charges under the Election Act.
"Although these are not criminal charges, Gerry has maintained that he didn't do anything that would attract a culpable finding," Lacy wrote. "We will review the evidence that has been compiled and respond in court to the allegations."
Story continues after slideshow:
Sudbury Byelection Scandal: Key Dates
The Ontario Provincial Police are investigating allegations of bribery and corruption after a former Ontario Liberal candidate said he was offered a job or appointment to step aside for Premier Kathleen Wynne's choice in a Sudbury byelection. Wynne has denied the allegations. Here are some key dates in the scandal... Information courtesy of The Canadian Press

Sudbury New Democrat MPP Joe Cimino resigns after just five months on the job, citing "personal health wellness."

Sudbury Liberal riding association agrees to hold nomination meeting to select byelection candidate.

Premier Kathleen Wynne meets with NDP MP Glenn Thibeault, who agrees to run for the provincial Liberals. Wynne has said she decided at that meeting to appoint him.

Local Liberal and chair of the Sudbury police services board Gerry Lougheed visits Andrew Olivier, the failed Liberal candidate in the June provincial election who was seeking to run again. Lougheed asks Olivier to consider stepping aside and nominating Thibeault and tells Olivier "in the course of that deliberation'' to consider "appointments, jobs, whatever.''

Wynne phones Olivier, who is quadriplegic and tapes conversations as his way of taking notes. He says technical difficulties prevent him from recording that exchange.

Pat Sorbara, Wynne's deputy chief of staff, phones Olivier and says Wynne is "going to have to make a decision around the appointment,'' later telling him they should chat about what he would be interested in doing, be it "appointments to boards or commissions,'' a constituency office job or role in the party executive.

Olivier goes public with claims that Lougheed and Sorbara offered him a job or appointment to step aside; Progressive Conservatives ask Ontario Provincial Police to investigate; New Democrats ask Elections Ontario to investigate.

Thibeault publicly announces he will be the Ontario Liberals' byelection candidate.

Wynne calls Sudbury byelection for Feb. 5; sends letter to riding association president and nomination commissioner informing them of Thibeault's appointment.

OPP conclude no criminal offence was committed by the Liberals.

Olivier releases audio of his conversations with Lougheed and Sorbara; Progressive Conservatives ask OPP to reopen the investigation.

Thibeault wins Sudbury byelection; in a court document filed in order to get Olivier's original recordings, police say they have "grounds to believe'' a criminal offence was committed. The investigation is ongoing.

Elections Ontario makes "unprecedented finding'' that Lougheed and Sorbara's actions were in "apparent contravention'' of the Election Act; matter is referred to OPP and federal Crown.

UP NEXT: 5 Key Ontario Liberal Scandals

Ontario voters were able to look past these five scandals when they gave Kathleen Wynne's Liberals a majority government in June, 2014. (Information courtesy of The Canadian Press)

Ontario's publicly funded air ambulance service has been under fire for almost two years over sky-high salaries, financial irregularities and corruption allegations. A legislative committee has been probing the service's complex structures and pay scales in detail, and opposition parties have been alleging wrongdoing with nearly every revelation. The auditor general has criticized the governing Liberals for failing to oversee Ornge, despite giving it $730 million over five years and allowing it to borrow another $300 million. The Liberals insist Ornge went rogue with a web of for-profit companies and questionable business deals, as well as exorbitant salaries and lavish expenses.

Scandal has swirled around the government's decision to cancel the construction of two Toronto-area gas plants ahead of the 2011 election, in which the government then led by Dalton McGuinty was reduced to minority status. The cancellation costs have now been pegged at $1.1 billion, but opposition parties have accused the Liberals of actively trying to cover up that figure. Ontario's privacy commissioner has concluded that staff working for McGuinty and a former energy minister broke the law by deleting emails pertaining to the project. Ontario Provincial Police are also investigating the document deletions, seizing government computers at both Queen's Park and beyond.

The provincial agency was given a $1-billion budget to develop electronic health records, but wound up building themselves a bad reputation. A lot of the eHealth money went for untendered contracts given to highly paid consultants who then billed taxpayers for additional expenses in a scandal that cost former health minister David Caplan his job. In 2009, the auditor general said the agency had very little progress to show for its efforts, and opposition parties have alleged further financial mismanagement since then.

The government has taken heat for not immediately acting when it learned a $1.4-billion infrastructure project didn't live up to safety standards. The Liberals were told that questionable materials were being used on the support beams on Windsor's Herb Gray Parkway in December 2012, but didn't halt the project until July. More than 500 support beams are being replaced by the project overseer at no cost to the tax payers, but the NDP has accused the Wynne government of trying to cover up the affair and only backing down when threatened with media exposure.

Premier Kathleen Wynne has hailed the 2015 games as a cause for celebration, but opposition parties call it just another scandal. The $1.4-billion budget for the games does not include some key expenses, like the $700 million athletes' village. The government has also come under fire for $7 million worth of bonuses paid out to 64 executives.

UP NEXT: The Many Faces Of Kathleen Wynne

Ontario Premier Kathleen Wynn smiles as she arrives at the Toronto Blue Jays game against the New York Yankees during home opener AL baseball action in Toronto on Friday, April 4, 2014. THE CANADIAN PRESS/Peter Power

Ontario Premier Kathleen Wynne, left, and Glen Murray, Minister of Infrastructure, ride the subway while en route to Wynne's speech at the Toronto Region Board of Trade in Toronto Monday, April 14, 2014. THE CANADIAN PRESS/Darren Calabrese

Ontario Premier Kathleen Wynne attends question period at Queen's Park in Toronto on Tuesday, April 1, 2014. THE CANADIAN PRESS/Chris Young

Ontario Premier Kathleen Wynne is shown outside her office at Queen's Park in Toronto on Thursday, March 27, 2014. Wynne has distanced herself from her predecessor, former premier Dalton McGuinty, following police allegations one of his staffers may have committed breach of trust. THE CANADIAN PRESS/Frank Gunn

Ontario Premier Kathleen Wynne speaks to supporters and her caucus during the party's annual general meeting in Toronto on Saturday, March 22, 2014. THE CANADIAN PRESS/Nathan Denette
The investigation was sparked by recordings made by Andrew Olivier, who was the Liberal candidate in Sudbury during the 2014 general election. As a quadriplegic man who often records his conversations in lieu of taking notes, Olivier recorded chats he had with Sorbara and Lougheed. Technical difficulties prevented him from recording a call he had with Wynne herself.
The Liberals have denied wrongdoing, saying they made no specific offer but were trying to keep Olivier involved in the party after deciding to appoint Glenn Thibeault as their candidate as he left his role as the New Democrat MP for the riding.