Plans In Place To Help Curb Northern Saskatchewan Suicides
LA RONGE, Sask. — The leader of a Saskatchewan First Nation says people are struggling to understand why so many young indigenous girls are killing themselves.
Since the middle of October, six girls between the ages of 10 and 14 have taken their own lives in northern Saskatchewan, including four from the Lac La Ronge Indian band.
Chief Tammy Cook-Searson says the community is working through the pain to reach out to young people in the hope of preventing more deaths.
"We want to hear from the youth. We want them to tell us how we can help them,'' she said Tuesday. "Because right now we don't know why they are so sad, why they are feeling depressed.''
Cook-Searson said the First Nation is working with social agencies and the provincial and federal governments to stabilize the situation.
"The strongest message that we have to the young people is they are loved — there is support for them."
Emergency operations centres have been set up to co-ordinate programs, there are grief and parenting workshops and more mental- health workers are available to provide counselling.
The band is also working with the Red Cross to develop a community safety plan.
The chief said the key to stopping the suicides will be letting girls know that people want to help them, their friends or family if they are hurting.
There is a plan to send counsellors into schools in the hope the message gets through to students in Grades 7 through 9. The goal is to identify youth who are at risk of harming themselves.
"The strongest message that we have to the young people is they are loved — there is support for them.''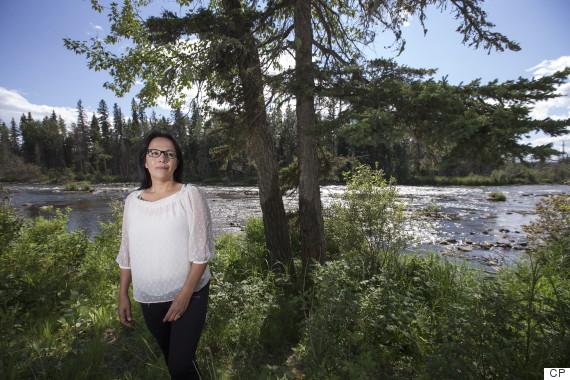 Lac La Ronge Indian band Chief Tammy Cook-Searson wants indigenous girls in Saskatchewan to know there is help available for them. (Photo: Liam Richards/The Canadian Press)
The two other girls who have taken their own lives were from Deschambault Lake and the Makwa Sahgaiehcan reserve near Loon Lake.
Dr. James Irvine, northern Saskatchewan's medical health officer, said that the rate of suicides in the past has been higher in young aboriginal men. Young women attempt suicide more often, but usually end up in hospital.
He said a pattern of suicides within communities can lead to an increase in people acting in a similar way.
"I think this situation may be the result of a pattern occurring,'' Irvine said. "I think this is where the band and the chief are trying to gain more of an awareness of what may have sparked this situation.''
New Democrats and First Nations groups have responded to the suicides by pointing to the need to improve social services in northern communities: better schools, housing, recreation, health and addictions and mental-health services.
The Lac La Ronge band is pitching a proposal to the federal and Saskatchewan governments for a $17-million holistic wellness treatment recovery centre, including a fitness facility.
Cook-Searson said that's part of a long-term solution.
For now, the community must focus on stopping girls from harming themselves.
"We have to address the immediate crisis that we are in right now,'' she said.
"We need a lot of prayer.''
"We have to be face-to-face and we have to be sitting there, together, working out solutions."
As well, Saskatchewan's new advocate for children and youth says he is heading north as soon as possible.
Tuesday marked Corey O'Soup's first day in the role, after taking over from the previous advocate Bob Pringle.
He says his first priority will be getting together with leaders in northern communities to work on addressing the wave of suicides.
O'Soup says he learned a lot before becoming advocate while helping to co-ordinate the province's response to January's school shooting in La Loche.
He says one of the biggest lessons was that solutions for the North won't come from Regina or Saskatoon.
He says he and his staff hope to be up north by the end of the week.
"We have to be there. We have to be on the ground,'' he says. "We have to be face-to-face and we have to be sitting there, together, working out solutions.''
While response to the immediate crisis is a high priority, O'Soup says he hopes to see more efforts directed at prevention.
He says that could include things like better mental health supports and education for youth, alongside programming for parents.
O'Soup notes the problem of youth suicides in Saskatchewan's North isn't new and says he hopes the latest crisis has brought enough attention to the issue to drive change.
"This isn't the first time that children have done this or that this has happened to them. But this is the biggest spotlight they've had. So we need to use this time to make sure the supports are in place and to ensure governments are reacting the way they should be.''
Also On HuffPost:
11 Facts About Canada's First Nations
The word Canada comes from the Iroquois word kanata meaning village, settlement or land.

There are currently over 60 First Nations languages in Canada grouped into 12 distinct language families, according to Statistics Canada.

Before European Settlers came to Canada, it was not uncommon for Aboriginal women to hold equal power to men, and even had to ability to take the power away from the chief, reports UBC. Women's suffrage in Canada was not granted until 1918.

The North American headdress was earned, each feather representing an act of bravery.

There are over 600 different tribes in Canada each with their own culture and belief system.

The High King of France commissioned Giovanni da Verrazzano to reach Asia by sailing around North America in 1523. He described the coastline as densely populated and full of bonfire smoke, saying it could be smelt from hundreds of miles away at sea. Some academics place the American Aboriginal population at 50 million while some argue it to have been 100 million. Today's First Nations population of Canada falls around 1.4 million.

During the early days of colonization, Britain saw Aboriginal people as essential to protecting their colonies and considered them powerful allies who helped battle the French during the Seven Year War and fought off American invasion during the War of 1812.

First Nations people played a major role during the fur trade between the 17th and 19th centuries, which attracted merchants from around the world.

Archaeology tells us that aboriginal people have lived in the Maritimes provinces of Canada for at least 11,000 years.

After the decline of the fur trade and the end of the War of 1812, more settlers came to Canada, creating a large enough population to protect their own borders. First Nations were seen as impeding on economic development and were sent to live on isolated reserves, while more land was set aside to accommodate new settlers.

Aboriginal people have the youngest demographic in Canada, with a median age of 28, while the median age for non-aboriginal Canadians is 41.