Catherine McKenna: Federal Government To Run On Green Power By 2025
CALGARY — The federal Liberals are promising to run all government operations on renewable energy within a decade, Environment Minister Catherine McKenna said Wednesday.
Speaking in Calgary to the Canadian Wind Energy Association, McKenna said the switch is to be complete by 2025.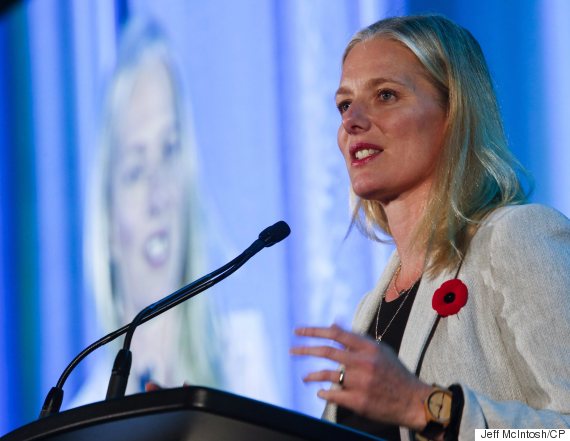 Environment Minister Catherine McKenna speaks in Calgary on Nov. 2. 2016. (Photo: Jeff McIntosh/CP)
"Today, to show we're leading the way, we are announcing our firm commitment to purchasing 100 per cent renewable power for government operations by 2025," she said.
"The government needs to be a key player to support the acceleration of clean growth — not only through policy, but by investing and showing leadership."
McKenna said the government plans to buy renewable electricity for federal facilities such as military bases.
Few details were immediately available on how the program will work, but she confirmed it will include all government operations.
'We're talking about government operations, buildings and fleets'
"We're talking about government operations, buildings and fleets by 2025. This was something that was actually an agreement with the U.S. and Mexico ... It shows our government is going to take a leadership role."
McKenna wouldn't say how much it will cost to move to renewable energy provided by wind, solar or hydro.
"The good news is, when you look at renewables, they're actually becoming very cost competitive, so I think by 2025 you will see in many cases it's parity and there's different sources to choose from," she said.
The announcement was welcomed by Jean-Francois Nolet, vice-president of the Canadian Wind Energy Association.
'A clear message'
"It sends a clear message to investors and this is what we need ... so that investors can go ahead and invest in many of the different provinces and the regions, create jobs and benefits to the local communities," he said.
"Ultimately, it's all about reducing emissions, and wind is a big part of it."
As McKenna was speaking in Calgary, Treasury Board President Scott Brison was announcing in the House of Commons in Ottawa that the federal government plans to reduce its greenhouse gas emissions by 40 per cent by 2030.
"We are creating a Centre for Greening of Government at Treasury Board that will track emissions, co-ordinate efforts across government and drive results," Brison said in the daily question period.
The plan includes clean vehicle fleets, green procurement and refurbishment of six separate heating and cooling plants that service more than 85 federal buildings in the Ottawa area.
"The government needs to be a key player to support the acceleration of clean growth — not only through policy, but by investing and showing leadership."
Currently, National Defence and Public Services and Procurement Canada account for more than three-quarters of all government greenhouse gas emissions.
Greening Canada's federal government operations will have only a minuscule impact on national emissions, but is seen by the Liberals as symbolically important and as a potential boost to Canada's clean-tech sector.
The scale of the challenge ahead is expected to be put into sharp relief Thursday when the United Nations Environmental Programme releases its annual emissions gap report.
It is expected to show that, even if all greenhouse gas reduction pledges made in Paris last December are achieved, the world will still need to cut a further 25 per cent to limit global warming to two degrees above pre-industrial levels.
Story continues after slideshow:
Drone Images Highlight Climate Change
This windmill pair was shot in the early morning hours. The shallow fog had been around for days because of no wind, high humidity and cold temperatures.

The city of Paracatu was vanished by a river of mud, after a mining dam burst at Mariana, Minas Gerais. It was the biggest environmental accident in Brazil's history.

Palangkaraya – The most polluted place on earth! This photo was taken on October 4th, 2015 when my friends and I did a campaign called "Kalteng with Love" where we gave free masks, milk and vitamin for the people in the city of Palangkaraya, Central Kalimantan, Indonesia. Thick smoke was hovering over where we live. The particulate meter that day showed that the air was so poluted and reached over 2000 psi. The smoke was caused by the fires in Borneo peatlands that was started from the end of July. For almost three months the people in Borneo had to breathe such toxicating air. There are lots of people who suffered from respiratory problems. Schools off. Flights could not operate. Economic system became paralyzed. Borneo is known as the lungs of the world and the fifth largest greenhouse gas emitter in the world, and these fires are not helping. We were even labelled as the most polluted place on earth. Through this photo, I would like to raise the world's awareness that this matter is a huge problem for all of us. This challenge is addressed not only to people in Borneo and Indonesia, but also to the entire world. Could you imagine if all of the forests in Borneo disappear and there is limitied source of oxygen left for over 7 billion people?

Wind power from approx. 120m height.

Energy ACTIVE office building, about 1100m² floorspace : produce yearly more energy then it consumes ( better then passive house results !). Heating & cooling by deep geothermal heatpump with electric compensation of full integrated PV-solarpanels (BIPV) in 45°-roof. Owner : www.stebo.be Building designed by www.burob.be & www.geertdebruyn.be , construction : www.i3.be BIPV solar roof : http://solar.golden-glass.com/c465.html Drone : Yuneec Typhoon Q500 4K

Taken in between two banks of fog in a 2 minute window. Showing the tanks and stacks of Fawley Refinery.

The tiny island in the lake of Galvė looks like a continent and shows us how small our world really is. One tree cut on this island, one nest pulled apart or another kind of intervention will change it beyond our recognition. It is up to us all to make our planet clean and green

This is a picture of the king high tide crashing against this restaurant on the sand in la jolla shores. the king tide was at the peak in this photo at +7feet . is this a result of higher tides due to global warning.Today many coastal communities are seeing more frequent flooding during high tides. As sea level rises higher over the next 15 to 30 years, tidal flooding is expected to occur more often, cause more disruption, and even render some areas unusable .

A playing field I grew up playing football on… It\'s now acquired by the real estate company and they are killed the green of the field, trees providing shadow and building the grey houses on it. It\'s a typical depiction of the impact of growing real estate companies in Bangladesh.

After a mining dam bursts, it took almost 3 hours for the mud to reach Paracatu. Fortunately, it gave time for people to abandon their houses and run. The cemitery of Paracatu stays on a small hill, and it was there where many people rushed to protect themselves. And it was from there, that they saw their city being destroyed. There were no fatal victims in the city but the city itself.
Clean Energy Canada said the federal announcements are small but positive.
"By committing to use more clean power in government buildings and improving energy efficiency, the federal government is walking the talk and showing Canadians it's serious about reducing carbon pollution and investing in clean growth," said senior policy adviser Sarah Petrevan in a statement.
"Today's announcement is a small but important step as we make the shift to an economy that runs on clean, renewable energy."
— With files from Bruce Cheadle in Ottawa