Confederate-Style Flag Waved At Red Deer Protest
RED DEER, Alta. – An Alberta mayor has issued a statement that a Confederate-like flag that apparently was displayed during a weekend protest had nothing to do with the city.
Tara Veer says some citizens have contacted the city to express concerns about the flag, and she says she shares those concerns, but that people should contact the event's organizers.
Images of the flag were posted on Twitter – it appeared to have maple leaves instead of the usual stars that appear on the Confederate flags associated with the American civil war.
The Twitter images appeared to show a small group of people holding the flag up as they attended an anti-carbon tax rally in Red Deer on Saturday.
Nothing says, 'keep Alberta strong like a Canadaian Confederate flag during a anti-carbon rally.' #thiswhyIvote pic.twitter.com/LlJlmFe1li

— DaviddeHollingsworth (@IamBunbury) November 5, 2016
Some North American stores stopped selling Confederate flags last year after the man accused of killing nine people at a black church in Charleston, South Carolina, was photographed with one.
Alberta opposition politician Jason Nixon spoke during the anti-carbon tax rally, and says he also spoke briefly with the people carrying the flag, who he says were apart from the main crowd.
Nixon says he let them know he wasn't impressed and says he condemns the "racist imagery.''
"I am sure that they would not have been welcome had they attempted to join the rally,'' Nixon said in a statement.
He said the exchange lasted only a few seconds.
A number of members of the Wildrose opposition party, including leader Brian Jean, spoke at several concurrent rallies throughout Alberta on Saturday, but the events weren't organized by the party.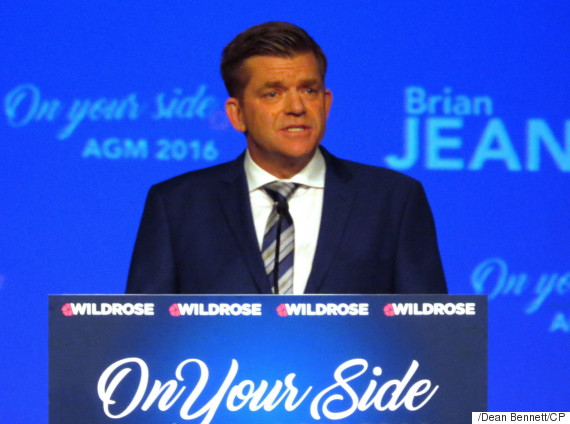 Wildrose leader Brian Jean was one of several Wildrose members to speak at concurrent rallies throughout Alberta on Saturday (Photo: Dean Bennett/The Canadian Press)
Red Deer radio station CHUB reported that event organizers did not immediately respond for comment on Sunday.
Veer said in her statement that Red Deer prides itself on being a "welcoming and inclusive community.''

Also on HuffPost:
9 People Who Think Casual Racism Is Ok
When one of Ukip's candidates had to stand down after using the word "chinky", they blamed it on the side effects of his medication. The media made fun of it and moved on, as usual. But that didn't stop perennial self-parody Nigel Farage from bringing it up again on LBC, defending the casual racism. The Ukip leader claimed that such terms were acceptable if you grew up on a council estate. Right.

Seemingly stuck in 1945 when his behaviour would be considered a bloody good romp, Jeremy Clarkson was at the centre of two race rows this year after using the term "Slope" in an episode of Top Gear and singing a not-so-politically-correct version of eeny-meeny during filming.

Former Cardiff City manager Malky Mackay was at the centre of a fairly big storm as his private texts were revealed, in which he managed to offend pretty much everyone.Malky's defence for his casual racism? "It's all just banter, really."

Wigan boss Dave Whelan came under fire for hiring Malky Mackay as the team's manager due to Mackay's history of casual racism. But it turns out, Whelan was just as bad. While defending his appointment of Malky, Whelan managed to offend Chinese and Jewish people, while also making it clear that he didn't really understand why anyone was pissed off.He even used the phrase "some of my best friends are Jewish and Chinese" during a shoddy attempt at apologising.

Media mogul Murdoch, who owns 20th Century Fox, stuck his foot in it while defending Ridley Scott's decision to make a film about Egypt using an entirely white cast. When accused of white-washing history, he tried to justify it by saying "all the Egyptians I know are white". Infallible logic there, Rupe.

Trouble-magnet Mario was charged by the FA after posting an incredibly offensive joke on Instagram.Balo thought it would be OK because he's black and his mum is jewish, but it turns out it wasn't OK. Because people still found it offensive. Funny, that.

Somehow this England Women's international footballer never got the memo about blacking up being totally not OK.

Someone at LSE accidentally sent out a test email to thousands of students - 30% of whom are Asian - addressing them as Kung Fu Panda.

Tom & Jerry cartoons now carry a racism warning on Amazon due to the portrayal black domestic maid Mammy Two Shoes.Amazon said: "Such depictions were wrong then and are wrong today."