Frizz Control: How To Make A Hair Mask That Will Lock In Moisture
If there's one thing we just can't stand, it's frizzy hair.
When our locks are not blessed with constant moisture, the result is one big mess. Hair is not sleek, it's not curly, it's just a big frizz ball. And we think we can all agree it's not the cutest hairstyle to flaunt.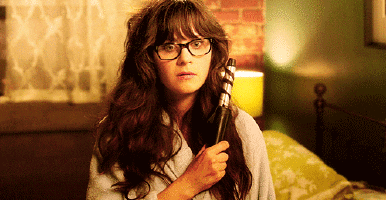 So for that, you'll want to tame the beast. There's a lot of anti-frizz products available on the market, but in your very own kitchen, you have an array of nourishing ingredients to make your own DIY frizz spray.
So grab that honey, shea butter, argan oil, coconut oil and egg yolks for a spray that will give you a whole lot of moisture, smoothness and protein (eggs, are we right?)
Check out the video above for your step-by-step guide to making the perfect frizz control hair mask!
And browse the slideshow below for all the must-have frizz fighting products!
Enriched with oil from the kukui nut (found in Hawaii), this hydrating dry oil by OGX is great for keeping frizz at bay. Just spray it onto towel dried hair (or dry hair, if you're in a hurry) and your locks will absorb the oil and look nice and shiny. It also smells great, which is always a bonus. $9.99, available at Shoppers Drug Mart, Walmart, Jean Coutu

Matrix Biolage's anti-frizz lotion is a leave-in treatment that provides your hair with balanced moisture and detangling agents. It helps protect your fragile strands from excess damage and is also suitable for colour-treated hair. $23, available online and at select salons across Canada.

This dry oil by Dove is lightweight and non-greasy, so it doesn't feel heavy on the hair. It absorbs into the hair, leaving it silky and shiny. For best results, apply in to damp or towel-dried hair -- once your mane dries, you'll be left with shiny, nourished looking locks. $14.29, available at Well.ca, and at drugstores across Canada.

Argan oil, shea butter, pro-vitamin B5 and keratin proteins add plenty of nourishing power to this mask treatment. It penetrates and hydrates your strands almost instantly. Apply a small amount to clean, damp hair, massage gently and leave on for five to seven minutes before rinsing. Price may vary. Available at Shoppers Drug Mart stores across Canada.

This Live Clean keratin oil treatment can be used before shampoo, as a pre-treatment, or after, as a leave-in oil meant to nourish and strengthen the hair. Macadamia nut oil and wildflower honey work together to lock in moisture and smooth away frizz. All you need is a small amount -- apply from roots to ends and style as usual. $11, available at Walmart stores across Canada and online.

This flyaway tamer is the perfect product to stash in your purse on a night out. The mascara-like wand is great for tucking away those little baby hairs and keeping frizz at bay. $15.96, available on Well.ca, and at select drugstores across Canada.

Moroccan Oil's original formula is tried, tested and true. This treatment is a staple in our hair product arsenal -- it's versatile, nourishing and helps condition hair. It can be applied on wet or dry hair and it doesn't leave a terrible residue. On top of all that, it's packed with fatty acids, omega-3 oils, vitamins and antioxidants. $47, available online and at select salons.

The key ingredient in this formula by Living Proof, PolyfluoroEster, creates a shield around the hair to lock in moisture and repel dirt and oil. It's suitable for all hair types and is silicone and sulfate free. $30, available at Sephora.

Good old coconut oil is probably one of our favourite hair treatments. You can use it as a mask, or apply it to damp hair for extra shine. It also works wonders as an anti-frizz formula -- just apply a tiny bit (trust us, a little bit goes a very long way with this stuff) and work into hair that's looking a little puffy. Price varies, available at drug stores and grocery stores across Canada.

Aveda's Smooth Infusion Nourishing Styling Creme gives you smooth, frizz-free locks for the whole day. Enriched with organic cupuacu and shea butters, the formula helps create a barrier around every strand, which keeps hair's necessary moisture in and the environmental elements out. Plus, it has a super fresh, aromatic aroma that makes you feel like you're at the spa while doing your hair. $34, available at Aveda salons and spas across Canada.

Redken's Frizz Dismiss serum protects hair from heat and humidity while adding glossy shine. It's the first professional system with a scale as well, which allows you to choose just how much protection you need based on your hair type. Pretty neat! $24.99, available at select salons in Canada
Follow Huffington Post Canada Style on Pinterest, Facebook and Twitter!