Michael J. Fox Strikes A Familiar Pose Rocking Out At Fundraiser For Parkinson's Disease Research
He's still got it.
Actor and activist Michael J. Fox rocked out on stage with Dave Matthews Band over the weekend, performing the classic song "All Along the Watchtower."
It was part of the Michael J. Fox Foundation's annual gala in New York City, called "A Funny Thing Happened on The Way to Cure Parkinson's"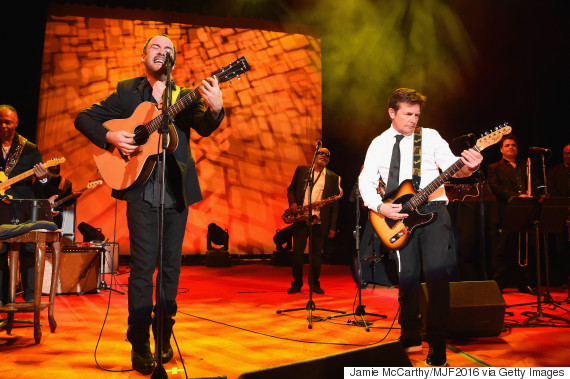 The Canadian-born actor's performance was a sweet reminder of a certain high school dance in "Back To The Future," one of Fox's most famous films.
Enchantment Under The Sea, anyone?
Fox has lived with Parkinson's disease since he was diagnosed in 1991, when he was 29.
"I was diagnosed 25 years ago, and I was only supposed to work for another 10 years. I was supposed to be pretty much disabled by now," he told Haute Living in a recent interview.
He went on to set up his foundation with the aim of curing the degenerative neurological disorder that affects movement and is characterized by tremors and loss of balance.
Fox was born in Edmonton and grew up in Burnaby, B.C.
Related on HuffPost:
Back To The Future Stars: Where Are They Now?
The McFlys' eldest child, Dave started work at Burger King but later got himself a white-collar job at a local accounting firm.

Most famous for this role and for appearing in the 'Superman' films, Marc went on to 'Freaky Friday' in 2003. TV appearances have included 'Once an Eagle', 'Happy Days', 'Hunter', 'The Shield' and 'Cold Case'.

The McFlys' middle child, Linda originally had boy trouble but was later seen in a boutique fighting them off.

Following her appearance in BTTF, Wendie opted to concentrate on TV, starring in series 'Babes' and 'Hearts Afire'. She was diagnosed with breast cancer in 1997, and died in 2005, with her last role being voicework for 'American Dad!'. Following her diagnosis, she founded weSPARK Cancer Support Center and is the subject of 'The Show Must Go On', which shows her working through her illness.

Claudia opted not to return for the original film's sequels and was replaced by Elisabeth Shue. She has appeared rarely on screen in the intervening years, until her return to acting in 2011 with independent science-fiction film 'Alien Armageddon'. Claudia is involved with charity organisation Kids in the Spotlight to encourage young people to make films, as well as running a menswear resale shop and maintaining a website that sells 'Back to the Future' memorabilia.

A man hampered only by terrible clothes and low self-confidence, George was rescued by wingman Marty and finally proved come the hour, come the man... "You are my density!" he proudly told his wife-to-be, and thus history was rescued.

Because Crispin didn't opt to appear in the original film's sequels, producers fudged his likeness using disguising shots and another actor. Crispin sued, leading to a permanent change in all actors' contracts. He remains one of the industry's most offbeat characters, appearing as Andy Warhol in 'The Doors' and producing, directing and creating his own music. Most recently, he has been filming 'The Brits Are Coming' alongside Uma Thurman, Tim Roth, Sofia Vergara and Stephen Fry, due for release next year.

Marty's mum, who got over her wonder at his Calvin Kleins to fall for George and safeguard Marty's destiny.

Since appearing in the trilogy, Lea Thompson has never really stopped working, with film appearances including 'All the Right Moves', 'The Beverly Hillbillies', 'Howard the Duck', 'Jaws 3-D', 'Red Dawn' and 'Some Kind of Wonderful'. She starred as the title character in 1990s TV sitcom 'Caroline in the City'. For the last four years, she has co-starred as Kathryn Kennish in the series 'Switched at Birth'.

The town's resident Romeo and bothering bruiser, made to see the error of his ways by an inflated George McFly.

Wilson's biggest role since the 'Back to the Future' trilogy has been that of Coach Ben Fredricks in 'Freaks and Geeks'. He has lent his voice to many an animation series, and appeared in TV series such as 'Bones', 'Boston Legal' and 'House'. He has also created a 'Big Pop Fun' podcast, involving him interviewing showbiz friends. Because he has been asked so often about his role of Biff, Wilson has created a 'Biff's Question Song' which he performs as part of his comedy stand-up routine.

A man whose dreams came true, courtesy of a curious young man, a lightning-struck clocktower and a DeLorean.

A longtime actor most famous for this role as well as TV comedy 'Taxi', Lloyd was reunited with Michael J Fox in a 1999 episode of 'Spin City'. He's also appeared in 'Numb3rs', and was a regular in 'Stacked'. As well as frequent theatre roles, Lloyd has reprised his eccentric scientist for multiple voiceovers, animations, commercials and games. It seems Doc Brown is the role he was born to play. He's been married four times, and sadly lost his Californian home in a wildfire in 2008.

Was anybody ever more perfectly cast? (Just don't mention Eric Stoltz, the actor originally chosen before Robert Zemeckis changed his mind and recruited Michael J Fox)

Actor, author, producer, activist, Michael J Fox has proved himself many times both on screen and off. A stack of Awards to his name for 'Family Ties' and 'Spin City', he revealed in 1998 that he'd had Parkinson's Disease for the best part of a decade. Since then, he has raised millions of dollars and increased awareness of the illness through his Michael J Fox Foundation, released three volumes of memoir and continues to act. He has lobbied Congress for funds for stem cell research. In 2007, his work led him to be named one of the 100 people "whose power, talent or moral example is transforming the world" by Time magazine.