Canadian Food Prices Post First Annual Drop In Nearly 17 Years
OTTAWA — Food prices in October posted their first year-over-year decline in nearly 17 years as the annual pace of inflation crept higher.
Bank of Montreal chief economist Doug Porter said the story on food prices is a reversal from the start of the year.
"That's the main reason why inflation is still quite restrained at this point,'' Porter said.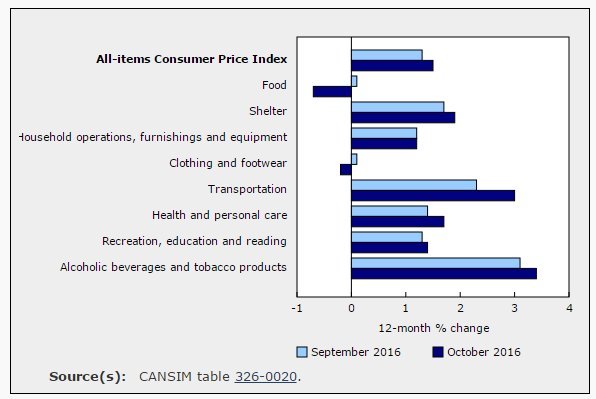 Food was among only two categories to see falling prices in StatsCan's report for October. (Chart: StatsCan)
Statistics Canada said Friday the consumer price index in October was up 1.5 per cent compared with a year ago, in line with the expectations of economists.
The result compared with a 1.3 per cent increase in September.
However, food prices posted their first year-over-year drop since January 2000 as they fell 0.7 per cent in October.
Prices for food purchased from stores recorded their largest decline since July 1992 as they fell 2.1 per cent. The prices for food purchased from restaurants gained 2.6 per cent.
Porter said a more stable Canadian dollar has helped food prices as well as bumper crops in the U.S. that have helped bring down the cost of raw ingredients.
"There's also of course intense competition among the grocers and some of the big box firms that are trying to sell groceries as well and so we're in the middle of a little bit of a price war as well,'' Porter said.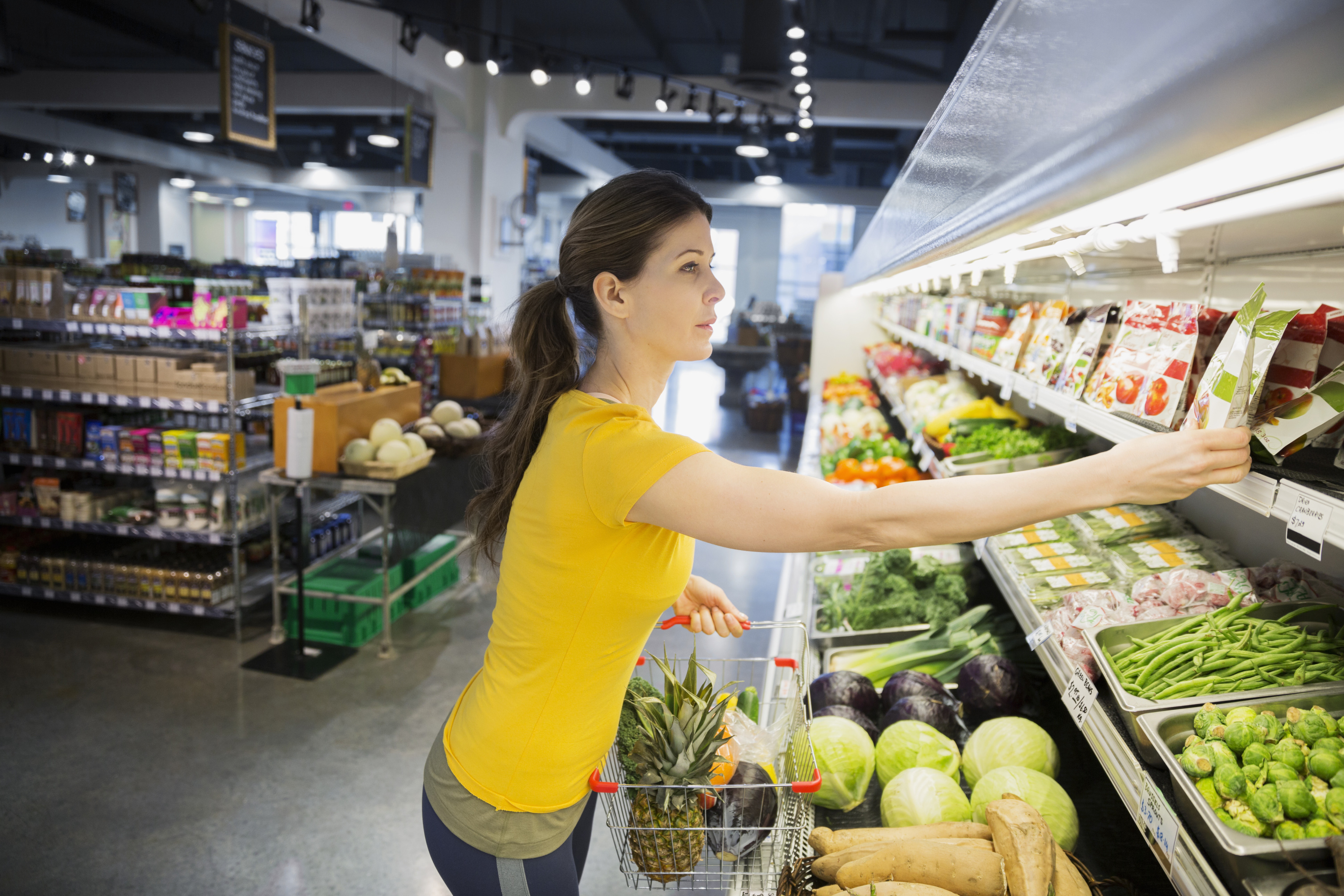 (Photo: Getty Images)
Earlier this week, Galen G. Weston, executive chairman and president of Loblaw Companies Ltd., said his company saw the grocery market shift from an inflationary environment to a deflationary one in its most recent quarter.
Weston told a conference call to discuss Loblaw's financial results that the company cut prices to help draw customers back.
Statistics Canada said Friday that prices were up in six of the eight major components with the transportation and shelter sectors contributing the most to the year-over-year increase, offset in part by lower food prices.
The transportation index gained 3.0 per cent compared with a year ago, due to gasoline prices, which posted a 2.5 per cent increase.
Statistics Canada said the shelter index posted its largest increase since January 2015 as it rose 1.9 per cent compared with a year ago.
Gas prices on the rise again
CIBC economist Nick Exarhos noted that gasoline prices were up 2.5 per cent compared with a year ago.
"Gasoline prices were a drag on headline inflation for most of the past two years, but have finally turned positive,'' he wrote in a note to clients.
Excluding gasoline, the consumer price index was up 1.4 per cent compared with a year ago, after posting a 1.5 per cent increase in September.
However, Exarhos said a soft trend in core inflation means the Bank of Canada's dovish tone is not expected to change.
"Although firmer energy prices going forward should continue to push headline inflation higher, underlying trends will remain muted as the output gap continues to weigh,'' Exarhos wrote.
The Bank of Canada's core index, which excludes some of the most volatile items, increased 1.7 per cent compared with a year ago.
Economists had expected the core rate to be 1.8 per cent.