Everything You Need To Know About Farts, Bloating And Gas
Even though we're bombarded with commercials that promote a product's ability to keep you regular, farts are still not considered an appropriate topic of discussion.
People hold on to longstanding taboos about gastrointestinal health despite the fact that about five million Canadians have irritable bowel syndrome, and the country also has the highest rates of Crohn's and colitis in the world.
On top of this, about 24,000 new cases of colon cancer are diagnosed in Canada every year.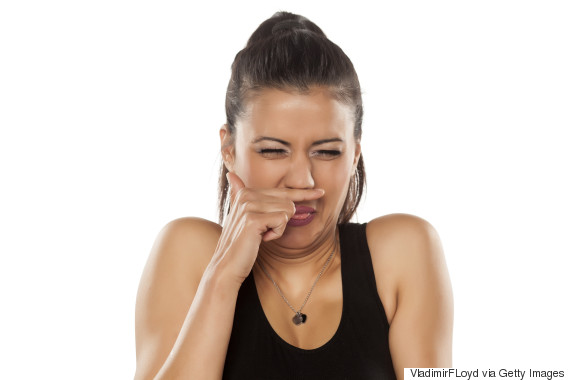 "Digestive health is a key part of your overall health," says Dr. Partha Nandi. "Gut health can affect your immune system, nervous system, endocrine system, and overall energy."
Excessive gas — whether that's farts, burps, or abdominal bloating — is sometimes a minor issue related to illness, medication, or food that disagreed with you.
But it can also be a sign of a larger problem related to the systems mentioned above or a food allergy, lactose intolerance, or celiac disease. That's why it's important to understand how gas happens, what it can mean, and what you can do to relieve it.
Read on to find out more about farts and gastrointestinal health:
Everything To Know About Farts
What is abdominal gas?: Gas is often caused by either swallowing air or the result of the breakdown of food during digestion. The frequency with which people experience gas varies wildly — for some people it's rare, and others may experience it multiple times in a single day.

Why farts are a good thing: Flatulence and belching are two of our body's tools for relieving gas. Passing gas out one end or the other, or by passing a bowel movement, can help prevent abdominal bloating and relieve the pain and cramping that can result, according to the Mayo Clinic.

What causes abdominal bloating: If you don't pass gas, it can build up in your intestines and stomach and lead to bloating — which can result in discomfort or even pain. Many different dietary factors can be behind bloating, according to the Mayo Clinic: fatty foods, which can delay stomach emptying; carbonated beverages, which literally contain gas, or so-called gassy foods; sucking excess air into your body via eating too quickly, using a straw, or chewing gum.

What about other causes?: Some causes of abdominal gas, and the flatulence and belching that can result, aren't directly related to something you ate, the Mayo Clinic says. Stress and anxiety are tied to abdominal bloating and pain, as is smoking. It can also be the result of a blockage, disease, or infection in your gastrointestinal infection. And medical conditions like IBS, celiac disease, or lactose intolerance, could also be causes.

Which foods are gassy?: Certain foods are more likely to lead to abdominal gas, and the farts and burps that can result. For some people, these foods are just a no-go zone because of the discomfort that results. Other people can eat them without any issues, or with only minor ones. But if you're prone to gas you may want to be careful with foods like beans, broccoli, brussels sprouts, cabbage, cauliflower, and onions.

Fermentation fail: Sometimes intestinal gas is an after-effect of food that doesn't digest properly, the Mayo Clinic says. Sometimes the gas is the result of the fermentation of undigested food like plant fibres in the digestive tract. Or it could result from the body's inability to digest certain food components like gluten, or lactose.

Protein issues: Protein takes a lot of digestive work to break down, which means your body might not be doing a great job of it if you don't produce enough stomach acid or take acid-reduction medication, chiropractor Dr. David Williams says. Williams suggests eating protein at the beginning of the meal and looking into digestive enzymes. And speak to your physician if you are on acid-reduction medication to see if a dosage adjustment is needed.

Try a low-FODMAPs diet: Some believe that foods with short-chain carbohydrates called FODMAPs feed harmful bacteria in the gut, causing gas and bloating. There is some scientific evidence that a low-FODMAPs diet, which avoids foods like wheat, legumes, honey, and milk, can reduce gas and bloating and help relieve symptoms of IBS.

Try Beano: Beano has been around for a long time for a reason: It provides an enzyme that helps the body break down complex sugar compounds that can lead to abdominal gas and bloating if they don't break down. Give it a try if you have gas after eating.

Consider probiotics: Dr. Partha Nandi recommends trying natural probiotics and prebiotics if you are having digestive trouble, in order to supply your digestive tract with healthy bacteria to aid in digestion. Natural probiotic foods include Greek yogurt, sauerkraut, kefir, and kimchee. And natural prebiotic (which help bacteria thrive) sources include onions, garlic, leeks, and raw asparagus.

Gallbladder issues: What you think is just bad gas might actually be a sign that your gallbladder isn't working properly, Williams says. Signs of an improperly functioning gallbladder — which can be due to stones or bile issues — include intestinal gas and bloating and a lingering bitter taste after eating.

When to look into it: Gas isn't necessarily a sign of a problem on its own, or something to worry about. But sometimes it can be a sign of a more serious problem. See your physician if your symptoms don't improve with changes in your eating habits, or if you notice symptoms like diarrhea, severe abdominal pain, bloody stools, changes to the colour or frequency of stools, unexplained weight loss, or chest pain, Nandi advises. Also, if you don't typically experience gas or abdominal bloating but it begins with no obvious cause, that is also worth investigating, he says.

Let go of the embarrassment: People are often reluctant to bring up bathroom habits and health issues like flatulence and gas out of a sense of embarrassment. But remember, your doctor has heard (and seen) it all, and they want to help you be well. "Although possibly embarrassing, you have to let your doctor know if you have changed in your symptoms, including gas, bloating, diarrhea, constipation, nausea or vomiting," Nandi says. "Full disclosure is important for your health care professional to give you the help you need."