Hairless Sphynx Cat Scam Dupes 3 Alberta Women
Shayla Bastarache was looking for a hairless sphynx cat and thought she had found a good deal last month on Kijiji.
A woman was selling sphynx kittens for $650 – less than half the cost from a breeder.
There was no photo with the ad, but Bastarache agreed to meet the seller in a gas station parking lot an hour north of Calgary. In the dark, she exchanged cash for two of the cats – one for her and one for a friend – and cuddled their tiny, smooth bodies on the way home.
About two weeks later, Bastarache realized it was a scam.
"They just grew their hair back!'' says the bewildered 20-year-old, who suspects the seller was somehow able to completely shave what have turned out to be regular house cats.
"I don't know how she did it.''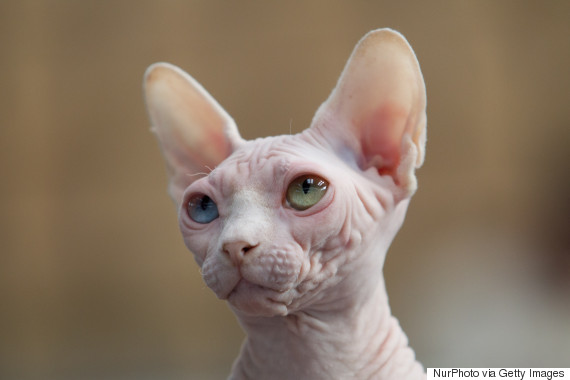 A photo of an actual sphynx cat. (Photo: Getty Images)
Bastarache called RCMP but says she was told not much could be done without the seller's name. A cellphone number the seller supplied was no longer in service.
The furry, fake sphynx, named Moofasa, is now part of the rest of Bastarache's feline family, which includes two real sphynx. She bought the latest for what the breed typically goes for – $1,500.
Sphynx are alien-looking with large eyes and ears and soft, wrinkled skin covering muscular bodies. Although the cats are billed as bald, they're actually covered with a fine layer of soft fuzz.
Bastarache says she could never have imagined such a hoax, but has since heard from two others who fell for the con.
Roland Lines with the Alberta Society for the Prevention of Cruelty to Animals says the agency recently received its first call about a fake sphynx and has assigned an officer to investigate. He's not sure how prevalent the scam might be.
"They just grew their hair back!"
Yet another duped buyer, Shaniya Yung of Blackfalds, Alta., says her kitten was also supposed to be a sphynx.
The 20-year-old says she bought the cat two weeks ago for $800 from a woman she met through a Facebook buy-and-sell group. The seller had recently purchased the cat from someone else on Kijiji and couldn't keep it because it wasn't getting along with another cat in her home.
It was also injured.
When Yung got the cat home, she noticed that it had a huge gash on its tail and a few cuts on its body.
"He just sat with his head on the floor and his tail tucked underneath his body and he just shook.''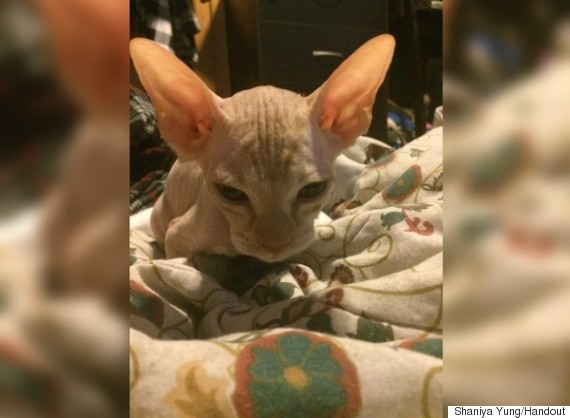 Vlad was purchased through a Kijiji ad that claimed it was a hairless sphynx, but it quickly grew hair. Owner Shaniya Yung says the cat was either shaved or doused with a hair removal product.(Photo: Shaniya Yung/Handout)
The next day, she took the cat named Vlad to a veterinarian, who told her its tail was in danger of amputation because of the infected wound – and it likely wasn't a sphynx.
"She was like this could be possibly from razor burn or a hair removal product, but she couldn't say one way or the other.''
Yung says she contacted the woman who sold her the cat and together they went to the RCMP but were rebuffed. Again, they didn't have the original seller's information and the supplied cell number wasn't working.
Within a week, the cat was improving with medication, and also growing hair.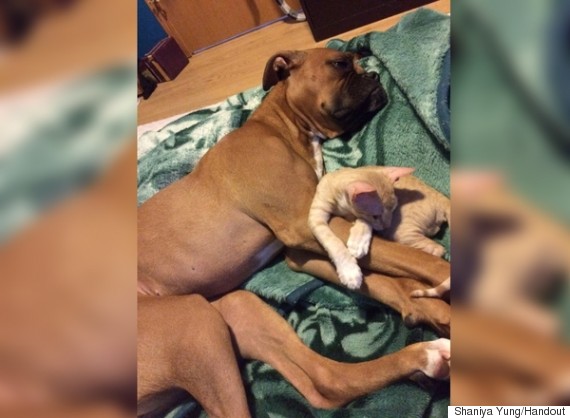 Vlad, shown with dog Maggie, quickly grew hair.(Photo: Shaniya Yung/Handout)
"He's a tabby cat,'' says Yung. "He's orange and he's got rings around his tail.
"I love him and I definitely plan on keeping him but he is not worth $800 – not even close.''
Also on HuffPost:
Ugly Christmas Sweaters For Your Pets
Even a tacky sweater can't take away the cuteness of this pup. Via sheryldortch1 on Instagram.

Looking picture perfect. Via jake_the_ratshi on Instagram.

All dressed up with nowhere to go. Via ayden_the_shiba on Instagram.

Who says pets don't like dressing up? Via rebeccagca on Instagram.

There's nothing ugly about this pup. Via lloemm on Instagram.

Okay, so it's not a sweater, but ugly Christmas ties counts too, right? Via Gunther.And.Dimples on Instagram.

Another tie, another cute photo-op. Via Imgur.

Ugly Christmas sweaters for everyone! Via Imgur.

The sweater is already a hit, but the antlers take it over the top! Via Imgur.

This kitty looks like he's on the naughty list. Via Imgur.

This elf cat is just trying to make your day a little brighter. Via Imgur.

We're not sure what's cuter, the furriness or the festive collar? Via Imgur.

Who needs a sweater when you can just wear bows?! Via Imgur.

This pup is definitely aiming for the nice list. Via samoshea89 on Instagram.

Even Santa approves this outfit. Via jackjackrt on Instagram.

The cutest reindeer. Via lynne_83 on Instagram.

This pup is proud to be showing off his sweater. Via bolt_the_amstaff on Instagram.

This guinea pig's get up is just great. Via merangel44.

Even a tortoise can rock the knitted look. Via jazz_kolby_stumpp on Instagram.

Too small for a sweater? Put on a bow instead. Via rats_deluxe on Instagram.

Or a scarf. Via lucy_haywood2 on Instagram.

The littlest reindeer of all. Via ratposts on Instagram.

Someone doesn't look too happy despite their Christmas hat. Via hhohn on Instagram.

This ferret ditched the sweater and went straight for the suit. Via joy.perone on Insagram.

In this case, a tree skirt doubles as a Christmas sweater. Via Imgur.