Edmonton Teen Dies After Being Hit By Bus That Kept Going
EDMONTON – A 13-year-old girl has died in Edmonton after police say she was struck in a crosswalk by a city bus that kept on going.
Police say the girl was crossing the street at an intersection in the city's northwest on Saturday evening when the bus made a left turn across the crosswalk.
They say she was dragged a short distance, and the bus didn't stop.
Police say they don't think the bus driver was aware of the collision.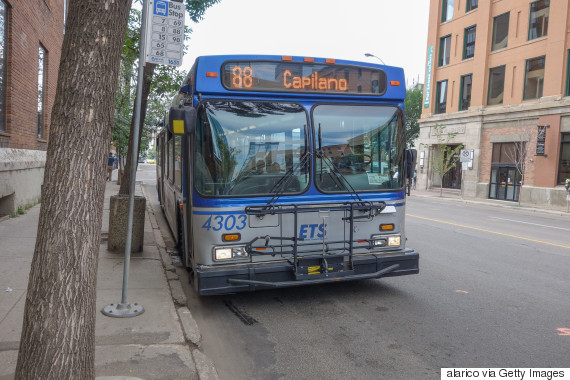 Police say the girl was dragged a short distance, and the bus didn't stop. (Photo: Alarico via Getty Images)
"On behalf of the City of Edmonton, we offer our deepest sympathies to the family and friends of the young pedestrian involved in a fatal collision last night,'' Linda Cochrane, city manager, and Doug Jones, deputy city manager of city operations, said in a news release on Sunday.
"This is a tragic event for everyone. Our thoughts and prayers go out to them.''
Police say they're still investigating the death, but speed and alcohol aren't believed to have been factors.
Last month, a union representing bus drivers said an Edmonton senior's death may have been due to a blind spot in the vehicle.
The Amalgamated Transit Union International said manufacturers' poorly chosen mirrors and side windows can result in drivers not seeing pedestrians as the bus is turning.
The woman, who was in her 80s, died October 4 when police said she was hit by a bus making a left turn while she was in a marked crosswalk.
This is a tragic event for everyone. Our thoughts and prayers go out to them."
The driver has since been charged.
The city said its staff will continue to work with police on the investigation into the girl's death. It said the city will also launch a "full operational review'' to reduce the risk of another tragedy.
The union says one person is hit by a bus every 10 days in North America.
Police are asking anyone who may have information about Saturday's incident to call them.
Also on HuffPost:
Worst Habits Of Alberta Drivers
"Merging at a yield and yielding at a merge!" - Jody McKay

"YOU and anyone else plugging the left lane, are NOT the police, and have no right to keep people from passing you just because you are going the speed limit. In fact, you would be impeding the flow of traffic, which I believe is a ticketable offence." - Mike Bjerstedt

"No one stops at stop signs." - Gloria Filteau Zerr

"Tailgating" - Kelly Rocco

"Not keeping a consistent speed." - Adam Yuill

"The parking. Everyone parks on the lines and takes up 2 spaces. Haven't seen such horrible parking in my life." - Phil McHugh

"Not signalling." - Patty Phillips

"Texting and driving." - Nicky Shepherd

"Making a left turn from a right hand lane and crossing two, three or four lanes of traffic while they do so." - Thomas Glover

"Driving at night, no headlights on." - Steve Banack

"Speeding through school & playground zones!" - Jenna Bennett

"Driving too close to cyclists," - Kiera Running-Gosse

"Passing on double solid lines. Or trying to sneak into the long line of traffic behind a wide load." - Colette Gascon-Zahar

"People who can't judge traffic or lights properly and end up in the middle of the intersection blocking traffic." - Steven Thomson

"Drivers who speed up when you try and pass." - Maryanne Hayward

NEXT: Dashcam footage captures some of Calgary's worst drivers.

Bad Drivers of Calgary + a big mix of snow!

First week with a dashcam and here's what I've got. Nothing too major however a general lack of consideration for your fellow drivers. Hopefully I can pull o...

Please note that that if you leave nonsensical, inflammatory, or rude comments, they will be removed and you will be banned from further commenting. If you d...

A short clip for you guys. Last clip might cause a chit storm but enjoy! Wish I had my cam running while I was in Vancouver and surrounding areas. Within 20 ...

Please note that that if you leave nonsensical, inflammatory, or rude comments, they will be removed and you will be banned from further commenting. If you don't like the content herein, I...

In regards to the merges everyone is so pissy about please read.. 0:43 - This isn't a merge but the lane ends and quite often people "Jump the que" they'll race up 0.5 km to the very end and...

Inspired by Novadashcam and my older videos. This episode highlights the bad drivers with unique video editing. Also included is my most insane clip to date!...

Pulled up behind a Chevrolet Cruze and noticed the driver was driving erratically including stopping nearly 2 car lengths from the red light. Watch the video...

Apparently I've upset YouTube with the music being played, hence the re-upload* Assholes... Assholes as far as the eyes can see. However, I'm no perfect dri...

Episode #5. Decided I'm going to keep these videos around the 4-5 minute mark unless I have a ton of unique clips to share. This episode highlights my impati...

Refering to approximate times at bottom left of video, the events are as follows: @08:02:15 - Just going to be another day of commuting on Calgary's roads. H...

Don't get me wrong I love living in Calgary. The mountains are close by, there's lots to do, there's plenty of work however, something in the water makes our...

Tried some new methods of editing these clips to hopefully make them more watchable. This episode features solid line crossings galore, more pedestrians wish...

Another week and more shenanigans. Hopefully one of these drivers will recognize themselves and feel the shame of the internet!!!! Anyways, enjoy!

This pedestrian gets called out in a YouTube video from one Snowcatxx87, a guy who rides around on his motorcycle with a GoPro camera and a helmet microphone.

More bad drivers of Calgary. Everybody be in a hurry, now you in a hurry too!

Bad Drivers of Calgary. Number 7. Got any clips from around town? Link them in the comments section. This will be my last compilation video as I plan to spen...

bad drivers calgary.

E38E 2.5 INCH Color IR DVR TFT Night Version 270 Car Dash Camera Road Audio Reco.