Space World Amusement Park In Japan Features About 5,000 Dead Fish In Skating Rink
TOKYO — About 5,000 dead fish packed in the ice at a skating rink in western Japan are causing an uproar.
Space World amusement park closed the attraction Sunday after a flood of criticism on social media.
About 25 different kinds of fish could be seen under the 250-metre (820-foot) -long ice circuit. The park in the city of Kitakyushu opened the "Ice Aquarium'' as an "attraction never heard about'' earlier this month.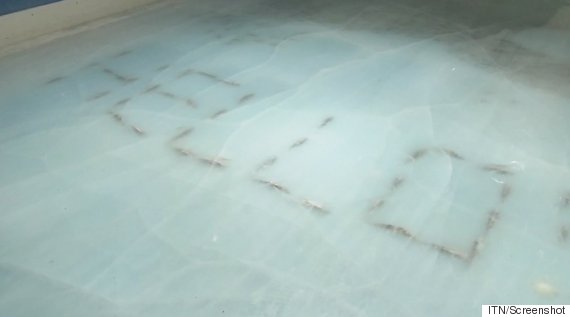 Dead fish packed into the ice at a rink in Kitakyushu, Japan spell out "hello." (Photo: ITN/Screenshot)
Space World said that the fish were intended "to give the feel of the ocean to the ice skating rink,'' and that the amusement park is "extremely remorseful to have invoked such unpleasant feelings.''
The amusement park plans to hold a memorial service for the fish once they are taken out of the ice.
A park official told the Asahi Shimbun newspaper that the fish were dead when they bought them at a market.
"Misunderstanding spread on the Internet that the fish were frozen alive, but that was not the case. We should have explained more," the official said.
You can see more images of the rink in the video above.
With a file from Emma Prestwich