Vancouver Neighbourhood Sees 0% Vacancies As Oil Cities See Record Highs
Toronto: 544 new apartments for 80,000 new people
Oil cities see record-high vacancies
Increased migration pushing up rent prices
It keeps getting harder and harder to rent an apartment in Toronto or Vancouver, where one neighbourhood recorded a zero-per-cent vacancy rate in a rental market survey from Canada Mortgage and Housing Corp.
At the same time, the country's most oil-dependent cities are seeing record-high vacancy rates, as tenants leave for other cities and rental rates fall. Canada's overall vacancy rate rose to 3.4 per cent this year from 3.3 per cent last year, CMHC said.
Toronto: 544 new apartments, 80,000 new people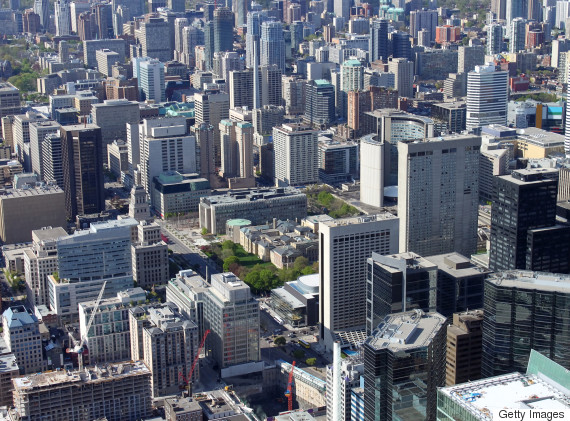 Apartments, condos and office buildings in central Toronto. (Photo: Getty Images)
Toronto's apartment vacancy rate fell to 1.8 per cent this year from 2.3 per cent last year, CMHC said, because rising house prices have forced more people to stay in rental housing.
There were only 544 purpose-built apartments added to Toronto's supply in the 12-month period covered in the report. Though new buildings came online, that new supply was mostly offset by older buildings that were demolished or converted to condos, CMHC said. Some 49 per cent of Toronto households are rentals.
The Greater Toronto population is growing at a rate of around 80,000 new residents per year. A large share of these are immigrants, and "the vast majority of international migrants live in rental housing when first moving to Canada," CMHC noted.
But rising rental rates are prompting developers to start building. "In 2016, the number of rental units under construction averaged 6,000 units, up by more than 40 per cent from a year ago and the highest level since 1992," CMHC said.
Vancouver neighbourhood records a zero-per-cent vacancy rate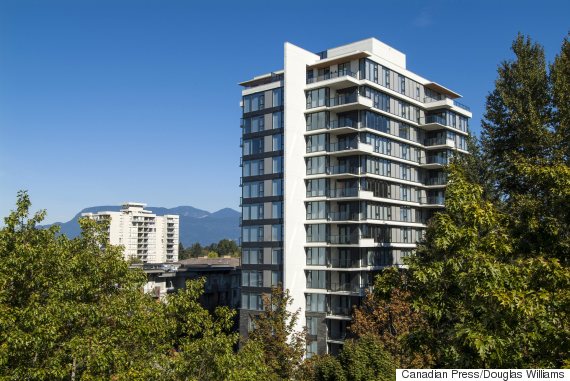 Apartments in the University Endowment Lands in Vancouver. The neighbourhood recorded a zero-per-cent vacancy rate this year, CMHC says. (Photo: The Canadian Press/Douglas Williams)
Greater Vancouver's vacancy rate fell to a minimal 0.7 per cent this year from 0.8 per cent last year, as the city recorded the strongest job growth in Canada and a rapidly growing population. There were 70,000 more jobs in Vancouver this year than last.
"Increases in entry-level home prices during the past year may have also indirectly shored up demand for rental housing," CMHC said.
The highest vacancy rate in the Vancouver area was in the Coquitlam-Port Coquitlam-Port Moody area, at a still low 1.7 per cent.
One Vancouver area — the University Endowment Lands — recorded a vacancy rate of 0.0 per cent this year. Located on the desirable west side of the city, the endowment lands surround the University of British Columbia, and contain student housing as well as several small upscale residential neighbourhoods.
Oil cities see record-high vacancies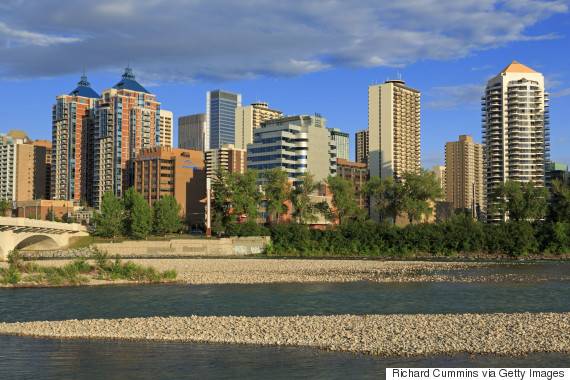 Apartment building in the Calgary skyline. (Photo: Richard Cummins/Getty Images)
The Calgary area saw rental vacancies spike to 7 per cent this year, from 5.3 per cent last year, as the oil price slump continued. That's the highest vacancy rate the city has seen in 25 years, CMHC said.
"Job losses have spread beyond the energy sector and into other areas of the economy," putting downward pressure on rental rates, CMHC said. Rental prices in the city have fallen 7.6 per cent, on average, over the past year.
Edmonton saw its vacancy rate spike to 7.1 per cent from 4.2 per cent last year, not only because of the oil slump, but because of heavy rental unit construction in recent years.
Saskatoon recorded its highest-ever vacancy rate this year, 10.3 per cent, up from 6.5 per cent a year ago, CMHC said. Saskatoon lost 0.8 per cent of all its jobs in the past year, the report noted.
But overall, the national vacancy rate rose to 3.4 per cent, from 3.3 per cent a year earlier, CMHC said. It noted that in cities where vacancies are falling, increased rates of international migration have put pressure on rental markets.
Immigration in the most recent period covered by CMHC was "far greater" than immigration the year before, CMHC said.
Here are the vacancy rates and average rental prices for Canada's major cities:
Calgary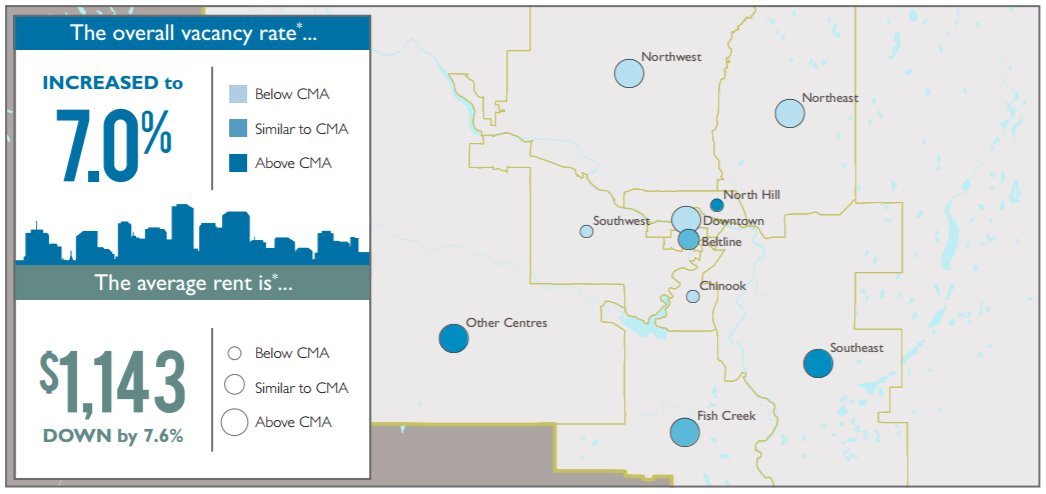 Edmonton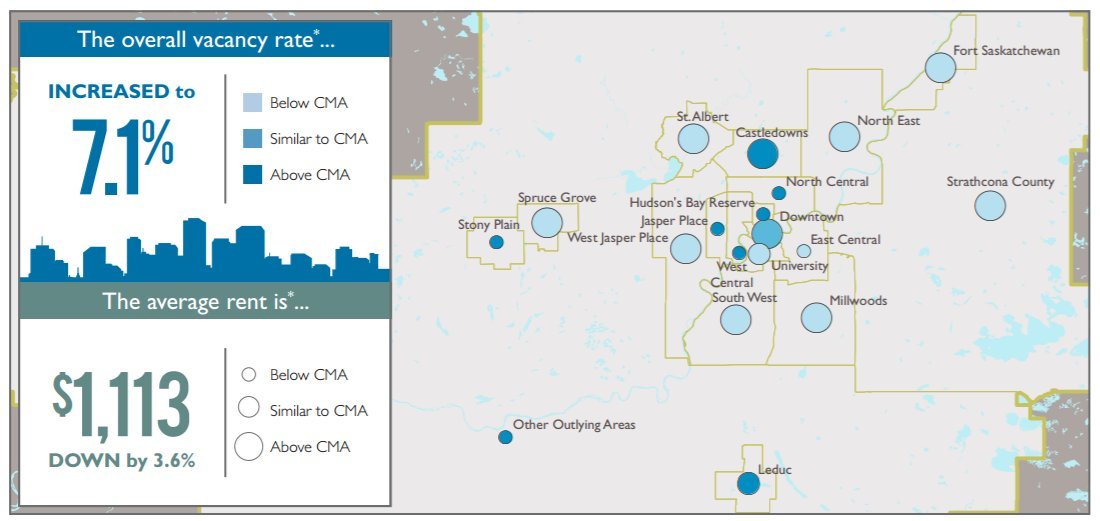 Greater Toronto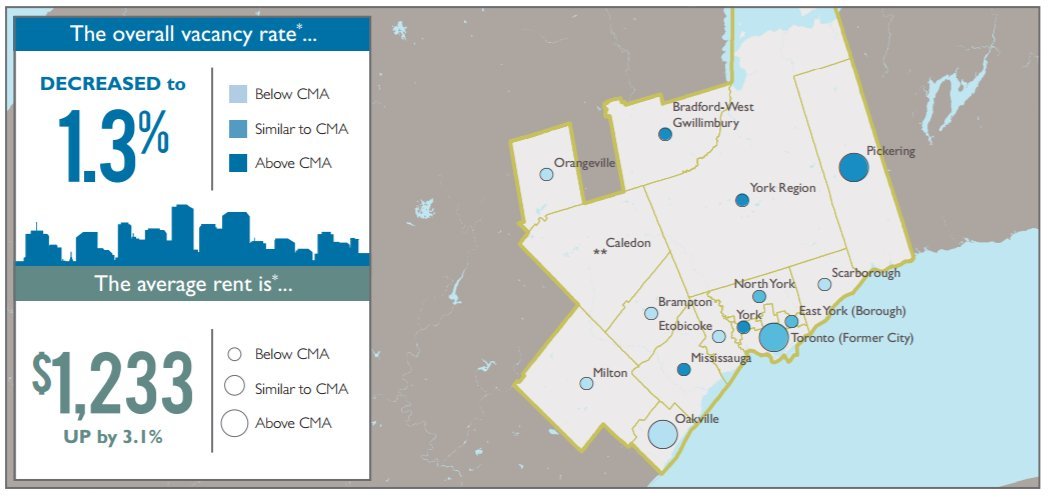 Montreal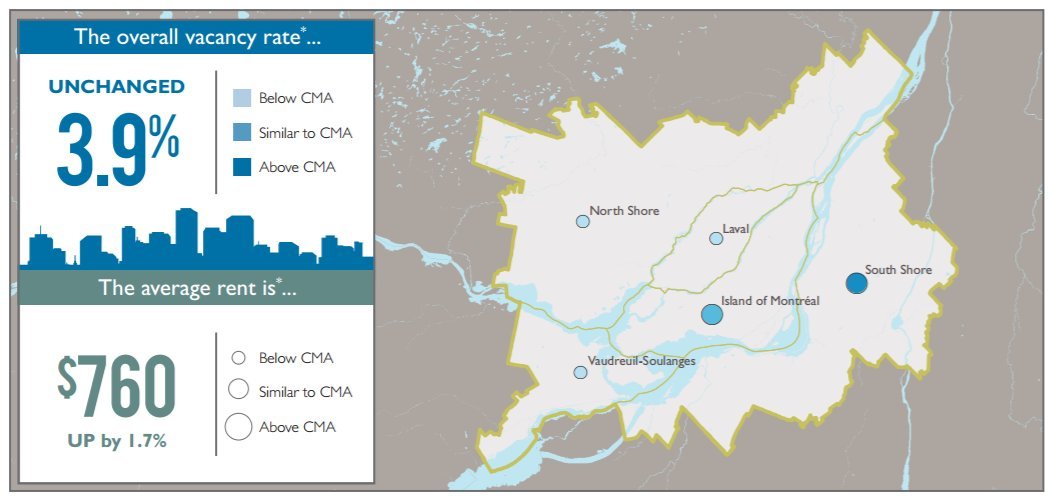 Ottawa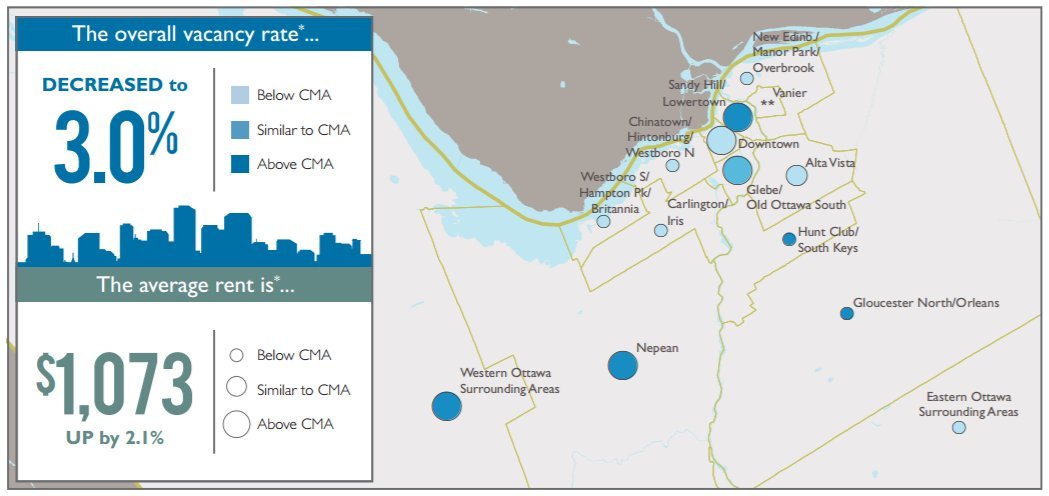 Vancouver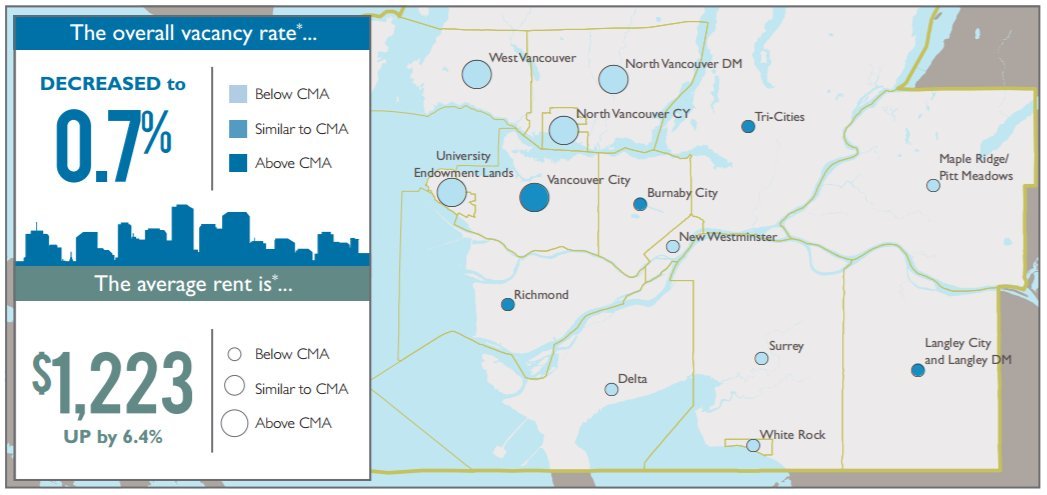 Winnipeg