'60s Scoop: Feds Argue There Was No Obligation To Protect Aboriginal Identity
TORONTO — The federal government had no legal obligation to prevent on-reserve children from losing their aboriginal identities after placement in non-indigenous homes during the so-called '60s Scoop, an Ontario court heard Thursday.
In urging a class action to be thrown out, a government lawyer also argued that the notion of aboriginal culture or identity is too fuzzy to render such an obligation — had it existed — legally enforceable.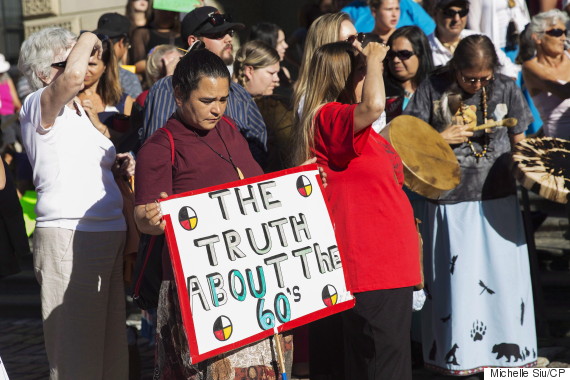 Sixties Scoop survivors and supporters gather for a demonstration at a Toronto courthouse on Aug. 23, 2016. (Photo: Michelle Siu/CP)
The 2009 lawsuit seeks $1.3 billion on behalf of about 16,000 indigenous children in Ontario who claim they were harmed by being placed in non-aboriginal homes from 1965 to 1984 under terms of a federal-provincial agreement.
While the arguments are legally complex, one key element of the plaintiffs' claim is that the government never consulted Indian bands about the child-welfare program as required by the 1965 agreement — a point seized on by Ontario Superior Court Justice Edward Belobaba.
The agreement, Belobaba said, appeared to have "no ambiguity" as to the consultation requirement.
"The evidence is overwhelming that not once did the federal government consult with any Indian band," Belobaba said. "They had to consult with Indian bands and they didn't."
Story continues after slideshow:
Residential Schools: A Photo History
Inuit children who lived too far away and had to stay at school during the summer at the Anglican Mission School in Aklavik, N.W.T. in 1941.

The blackboard on the left reads: "Thou Shalt Not Tell Lies." Cree students at the Anglican-run Lac la Ronge Mission School in Saskatchewan in 1945.

Sisters of the Soeurs du Sacré-Coeur d'Ottawa and students on the steps of the school on the Pukatawagan Reserve in Manitoba in 1960.

La Tuque Residential School's hockey team at a tournament held during the Quebec Winter Carnival in 1967.

Canada's first and only Indian Air Cadet Unit, "No. 610" in 1956. The boys are from the Roman Catholic-run Williams Lake, B.C., Residential School.

Chemistry class at Kamloop's Residential School in 1959

Students play pool at the Norway House Residential School in Manitoba in 1960.

Students at a dormitory of the Shingwauk Residential School in Ontario in 1960

The carpentry shop at a Kamloops, B.C., residential school in the late 1950s.

Children hold letters that spell "Goodbye" at the Fort Simpson, N.W.T, Residential School in 1922.

Undated photo of a group of students and parents from the Saddle Lake Reserve in Alberta en route to the Methodist-operated Red Deer Industrial School.

St-Michael's Residential School in 1959

Shingle Point Residential School & Home For Boys, Mackenzie District, N.W.T. in 1930.

Students from the residential school in Moose Factory Island in Ontario attend a service at St. Thomas Anglican Church in 1946.

Aboriginal children at the Roman Catholic-run Fort Providence Residential Mission School in the Northwest Territories in 1929.

An undated photo of a dog team carrying a hay load near the residential school at Fort Resolution, N.W.T.

Undated photo of children cutting logs at the residential school in Fort Resolution, N.W.T.

Undated photo of boys cutting hay at the residential school in Duck Lake, Sask.

An undated photos of aboriginal students attending the Metlakatla, B.C., Residential School.

Two Métis children with an Inuit child at the All Saints Residential School, in Shingle Point, Yukon, in 1930.

Students at the Onion Lake Catholic Residential School in 1950.

Adeline Raciette amd Emily Bone study on the lawn of the Assiniboia Residential School in Manitoba in 1958.

Students share dish-washing chores at Portage La Prairie Residential School in Manitoba in 1950.

Fort Qu'Appelle Industrial School in Saskatchewan in 1884.

Children at the Fort Resolution, N.W.T., residential school in 1928.

The Alert Bay Mission School in British Columbia in 1885.
"Would life have been different had they been consulted?" asked government lawyer Owen Young.
Belobaba suggested consultations would have afforded aboriginal leaders an opportunity to provide input into the program that might have mitigated the harm of placing the children outside their communities.
The government does admit that the at-risk children may well have suffered harm from loss of their indigenous identities. However, it insists it is not liable because it had no "duty of care" toward them — an assertion Belobaba said was clearly in dispute given the consultation requirement.
Young urged the justice to consider the agreement in the context of the time it was signed, arguing that legal and social norms were still evolving, and that the consequences of "transracial" adoptions were not well understood.
'Throw yourself back to 1965'
In addition, the federal government was stymied by confidentiality provisions that cloaked adoptions, preventing disclosure of the identities of a child's biological parents, Young said.
"You must throw yourself back to 1965 and interpret it," Young said. "That interpretive exercise is affected by the standard of care of the time."
The lead plaintiff, Marcia Brown Martel, says it was clear Canada knew about the anger and frustration about what was happening to the children after they placed with non-indigenous families.
Brown Martel, 53, a member of the Temagami First Nation near Kirkland Lake, Ont., was adopted by a non-aboriginal couple in 1972 at age nine. She later discovered the Canadian government had declared her original identity dead.
"Canada took no steps to assist the adopted child post-adoption," Brown Martel says in her court filings.
Young also suggested there were questions about whether the court even has jurisdiction to decide the case.
The hearing, which began in August, continues Friday.