Joseph Emmett Naulty Murder: Teen Who Killed Grandfather With Hatchet Discussed Plan On App
FAYETTEVILLE, N.C. — A North Carolina teenager charged with killing his grandfather with a hatchet discussed the crime in advance with a still-unidentified person on a cellphone messaging app, law enforcement authorities said in an affidavit.
According to a detective's affidavit for a search warrant, the then-15-year-old discussed his forming plans before attacking Joseph Emmett Naulty, 63, in August, the Fayetteville Observer reported.
The affidavit said the boy discussed in his cellphone messages that he found the grandfather who recently moved into his home, "just kinda inconvenient.'' Naulty moved into his son's home after his wife died in Alabama in February, a neighbour told the newspaper.
Investigators are working with the Canada-based company behind the app called Kik to identify the person using used the identity Sporkus_the_wise who was messaging with the Cumberland County teen, sheriff's department spokesman Sgt. Sean Swain said.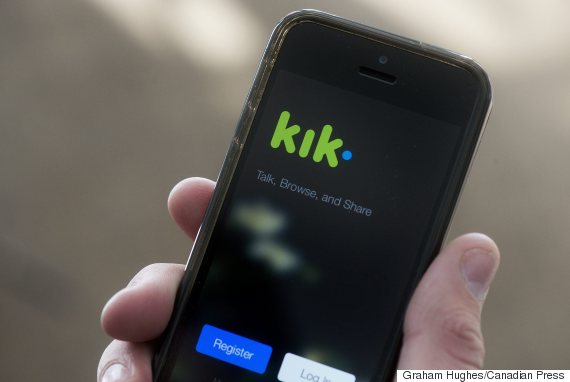 A teenage boy uses Kik messenger app in Montreal in February.
Kik users have greater anonymity than many popular social media services because they don't need to use their real names or link their account to a phone number.
In the minutes before the killing, the boy known as EtherealSkull on the Kik app sent his correspondent pictures that included a hatchet and a pair of black gloves. About 20 minutes later, dispatchers received a 911 call about a homicide at the home, according to the affidavit. Arriving deputies found the teen wearing black gloves and covered in blood, the affidavit said.
Naulty's body was found in his bed with a hatchet on the floor nearby.
The teen, who turned 16 last month, is charged as a juvenile with first-degree murder. Prosecutors are deciding whether to try him as an adult.
Also On HuffPost:
9 Wrongful Conviction Cases More Shocking Than 'Making A Murderer'
CONVICTED FOR: Child Sex Abuse AGE ON CONVICTION: 19 AGE ON RELEASE: 54 TIME SPENT IN JAIL: 35 Years CASE AND REASON FOR EXONERATION: In 1974 James Bain was convicted of the rape of a nine-year-old boy in Lake Wales, Florida. Bain's photo made its way into a police ID lineup based on a relative of the victim saying the boys description of the attacker sounded like him. The boy picked his photo and he was convicted on little else. He had no previous convictions and insisted he was at home with his sister watching TV at the time of the attack. There was little other evidence other than the photo lineup yet he was found guilty. In 2005 the Innocence Project took up his case and DNA evidence finally proved he didn't commit the crime in 2009. COMPENSATION: $1.75 million NOTES Bain's 35 years in jail is the longest time spent by someone later exonerated through DNA evidence.

CONVICTED FOR: Child Sex Abuse AGE ON CONVICTION: 18 AGE ON RELEASE: 44 TIME SPENT IN JAIL: 21 Years CASE AND REASON FOR EXONERATION: In the 1980s, a notorious case of child sex abuse spawned a period of hysteria for years after in which many people were wrongly convicted of the abuse of minors. Baran, an openly gay high school dropout was one of them. He was working at the Early Childhood Development Center in Pittsfield, Massachusetts when he was arrested in 1984 on charges of molestation of children in his care. The charges arose after a boy said Baran had "hurt his penis". The month previously the same boy's parents had said he should be fired because he was gay. After news of his arrest broke more than a dozen children came forward with allegations. Baran was convicted of five counts of rape and five counts of indecent assault and battery and was sentenced to three concurrent terms of life in prison. In 2006 a Superior Court Judge found a number of disturbing things wrong with his original trial. - On the day the trial started social workers recommended sexual abuse charges be brought against the boyfriends of the boy's mother, evidence never shared with Baran's lawyers. - Baran's attorney, Leonard Conway, was found to have not adequately prepared for the trial. - Taped interviews of the children alleged to have been molested by Baran were heavily edited. In one a child was recorded saying: "Where's my prize? You promised me a prize." His conviction was quashed in 2009. COMPENSATION: $400,000 NOTES During his imprisonment Baran was repeatedly beaten and sexually abused. He died of heart failure in 2014.

CONVICTED FOR: Murder AGE ON CONVICTION: 21 AGE ON RELEASE: 48 TIME SPENT IN JAIL: 27 CASE AND REASON FOR EXONERATION: 20-year-old Cathy Trunko was stabbed and killed on January 19, 1980. Five days later Daniel Anderson was being driven to a police station on an unrelated drunken disorderly charge. Police claim he spontaneously confessed to Trunko's murder during the ride. He immediately recanted the confession but was convicted by a jury and sentenced to 55 years. The jury rejected his claims that while sleep-deprived and still drunk - family members said Anderson had been battling alcohol since he was 14 - he was beaten by police and told to confess. Anderson was released on parole in 2007. In 2015 new DNA evidence showed that blood found on the knife belonged to neither Anderson nor Trunko and his charges were dismissed.

CONVICTED FOR: Sexual Assault AGE ON CONVICTION: 18 AGE ON RELEASE: 33 TIME SPENT IN JAIL: 15 Years CASE AND REASON FOR EXONERATION: In 1982 Marvin Anderson was sentenced to 210 years in jail for robbery, forcible sodomy, abduction, and two counts of rape relating to the sexual assault of a 17-year-old white woman. The attacker was alleged to have told the victim that "he had a white girl" and Anderson was arrested as he was the only black man known to police who was living with a white woman. Anderson's photo was picked out of a lineup by the victim. He was later identified in a live lineup later on but was the only person present whose photo had been shown to the victim. He was convicted. In 1988 John Otis Lincoln came forward and confessed to the crime but a judge ruled he was lying. In 2001 DNA evidence proved Anderson's innocence - and implicated Lincoln. COMPENSATION: $200,000 plus $40,000 annually for life. NOTES The analysis of Anderson's case ultimately led to the exoneration of 10 other men

CONVICTED FOR: Murder AGE ON CONVICTION: 38 AGE ON RELEASE: 64 TIME SPENT IN JAIL: 26 Years CASE AND REASON FOR EXONERATION: Two drug dealers, James Perry Sewell and Raven Dannelle Lashbrook, were murdered in Texas. Sewell was still alive when police found him and on the way to the hospital he was alleged to have identified his attacker as "Billy Allen". Based on this and a palm print found on car in which Lashbrook was found, Billy Frederick Allen was sentenced to 99 years in jail. A paramedic later claimed the name Sewell uttered was actually "Billy Wayne Allen". Allen protested his innocence repeatedly. Further evidence from a man called Clifton Cook appeared by 2004 stating a Billy Wayne Allen had told him he had "wiped a smart-assed-son-of-a-bitch named Perry in Dallas". Allen was released in 2009. COMPENSATION: $2,073,333 as of 2013

CONVICTED FOR: Murder AGE ON CONVICTION: 27 AGE ON RELEASE: 56 TIME SPENT IN JAIL: 29 Years CASE AND REASON FOR EXONERATION: Mary Bell, 31, was found stabbed to death in her apartment in St. Louis, Missouri, in 1982. Schizophrenic, George Allen Jr, was picked up by police as he resembled another suspect in the case who had disappeared. A taped confession was obtained despite one officer dismissing him as unreliable. He was charged despite the fact Allen lived 10 miles from the crime scene in an area which was under a 20-inch snowstorm at the time of the murder. He later denied the murder but was convicted. Various appeals failed and then in 2012 the Innocence Project found police documents eliminating Allen as a suspect that had been withheld. Semen from two different men had been found on Bell's robe that she was wearing when she was killed. Allen was released in 2012. NOTES The actual killer was never found

CONVICTED FOR: Murder AGE ON CONVICTION: 21 AGE ON RELEASE: 51 TIME SPENT IN JAIL: 30 Years CASE AND REASON FOR EXONERATION: In 1974 Adams was sentenced to death by electric chair by an all-white jury for the murder of a transit worker on a Boston Subway. Three witnesses claimed Adams had confessed to the murder despite his entire family saying he was at home at the time. One of the witnesses, Wyatt Moore, was actually in jail at the time he said he had heard the confession. Another, his sister Susie, recanted the confession on her death bed. He was released in 2004. COMPENSATION: Undisclosed

CONVICTED FOR: Murder AGE ON CONVICTION: 28 AGE ON RELEASE: 62 TIME SPENT IN JAIL: 34 Years CASE AND REASON FOR EXONERATION: Adams was convicted in 1983 of murdering Cathy Ulfers, the 24-year-old wife of a New Orleans police officer. There were no fingerprints or witnesses, only a confession from Adams which he claimed was obtained under coercion by officers Venezia and Ruiz. In 2013 the Innocence Project uncovered evidence that testimony from the two police officers was false. He was exonerated in 2014. In 2006, Cathy Ulfers' husband, Ronald, was found guilty of murdering his second wife. COMPENSATION: Only $250,000 over 10 years and $80,000 to compensate for "lost life opportunities".

CONVICTED FOR: Murder AGE ON CONVICTION: 17 AGE ON RELEASE: 44 (Exonerated aged 57) TIME SPENT IN JAIL: 27 Years CASE AND REASON FOR EXONERATION: Ajamu (then called Ronnie Bridgeman) was convicted of the murder of 59-year-old Harold Franks in 1975 based almost entirely on the testimony a 12-year-old boy, Edward Vernon, despite it being inconsistent. Another witness said Ajamu was not one of the two men who carried out the murder and Ajamu's classmates testified he was aboard a school bus with them at the time. A reporter later claimed Vernon had admitted lying to police about the murder and the Ohio Innocence Project took on the case. They fond evidence that police had pressured Vernon to testify when he attempted to retract his statement. Ajamu was released on parole in 2003. He was exonerated in 2014. COMPENSATION: $1.6 million. NOTES Upon his exoneration Ajamu said: "I can even go back to being Ronnie Bridgeman, but I'm not. They killed Ronnie Bridgeman. They killed his spirit. They killed everything he believed in, everything he ever wanted. I wanted to be something, too. I could have been a lawyer possibly. I could have been Barack Obama. Who knows?"