Alberta 'Creep Catcher' Charged For Vigilante Tactics
LACOMBE, Alta. – A member of a vigilante group has been charged with criminal harassment and mischief in an incident in central Alberta.
Chief Lorn Blumhagen of Lacombe police says the alleged victim had been communicating online with a person through a social media website for the past three months.
Police say the suspect used a false pretence to convince the person to meet in Lacombe, about 125 kilometres south of Edmonton.
The alleged victim was approached by a man wearing a hoodie who put a cellphone in his face and said he was being recorded and was busted by Creep Catchers.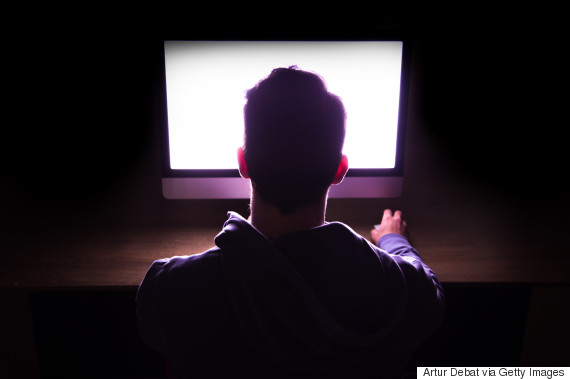 Creep Catchers are private citizens who post videos online to expose people they believe are seeking out minors for sexual activity. (Photo: Gettystock)
Karl Young of Red Deer, also known as Carl Murphy, who is 37, has been released on conditions to have no contact with the alleged victim and not to access or use any computer or cellphone except for work purposes.
He is scheduled to appear in court in Red Deer on Friday.
Blumhagen says Lacombe police are continuing their investigation to identify a second suspect.
"In this case, police believe the victim was targeted online and lured into a situation by a person or group using vigilante-type tactics without justification or facts to support their claims,'' Blumhagen said in a news release.
Creep Catchers are private citizens who post videos online to expose people they believe are seeking out minors for sexual activity.
Also on HuffPost:
George Zimmerman, a neighborhood watch volunteer in Sanford, Fla., shot 17-year-old Trayvon Martin, who was unarmed and visiting his father's fiancee's home. Zimmerman called police shortly before the incident and said, "We've had some break-ins in my neighborhood, and there's a real suspicious guy." The killing brought attention to the so-called "stand your ground laws." Zimmerman's lawyers have argued that the second-degree murder charge against him should be dropped on the grounds that he "reasonably believed" he might be killed or suffer "great bodily harm" at the hands of Martin. (AP Photo/State Attorney's Office, File)

Chris Simcox is the founder of the Minuteman Civil Defense Corp., a nationwide, anti-immigration vigilante organization with armed "citizen border patrols." Simcox's controversial organization asks its members to "Observe, Report, Record, and Direct Border Patrol and other appropriate emergency or law enforcement agencies to suspected Illegal Aliens or Illegal Activities."

Faulkner, known as the "Rocky Mountain Rambo," is a construction worker by day. But he took it upon himself to capture Osama Bin Laden and traveled to Pakistan to do so. Faulkner was arrested in a forest in northwestern Pakistan in 2010 while trying to cross into Afghanistan's Nuristan province, "a known lair of Taliban and al-Qaeda fighters," according to Time magazine. At first the cops thought he was joking about hunting Bin Laden, but then upon searching Faulkner and found a pistol, a 40-inch sword, a dagger, a pair of handcuffs, a small chunk of hashish, and Christian literature.

Goetz is known as the "subway vigilante" for shooting four black teenagers in 1984. He claimed the teens accosted him, and was charged ih attempted murder, but convicted of possession of an illegal firearm, serving eight months in jail. His actions made him a folk hero. Joan Rivers sent Goetz a telegram of "love and kisses" and said she would help out with his bail money. T-shirts were also made celebrating Goetz's actions.

Jack Ruby, originally known as Jacob Rubenstein, operated strip joints and dance halls in Dallas and had minor connections to organized crime. On Nov. 24, 1963, Lee Harvey Oswald, the man accused of killing President John F. Kennedy, was brought to the basement of the Dallas police headquarters. As Oswald came into the room, Ruby emerged from the crowd and shot and killed Oswald. Ruby claimed he was angry over the killing of the President. He was hailed as a hero by some but convicted of murder. He died in 1966 of lung cancer.

Silwa founded the the Guardian Angels vigilante group, which now has over 140 chapters across the globe. The group was started in the 1970s to combat crime in New York City's subway system. Silwa later admitted to fabricating many of the group's achievements including a false allegation that he had been kidnapped in 1980 by off-duty transit officers.

In 2009, William Inmom confessed to the vigilante killings of 3 people, and his plans to kill more. Inmom shot and killed 72-year-old William McCarragher first, execution style. He also killed 60-year-old Daniel Achten and 16-year-old Ricky Flores. He targeted these men for their moral or legal offenses.

Robert Canoles and his son, 18-year-old Branden Canoles (next slide) were charged with aggravated assault, criminal tresspassing, and unlawful imprisonment for detaining Jean-Joseph and Angelica Kalonji at gunpoint in April 2012. The Canoles thought that the Kolanjis were robbing a nearby house, when the Kalonjis were in fact the rightful owners.

Branden and his father Robert were arrested and charged for detaining Jean-Joseph and Angelica Kalonji at gunpoint in April of 2012. The Kalonjis had been told they could move into their new house that their son had just purchased.

Bruce Lawrence May was convicted in June 2012 of reckless endangerment and malicious destruction of property, for slinging glass marbles at a speed camera in Ellicott City, Md.