'Vinyl Cafe' To Be Suspended So Stuart McLean Can Focus On Cancer Treatment
TORONTO — "The Vinyl Cafe" host and writer Stuart McLean is suspending his popular radio show to focus on his cancer treatment.
In an online post on his website, the bestselling author, journalist and humorist says that he had figured treatment would be "swift'' a year after his diagnosis with melanoma.
However, McLean says that his first round of immunotherapy treatment last winter was not completely successful, so he'll undergo another round in the new year.
Rather than air repeats of his program — which features stories, essays and music — McLean says he will instead step aside to make room for others to share their work.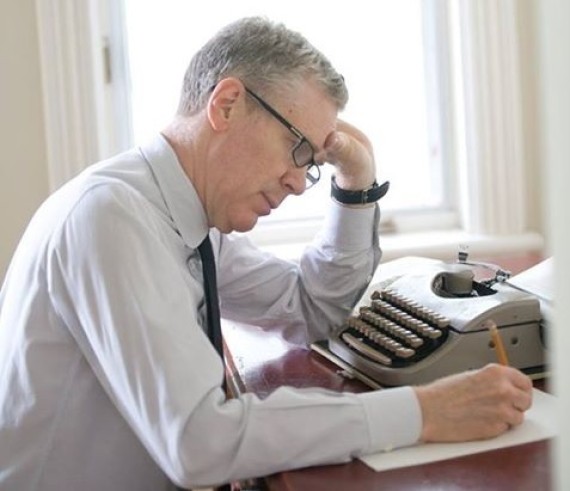 "Vinyl Cafe" host Stuart McLean says he's suspending his popular radio show to focus on his cancer treatment. (Photo: Vinyl Cafe/Facebook)
As of January, there will be no new episodes of "The Vinyl Cafe'' on CBC Radio, Sirius XM satellite radio or podcasts. U.S. public radio stations will air "Vinyl Cafe Stories'' episodes until the end of February.
The show's stories centre on Dave, the owner of a second-hand record store, and also feature Dave's wife, Morley, their two children, Sam and Stephanie, and various friends and neighbours.
McLean's 10 "Vinyl Cafe" books have all been Canadian bestsellers and have sold over a million copies since "Stories from the Vinyl Cafe'' was published in 1995. The titles have also been published in the U.S., the U.K., Australia and New Zealand.
"A year ago I told you that I expected this to be just a bump in the road, not the end of the road. I still believe that to be true,'' McLean wrote. "I hope we will meet up again — on the radio or in theatres. We'll make sure to tell you before that happens.... In the meantime, look after yourselves and each other. And know that this isn't goodbye. It's just .. so long for now.''
ALSO ON HUFFPOST
10 Celebs Who've Been Touched By Skin Cancer
A few years back, the star had a cancerous mole removed from under his eye, telling the BBC that he knew his fair skin -- and years spent enjoying the sun -- upped his risk. "I went to see a specialist who thought they were better to be removed, and indeed he was correct," McGregor told the BBC.

The actress told Health magazine that her Aussie husband was instrumental in keeping her skin cancer from progressing. "A few years ago I had a mole on the back of my calf, and he was adamant that I get it checked," she told the publication. "In Australia, they're very aware of skin cancer. I finally went and it was skin cancer."

After appearing on her show with a small bandage on his nose, the actor told "Live! with Kelly" host Kelly Ripa he'd recently had a basal-cell carcinoma removed (via SFGate). "I'm Scots/Irish heritage and (that's what I get) for spending a misspent youth in Georgia with no sunscreen," Macy said.

The actress once underwent surgery to remove "the early stages of skin cancer from her face," CNN reported. According to CNN, Griffith's spokesperson explained that the surgery was done early enough to prevent any future complications.

The politician has had at least four melanomas, the Los Angeles Times reports. "Melanoma can almost always be cured in its early stages. But it is likely to spread to other parts of the body if it is not caught early," The American Cancer Society explains. "Melanoma is much less common than basal cell and squamous cell skin cancers ... but it is far more dangerous."

Though the actress is skin-cancer free, she told People magazine that her doctor once removed a precancerous mole from her face, which served as a real wake-up call. "All my girlfriends and I would go up on the roof in New York; we didn't have to be at the beach," Shields told People, explaining that she stopped tanning years ago. "You think that because you're not in the sun anymore, it's all in the past. And then something like that crops up and you're made aware of how dangerous it really can be."

The former First Lady had a tumor removed from her shin several years ago, the AP reported. It was a squamous cell carcinoma -- a non-melanoma skin cancer -- the main symptom of which is a "growing bump that may have a rough, scaly surface and flat reddish patches," the NIH explains.

The former NFL quarterback was told he had 100 percent chance of survival after a malignant melanoma was removed from his shoulder back in the late 1990s, according to Sports Illustrated.

The star reporter had minor surgery to remove a cancerous mole from his face, the AP reported. As Access Hollywood explained, he mentioned the procedure on his blog explaining that he had "a small spot of skin cancer removed from under my left eye."

The former reality TV star (who may be returning to it again soon) had a basal cell carcinoma inside her nose removed, which required doctors to remove part of her nostril, according to People. She's also had melanoma removed from her thigh, and now is very careful to avoid the sun.