How To Break Up With A Long-Term Partner
Breaking up is hard to do, especially when you've been with your partner for a long time.
"Breaking up with a partner is rarely an easy process for either party, even if you're the one initiating it," says dating coach Chantal Heide.
"Both parties should be proactive about their mental health — the breakup-er to help deal with feelings of guilt and rejection, and the breakup-ee to deal with feelings of anger and rejection."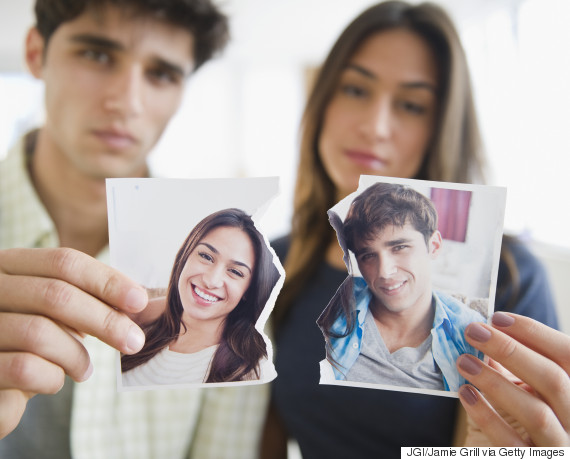 Heide says long-term relationships are typically achieved after the second anniversary is reached. "The first year is about adjusting and finding ground, the second year is establishing familiarity. So by year two you've gone through the initial hurdles and should now be finding your stride."
Even if you haven't reached your two-year mark, ending a shorter-term but equally as committed relationship can also be challenging. Before calling it quits Heide suggests taking a break and trying to work it out with your partner.
"Time away from each other can help you see that you've picked a good person but the two of you aren't overcoming emotional baggage at this time and need professional help to get to the next level," she says. "Or… you might realize that your partner really is too selfish and should be left behind. Either way breaks are healthier than staying in an environment that feels constantly angry."
Heide even says it is OK to date others during a break, but suggests instituting a three-month kissing ban to prevent you from becoming emotionally confused.
If taking a break still leads to thoughts of breaking up, check out the slideshow below for six tips on how to break up:
How To Break Up With A Long-Term Partner
Unless your relationship is abusive, dating coach Chantal Heide says you have to earn your way out. "Earning your way out happens when you've clearly stated your emotional position and have tried everything to make it work." Be fair to your partner and talk about options including counselling.

You are both likely to experience a flood of emotions. "Try to not be reactive to theirs, and try to not inflict more wounds which will just prolong your partner's pain," says Heide. Take the high road and avoid using vengeful tactics to heal past pains.

If it isn't too hard on you, try to support them while they grieve the loss of the relationship. "By staying present in each other's lives through the healing process you can come through the other side and remain friends," says Heide.

"Being wishy washy when you break up only gives false hope, which isn't fair," says Heide. "Don't let feelings of guilt muddy up the break-up process. The more clear and firm you are the faster healing can take place."

If your ex becomes obsessive or violent following your break-up distance yourself from them. Constantly surround yourself with friends and family and never let them guilt you into seeing them, especially alone. "Sometimes we fool ourselves on how abusive our relationships are, and when we try to break up partners go from verbally and mentally abusive to physically abusive," says Heide. "Involve the police when you feel your safety is compromised."

"If you're breaking up with a good person because it's just not going to work out, do so at home, privately, with lots of Kleenex," says Heide. "Be understanding of the upheaval it causes them both emotionally and mentally as they re-plan their lives without you."