'There's Something Wrong:' Calgary Police Chief On Record Officer Shootings
CALGARY — Grant Heffernan thinks about his young brother every day but more so each time he hears there's been another shooting by police in Calgary.
"We were thinking that with my brother's death — something good could have come out of it but it hasn't," said Heffernan.
"Every time, I'm thinking if ASIRT and the Crown would have had the courage to put a stop to this, that these people would still be alive today."
Anthony Heffernan, a 27-year-old recovering drug addict, was shot four times — including three shots to the head and neck — after police responded to a motel on March 16, 2015.
The call was for a man was behaving strangely. Officers said Heffernan was standing near the beds with a lighter and a syringe and did not obey commands to drop them.
The executive director of the Alberta Serious Incident Response Team, the agency that investigates police, said it was one of the most difficult cases she had dealt with, but ultimately the Crown ruled it couldn't prove the officer shouldn't have fired. No charges were laid.
There have been 10 police-involved shootings in Calgary in 2016 — five of them deadly.
It's the highest number of police shootings in any city in Canada and it's a concern to Calgary Police Chief Roger Chaffin, who has called for an independent probe to investigate why.
"I believe there's something wrong," Chaffin said in an interview with The Canadian Press. "Something I can affect. Something that our leadership can affect. I don't put it on the officers"'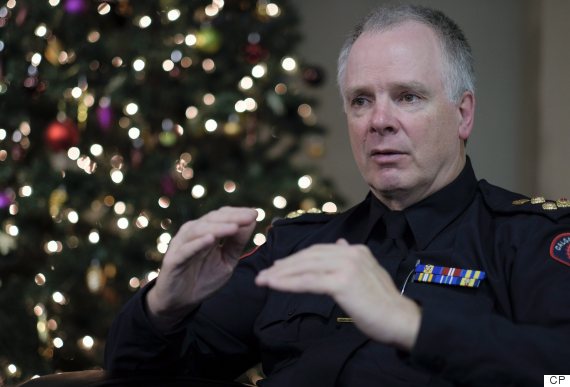 Calgary Police Service chief Roger Chaffin speaks during an interview with the Canadian Press in Calgary, Alta., Wednesday, Dec. 7, 2016. (Photo: Jeff McIntosh/The Canadian Press)
Chaffin said the review will consult someone outside the police community who can make recommendations. He cited the report done by retired Supreme Court justice Frank Iacobucci, who reviewed the July 2013 death of teenager Sammy Yatim, shot dead by police while alone on a Toronto streetcar.
"But I'm not going to sit on my hands waiting until it's done," he said.
Calgary Coun. Brian Pincott has raised concerns about the number of police shooting shootings and said he is encouraged by Chaffin's response.
"You need to be willing to start digging around to find out what the problem is so you can correct it and having an independent inquiry is certainly the first step," said Pincott.
"There's a decreased confidence in our police service and Calgarians should have the utmost confidence in them. If they don't, we need to figure this out. What is going on?"
The head of the Calgary Police Association agrees it's unusual to see this many shootings in Calgary, which he said would normally average about three per year.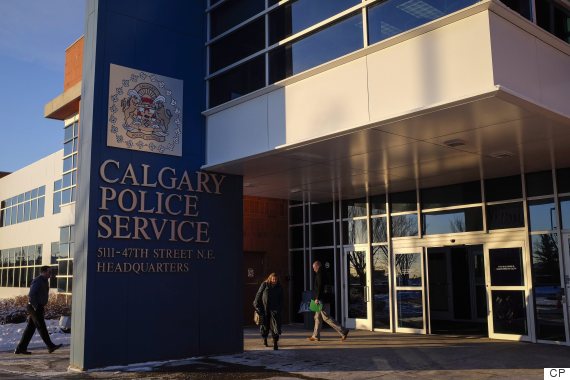 Calgary Police Service's headquarters building in Calgary, Alta., Wednesday, Dec. 7, 2016. (Photo: Jeff McIntosh/The Canadian Press)
"We had a Saturday where we had two shootings in an hour and things have gotten haywire since. I would suggest it's probably an anomaly," said Howard Burns, who has been a Calgary police officer for 29 years.
"I know some of the critics out there have said perhaps the police officers are a little quick on the trigger — that sort of thing. I would venture to guess and predict that in 2017 you'll probably see things revert back to the norm."
Burns said his membership is "feeling the heat" from the public.
"We had a Saturday where we had two shootings in an hour and things have gotten haywire since."
"They're frustrated. They're out there doing the very best you can and they're being criticized. When we end up with shootings, we get what I call the armchair quarterbacks saying the police need better training."
The head of ASIRT can't explain the spike.
"You have to look into why police are shooting more. Is it something that should be a concern and should be reviewed and should be looked into by police services? Absolutely," said executive director Susan Hughson.
Chaffin said Calgary police officers receive training that is on par with other major cities in Canada. He also doesn't think that Calgary police officers are quick on the draw.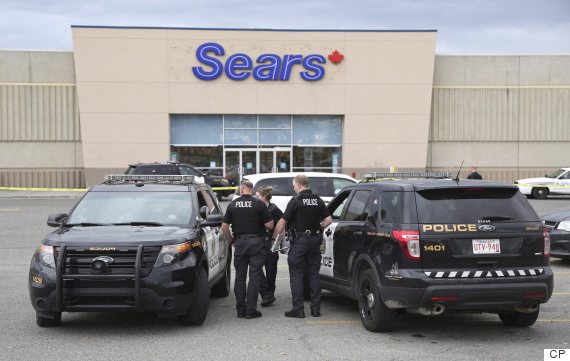 Police talk to one another outside the Sears store at the Marlborough Mall following an incident which left a police officer injured, in Calgary, Saturday, Sept. 17, 2016. (Photo: Mike Ridewood/The Canadian Press)
"In the last 10 years — that has not been our reputation at all. We've had a rough year. There's no doubt, we've had a statistical outlier year," Chaffin said.
"Look at us over a longer period of time and say we've had a rough year but that has not been our signature — it hasn't been for many, many years."
Heffernan had hoped the death of his brother would spur change.
"I thought maybe there would be some kind of different kind of protocol or a culture change in the Calgary Police Service," he said.
"In this calendar year of 2016 it's actually increased.
"To me it seems like they're not doing anything."
A look at the 10 police-involved shootings in Calgary in 2016:
Calgary Police-Involved Shootings 2016
Jan. 24, 2016 — David McQueen, 53, was killed by police during an armed standoff after he began shooting from his living room. McQueen used a wheelchair to get around. He shot into the street, hitting several nearby homes and a city bus. One of the officers involved was the same officer who shot and killed another man just months before.

March 20, 2016 — Police responded to a report of a man walking around with a gun at a park where children were playing. He was holding what turned out to be a replica antique handgun. He was shot at by police and fled. Confronted a second time he put down the gun and surrendered. He was charged with assault with a weapon, assaulting a peace officer, possession of a weapon for a dangerous purpose and obstruction.

July 15, 2016 — Police responded to a southeast Calgary parkade after reports of an unidentified vehicle being spotted and car prowlings. Police blocked the exits and officers noticed a stolen SUV circling the parkade. When police tried to stop the vehicle the driver refused and struck another car. One passenger got out and fled. A confrontation between other officers and the remaining occupants ended with Sanjai Prasad, 41, being shot and killed.

Sept. 17, 2016 — Police were called to a northeast shopping mall after reports of a man fighting people and swinging a machete. The suspect fled into a Sears store. As the officer drew his gun, the suspect slashed him with a machete causing what police called "significant and severe'' injuries. The 24-year-old man was shot, but survived.

Sept. 17, 2016 — Police attempted to stop a driver after an officer spotted a rifle on the passenger seat. The vehicle attempted to flee but backed into a minivan and crashed into and ruptured a natural gas line at a truck stop. One of the officers shot at the driver, who was hit with broken glass, but otherwise uninjured. The 23-year-old man faces several charges including assaulting a police officer.

Oct. 4, 2016 — Police pulled over a stolen truck in northwest Calgary in the early morning hours. Although the driver surrendered to police his passenger got behind the wheel and took off from police. Police say one of the officers felt threatened when the truck approached and he fired his gun — striking the vehicle.

Oct. 11, 2016 — Police were called to a southeast Calgary home after receiving a phone call and hearing screaming in the background. Upon arrival, police found one man injured outside the home and a second man, armed with a butcher knife in the garage who came toward them. Bob Crowle, 76, was shot and killed.

Nov. 3, 2016 — Police pulled over a reported stolen vehicle. As they approached the car it backed into the police cruiser. One of the officers reached into the car and attempted to put it into park but it began moving pulling him along. As he fell, his partner shot and wounded the driver. The car crashed into a garbage bin. The 20-year-old was taken to hospital with serious, but not life-threatening injuries.

Nov. 22, 2016 — Calgary police attempted to box in a stolen vehicle when its driver went into a nearby business. When he returned, he rammed two police vehicles. Two officers fired into the vehicle, wounding the driver. Terrence Weinmeyer, 49, later died in hospital.

Nov. 29, 2016 — Calgary police respond to a report of a woman acting erratically, banging on car windows and the doors of apartment buildings carrying a knife in each hand. A confrontation led to the officer firing a gun. The 27-year-old woman was transported to hospital where she was pronounced dead.