Patty Hajdu: $1.1M Offices Will Benefit Women, Girls
OTTAWA — Status of Women Minister Patty Hajdu said the choice to spend $1.1-million on a new suite of offices was about ensuring the portfolio remains a priority for many years to come.
"It was a concrete space with no wiring, no lights, no anything, so this is something that will serve the country in the future in a way that I think will be beneficial to women and girls across the country," Hajdu said Wednesday in an interview aired on CBC Radio's Up North.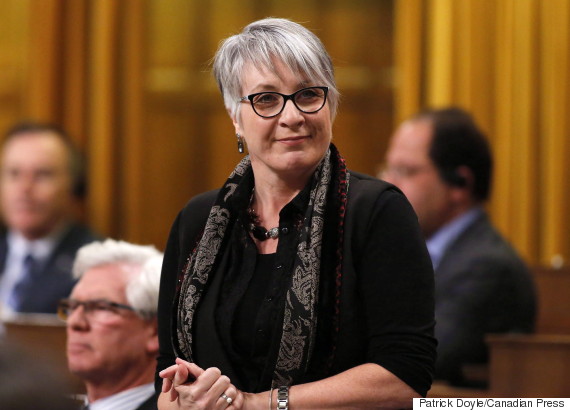 Minister of Status of Women Patty Hajdu stands in the House of Commons during question period in Ottawa on Dec. 9, 2016.
The Canadian Press reported last week that Hajdu signed off on the plan to build new offices for her and her staff — despite being warned the price tag could raise eyebrows when the word got out — so that she could be in the same building as Status of Women Canada, located at 22 Eddy St., in Gatineau, Que.
They started fast-tracking the project before knowing how they would pay for it, according to documents obtained through the Access to Information Act, or how many people it would need to accommodate.
The issue was that before Prime Minister Justin Trudeau appointed a full-time status of women minister there had been no need for an office of that size, and for that many ministerial aides, in the building.
That choice was part of his commitment to gender parity around the table, which also came with an increase in staff and salary for those ministers who would otherwise have been considered more junior ministers of state.
"Governing is actually about making the best decision for the country, despite the fact that sometimes people don't understand those decisions."
"Governing is actually about making the best decision for the country, despite the fact that sometimes people don't understand those decisions," Hajdu said.
The documents state that having Hajdu in the same building as the agency she leads — as is the standard across government — would help departmental and ministerial operations run more efficiently.
They also show that choice was made over renovating an office at the Canadian Heritage building right across the street for about 64 per cent of the cost, but Hajdu told the CBC that space was not big enough.
Infrastructure minister faced similar scrutiny
Infrastructure Minister Amarjeet Sohi faced a similar situation because his portfolio had been part of the transport department under the previous government.
The $835,000 he spent on renovations and furniture for his new department — to accommodate more than twice as many employees as the one built for Hajdu, including a deputy minister and public servants — sparked a Conservative attack against the Liberals this spring.
Other Liberal ministers whose portfolios gained an elevated status when Trudeau formed his cabinet last year were more frugal with their accommodations.
Innovation, Science and Economic Development Canada — formerly known as the industry department — now has three ministers in its building at 235 Queen St., in downtown Ottawa.
Story continues after slideshow:
Liberal Women Appointed To Cabinet
Minister of Justice and Attorney General of Canada Wilson-Raybould is a former Crown prosecutor and regional chief of the B.C. Assembly of First Nations.

Minister of Indigenous and Northern Affairs A family physician who has been an MP since 1997, Bennett was Canada's first minister of state for public health and oversaw the 2003 response to the SARS epidemic. In recent years, Bennett has served as the party's vocal critic on aboriginal affairs.

Government House Leader and Minister of Small Business and Tourism Chagger, 36, worked for the Kitchener-Waterloo Multicultural Centre. She also worked on Trudeau's leadership campaign.

Minister of Public Services and Procurement An MP since 2008, and the party whip, Foote previously held several cabinet portfolios in Brian Tobin's provincial government.

Minister of International Trade An MP since 2013, Freeland was courted by Trudeau's team when she was a senior editor at Thomson Reuters in New York City.A Rhodes scholar, she is a well-known author and journalist. She was part of Trudeau's team of economic advisers.

Minister of Health Philpott is a family physician, associate professor at the University of Toronto, and former chief of the department of family medicine at Markham Stouffville Hospital.

Minister of International Development and La Francophonie Bibeau worked for the Canadian International Development Agency (CIDA) in Ottawa, Montréal, Morocco and Benin, Africa, before settling and launching her own business in her riding.

Minister of Canadian Heritage Joly, 36, made a name for herself by finishing second to ex-Liberal cabinet minister Denis Coderre in the Montreal mayoral race in 2013. She's a lawyer and communications expert.

Minister of National Revenue A small business owner who has been an elected warden for the Regional County Municipality of Rocher Percé since 2010, Lebouthillier won a seat in Gaspé that the Liberals haven't held in more than a decade.

Minister of the Environment and Climate Change McKenna, a human rights lawer, was a former legal adviser for the United Nations peacekeeping mission in East Timor and founded Canadian Lawyers Abroad (now known as Level), a charity focused on global justice issues.

Minister of Employment, Workforce Development, and Labour Mihychuk was an NDP MLA in Manitoba from 1995 to 2004, serving as minister of industry, trade, and mines, and later minister of intergovernmental affairs. She ran an unsuccessful Winnipeg mayoral campaign in 2004.

Minister of Democratic Institutions Monsef, a community organizer, was born in Afghanistan. She fled the Taliban and came to Canada as a refugee with her widowed mother and sisters in 1996.

Minister of Sport and Persons with Disabilities Qualtrough is a lawyer and former Paralympian. Legally blind, she won three Paralympic and four World Championship medals for Canada in swimming and was president of the Canadian Paralympic Committee.

Minister of Science Elected in 2008, Duncan taught meteorology, climatology, climate change, and medical geography at the university level.

Minister of Status of Women Hajdu was executive director of Thunder Bay's largest homeless shelter.
They are Economic Development Minister Navdeep Bains, Science Minister Kirsty Duncan and Bardish Chagger, who remains the minister for small business and tourism in addition to her more recently acquired role as government House leader this summer.
They did not need to move or create new suites, as Duncan and Chagger moved into offices previously occupied by ministers of state.
They did do some repairs, some painting and installed new workstations to accommodate the additional staff that came with increasing the importance of the portfolios.
James Fitz-Morris, a spokesman for Chagger, said the cost of the renovation contract for all three portfolios was about $170,000, with another $100,000 spent on other changes elsewhere in the building, such as the office of the deputy minister.
One minister's move did not cost anything
It should also be noted that one reason for keeping them in those existing offices, however, was similar to the rationale for building Hajdu a new one.
"Moving off-site from the department would have represented an initial cost, as well as high ongoing costs and logistical problems caused by operating in a different location than the department," Fitz-Morris wrote in an email.
Maryam Monsef, the minister for democratic institutions, is occupying the space used by the former minister of state for democratic reform at 66 Slater St., where Raymond Rivet, a spokesman for the Privy Council Office, said there was no work done beyond some minor touch-ups to paint and carpets.
Carla Qualtrough, the minister for sport and disabilities, moved into an office at the Department of Canadian Heritage, which her spokeswoman Ashley Michnowski said did not cost a thing.