85-Year-Old Halifax Woman Dragged, Beaten In Home Invasion
Halifax police are expressing concern about random attacks on the elderly, after arresting a 43-year-old man in the second home invasion of a seniors' home in two days.
Investigators say they're exploring possible links between the man entering an 86-year-old woman's apartment bedroom and demanding money late Wednesday, and an incident Tuesday where an 85-year-old woman said she was punched in the face by a stranger and dragged from her Halifax apartment.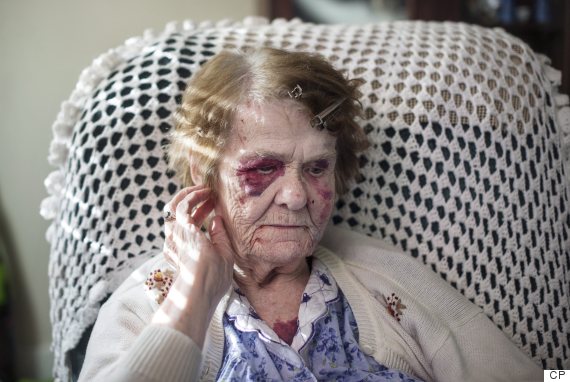 Jeanette MacDonald rests in her home in Halifax on Wednesday. (Photo: Darren Calabrese/The Canadian Press)
Police spokeswoman Const. Dianne Penfound says it's too early to say if there is a tie between the beating of Jeanette MacDonald — who said in an interview she was confronted by two young men — and the attempted break-and-enter on Wednesday night involving the 43-year-old suspect.
However, they're looking into possible connections, as random attacks or home invasions of the elderly are rare in the city. Both attacks were within a few blocks of each other.
"We are definitely exploring that possibility at this time, however it's too early in the investigation to definitively link the two cases," said Penfound.
Penfound said in the latest break-and-enter, a masked man somehow entered an apartment building on Leppert Street just before 11 p.m. on Wednesday and found his way to the 86-year-old woman's apartment and to her bedroom.
"Incidents like this are not common. ... Most home invasions are not random acts."
He entered her room and demanded money, and the woman complied, providing "a sum of cash."
Police say they responded quickly, tracking the suspect to the nearby Mumford bus terminal near the Halifax Shopping Centre and then eventually arresting him just after midnight Thursday on Gottingen Street.
Penfound says police are concerned about having two cases of intrusions and violence directed at elderly citizens.
"It's very upsetting with respect to vulnerable members of our community ... That person did nothing wrong and was in the comfort of her own home," said the constable.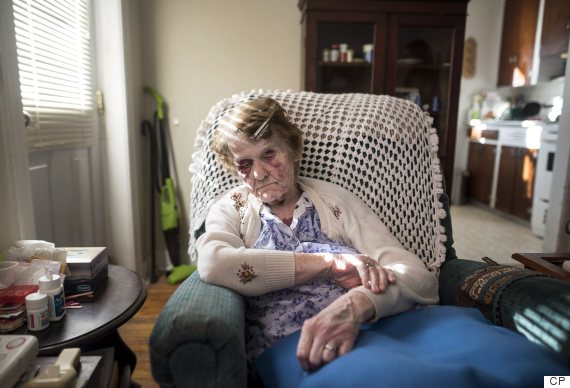 Jeanette MacDonald is recovering from a violent home invasion. (Photo: Darren Calabrese/The Canadian Press)
"Incidents like this are not common. ... Most home invasions are not random acts."
MacDonald had said in an interview she was sitting on a green recliner in her home, with a flannel blanket tucked around her legs, when she heard a bang on the door. She said she opened the door to find two young men demanding money.
MacDonald, who uses a walker to get around, said she was pushed to the floor, then dragged from her home and forced to the pavement.
Recovering from multiple injuries
She started screaming, and the suspects fled as neighbours came outside to investigate.
MacDonald is recovering from two black eyes, bruises on her left hand and chest, and swollen ankles and knees.
Police had said they were searching for a light-skinned black man, 5-foot-5, with a slim build and wearing a red sweater and a red toque. Several officers and a canine unit searched the area, but did not find a suspect.
Also on HuffPost:
Tips For Choosing An Elderly Caregiver
One of the first decisions in choosing an elderly caregiver is deciding whether to interview independent candidates or look to a caregiving agency, according to Caring.com. If you choose the later, it's best to choose a leading national or regional chain that is well known for it's professionalism and training. Run through a caregiving checklist, such as The Caregiver Partnership's 10 important caregiver criteria, which covers specific needs including language requirements, memory care, nutrition needs and transportation, or ask the 10 crucial questions proposed by Lee Lindquist of Northwestern Memorial Hospital.

Before interviewing a caregiver candidate set clear job expectations and tailor interview questions to assess the candidate's experience carrying out tasks that will be required, Caring.com recommends. Inside Elder Care suggests creating a timeline of daily activities so the potential caregiver will be fully aware and prepared for any and all day-to-day duties.

When looking for someone to care for your parent day in and day out it's best to include your senior in the interview process, according to Caring.com. "Having shared interests can make a big difference," Jacqueline Dollar, a geriatric care manager, said. "One of my clients loved NASCAR and found a home health aide who did, too. They immediately hit it off."

Make sure your parents receive the appropriate amount of care by assessing the caregiver's degree of speciality, Inside Elder Care recommends. If the patient requires special treatment for a particular ailment, make sure that the caregiving candidate is properly trained and well versed in that area.

Whether you choose an agency or not, checking into a caregiver's background is a must. Asking for references can provide insight into the caregiver's past experience and training. Conducting an independent background check may also be useful to ensure that a caregiver is properly vetted.